How Sports Illustrated got the LeBron-to-Cleveland story
SI's Lee Jenkins found out on Thursday that LeBron James was going back to the Cavs.
• 2 min read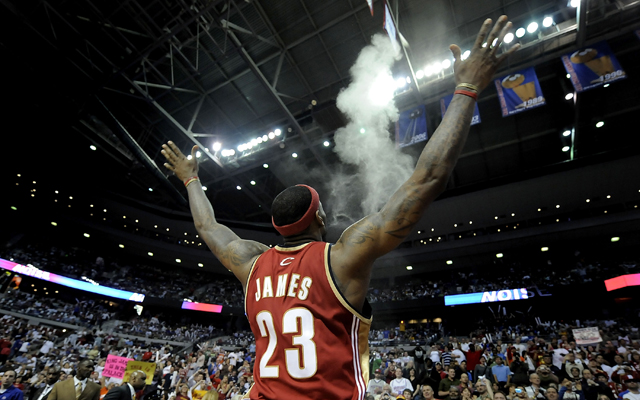 More on LeBron's return: James chooses Cleveland | Doyel: Welcome back to Ohio
Sports Illustrated's Lee Jenkins, who co-wrote LeBron James' "I'm Coming Home" story on his return to the Cleveland Cavaliers, learned of James' decision on Thursday, via the Wall Street Journal's Jeffrey Trachtenberg:
At some point on Thursday, Mr. Jenkins learned that Mr. James had made his choice. "The agreement was that he wouldn't share the destination with me until he turned in the story," Mr. Stone said. "LeBron gave him a series of interviews. This is very much LeBron's story." Mr. Jenkins filed the story on Friday morning.
The story went live at 12:13 p.m. ET on Friday, but the seeds were planted long before that, via Ad Age's Michael Sebastian:
"It all goes to Lee Jenkins," said Sports Illustrated Managing Editor Chris Stone. "He made this happen."

Several months ago, Mr. Jenkins mentioned to his editors that he wanted to pursue a big story about the next phase of Mr. James' career. "We told him to go for it," said Mr. Stone. But the magazine didn't "place big money" on it actually coming to fruition, he acknowledged.

Then last Saturday, Mr. Jenkins, who was flying to Cleveland on Friday afternoon when Ad Age spoke with Mr. Stone and Sports Illustrated Editor-in-Chief Paul Fichtenbaum, emailed his editors saying the story was a possibility. Out of caution, he didn't mention Mr. James' name in the email.

"The first thing we asked is whether there were any conditions attached," Mr. Stone said. "There were none."

On Wednesday, Mr. Jenkins traveled to Las Vegas. He met with Mr. James on Thursday night before writing the essay with him. Mr. Jenkins emailed the essay to his editors around mid-morning on Friday. "Everyone reading it was learning the news for the first time," Mr. Stone said.
"About six" SI staffers saw the piece before it was published, managing editor Chris Stone told Ad Age. While James informed Heat owner Micky Arison and general manager Pat Riley over the phone before the news broke, the Cavaliers didn't even know about James' decision until the rest of us did, according to ESPN's Brian Windhorst:
The Cleveland Cavaliers found out they were getting LeBron James back the same way the rest of the world did, when they read James' essay that was posted on Sports Illustrated's website on Friday afternoon, sources said.

Cavs owner Dan Gilbert joined his family after hearing the news, sources said.

…

No contract for James has been negotiated with the Cavs yet because no talks had taken place before the essay was released. The Cavs are expected to offer a four-year deal worth the maximum $88 million but will agree to any terms James wants.

James is expected to make a long-term commitment to the franchise, sources said.
James "didn't want to make it about the Cavs or the Heat but about the people of Ohio," according to Windhorst, and wanted the announcement to come directly from him for a personal feel. If you've read the piece, you know that he succeeded in that regard. 
Mayo was suspended for two years last summer for violating the league's anti-drug program

The NBA broke its silence with a statement related to the Lakers-Paul George tampering cha...

The Clippers big man thinks LeBron will reunite with the banana boat crew at some point
Have the Clippers reportedly found their next GM?

The NBA stayed to the point in their response to the Greek basketball federation

The Pacers believe the Lakers tampered with Paul George before they traded him