How the Bulls killed the Heat streak
How the Chicago Bulls ended the Miami Heat's 27-game winning streak on Wednesday night.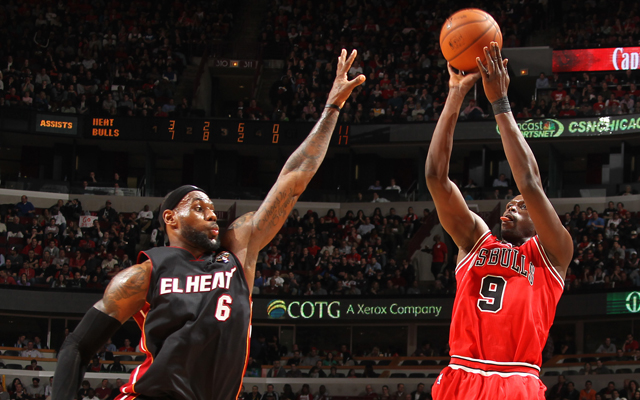 STREAK ENDS AT 27: Top 10 Moments | Streak by the numbers | Heat legacies 
You can never outrun the schedule. 
The reason the '72 Lakers' 33-game winning streak was thought to never be touched, the reason that it might never be touched now, is that with so many more teams since the merger, with a much tougher schedule full of much tougher teams in a long and grueling year, you just get tripped up. 
The Heat got tripped up, finally, after 27 wins in a row, on Wednesday. I'd love to tell you they were beaten by a better team, but they weren't. But they were beaten by the better team on Wednesday night. 
When we analyzed how the Bulls could beat Miami, we looked at two things: their tough physical defense and how they respond in emotional situations. This team wasn't better than Miami in 2011 but worked their way to a better record; same thing last year. And on Wednesday -- without Derrick Rose, Joakim Noah, Marco Belinelli or Rip Hamilton, -- they ended the streak by combining those elements. 
The Bulls whacked the Heat repeatedly on drives, playing a tough, physical game, especially against LeBron James. 
And then, after James was hit again with a hard foul by Taj Gibson that was inexplicbly called a flagrant foul, reviewed, then rescinded, James himself got tagged with a flagrant foul. 
It was that kind of night for Miami. (And the officials, who lost control of the game for both teams on both ends, a disturbing trend this season.)
Luol Deng was huge for Chicago. Deng has carried the Bulls all season, and his defense and timely playmaking was monstrous for the team down the stretch. Carlos Boozer was up and down, making huge plays, then clanking free throws or badly missing key shots, then having the huge putback at the end of the game. 
Throw in a little bit of Nate Robinson being the ridiculous, unreliable but occasionally flamethrowing firebug that he is, and Jimmy Butler having the biggest game of his career, and you have a streak that was broken. Chicago always plays Miami tough with its defense, execution and toughness, and it's just another sign of how great a coach Tom Thibodeau is. 
So much for the streak. Chi-town took care of that. 
Nerlens Noel is now being represented by Rich Paul of Klutch Sports

Steve Kerr opens up about his back issues and more

OJ Mayo, banned from the NBA for positive drug test, is considering playing overseas
The King? 'LeBron, it turns out, is Aquaman,' or so the account via Dwyane Wade's wife goe...

From Penny to Thunder Dan to Pistol Pete to Agent Zero, guys who would be better in 2017

Griffin said recently he thinks it's more likely that LeBron James goes to New York than L...