How the Knicks can still make the playoffs
Spoiler alert: It doesn't look good for New York's chances to make the 8th seed vs. Atlanta.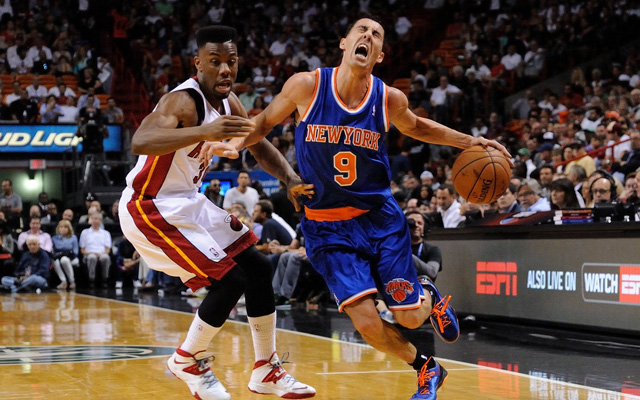 More NBA: Power Rankings | Expert Picks | Seasons in Review | Playoff Picture
The Knicks' tragic number is three after their loss to the Heat and the Hawks' win over Indiana Sunday. That means that any combination of three wins by Atlanta or losses by New York and they're eliminated from the playoffs. 
The Knicks have four games remaining, the Hawks six. They trail Atlanta by two games headed into Tuesday night.
While the Knicks can still tie Atlanta, because the Knicks are down by one win in conference, they can't finish tied with Atlanta in conference without finishing with a better overall record. The Knicks can pass the Hawks in overall record, but if they wind up tied with the Hawks, the Hawks will have tiebreaker by conference record. 
The Hawks' remaining schedule: home vs. Detroit, back-to-back at home vs. Boston, at Brooklyn, at home vs. Miami, at home vs. Charlotte, at Milwaukee. 
The Knicks' remaining schedule: at Toronto, at home vs. Chicago, at Brooklyn, at home vs. Toronto. 
The earliest the Hawks can clinch is Friday, April 11th. 
Let's give the Hawks wins vs. Detroit (terrible) and Milwaukee (terrible). Boston is also awful, but that's a back to back, let's give the Knicks some help. 
Losses to Brooklyn, Miami, and Charlotte along with the Boston loss are reasonsable even if Charlotte is almost defnitely resting starters in that final game. 
In that scenario, with the Hawks going 2-4 with wins over only Detroit and Milwaukee, New York would have to go 3-1 to make the playoffs. 
At Toronto is a loss for New York. It just is. The Raptors are 10-4 at home since the All-Star break. So that means the Knicks need to beat Chicago, Brooklyn, and then take the Raps at home. Let's give 'em the last one since that would be "win and you're in" and we'll give them that and Toronto's resting starters in that game most likely since the 3/4 split will probably be decided. (If it's not, New York could be screwed there.) 
So they have to split Chicago and Brooklyn. Now Brooklyn's one thing, it's a "rivalry" game, New York has played Brooklyn well historically, etc. They actually lead the season series 2-1 over Brooklyn. That's winnable, even if it's tough. Chicago is the tough one. New York went 1-2 vs. Chicago this season. They played them tight in an early November game back when Derrick Rose was with them, fading late. 
That's the plan, though. Atlanta loses the games against the elite teams, the back to back vs. Boston, and goes 2-4. New York goes 3-1, dropping only the game vs. Toronto in Canada. There are other options of course, with the Knicks going 4-0 and the Hawks going 1-5 or worse, even the Knicks going 2-2 and Atlanta finishing 0-6. But this is the real plausible scenario. Things are bleak for New York, but there are escape plans. They just need some good fortune.
... Yeah, they're probably doomed. 
Kris Dunn somehow took a chunk of the Bulls court out with his teeth, but didn't lose any in...

The fallout from the Rockets-Clippers tussle continues; no Clippers were disciplined

DH12 is picked for free throws after a teammate gets ejected. He makes both, and lets Scott...
Bell was injured defending a Robin Lopez dunk and had to be taken off the floor in a wheel...

Trevor Ariza and Gerald Green are reportedly both suspended two games

We've got all the scores, highlights and news from Wednesday night