How the Nuggets can survive without Danilo Gallinari
With the loss of Danilo Gallinari to a torn ACL on Thursday, how can the Nuggets continue to find success? A detailed model of how the team must adapt.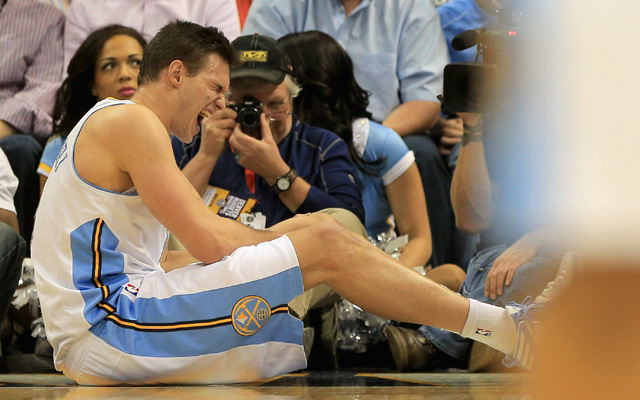 With the Denver Nuggets announcing that Danilo Gallinari is done for the season with a torn ACL, the question now becomes "What happens to the third-best team in the Western Conference?" A team without a superstar that relies on having a number of guys who could go off at any moment is suddenly down their second-leading scorer, a terrific wing defender, and a player who they often went to in the clutch. 
So it's not good. 
But the Nuggets have no choice but to get up and go back to work. As George Karl said Sunday night: "We gotta figure things out and don't feel sorry for ourselves. Just hang in there and continue to figure out how our team fits. We're versatile, we're deep." 
So how do the Nuggets go forward? 
Well, let's take a look. 
Offense
This is the big hit. Gallo wasn't just the team's second-leading scorer, he was second among major rotation players in points per 36 minutes, second among major rotation players in 3-point percentage, and fourth on the team in assists. It's a major loss, of that there can be no doubt. 
The popular approach is to try to find one player who can duplicate Gallo's production. But that's insane. Furthermore, the entire team concept of the Nuggets is built around the idea that you don't need one guy to do anything. Instead, I consider it being more about breaking down his scoring into fifths. The Nuggets as a whole have to account for that. 
It starts with Wilson Chandler, the popular choice for who to turn to with Gallo out. Chandler is averaging 17.8 to Gallo's 17.9 points per 36 this season while playing offensively at a small forward role and defensively as a power forward. Chandler is finally healthy after a hip injury left him a shell of himself for much of the year, and he has regainged both his perimeter shooting and Eurostep to get to the rim. 
It's a realistic expectation that with more minutes and increased production, Chandler could cover two-fifths of Gallo's offensive production. It will be up to the others stepping up to cover for him.
Ty Lawson, when he returns from a torn plantar fascia (and there's been no indication of when that will be), will have to cover at least one-fifth. Lawson was always going to have to step up in the playoffs as the team's best player, but without Gallo, Lawson will need to go even further. Particularly, given how teams will play Chandler on the perimeter, Lawson is going to have to loosen up with his willingness to shoot 3s. He's been tentative in the Nuggets' dribble-drive offense, and that's going to have to shift. Lawson has to provide perimeter scoring and be even more aggressive, something Karl has always struggled to get the Nuggets' point guard to do. 
Andre Iguodala is the biggest question mark. 
Iguodala is struggling through a year in which he's shooting 44 percent from the field, 31 percent from three, averaging 13 points a game and has spoken often of how it's been difficult to figure out how he fits in the offense. 
"I haven't been able to fit in the way I want to,"Iguodala said Thursday, "but I'm looking forward to tuning up before the playoffs and getting ready." 
Iguodala can cover Gallo's playmaking abilities because he's an excellent drive-and-kick passer. But he's going to have to do better at the rim and from midrange, an area where he's struggled in his career. Gallo's relentless attack at the basket is something Iguodala can duplicate, but it's drawing fouls, and then hitting free throws that are a problem for Iguodala. This is a big swing vote. Iguodala must step up offensively if the Nuggets are going to have a shot at a run. He needs cover one-fifth of Gallo's production on top of his own. 
Finally, you need one-fifth from the rest of the team. Whether it's rookie Evan Fournier making plays as a third guard/forward, Corey Brewer hitting corner 3s or jumpers, or Jordan Hamilton finally getting a chance to come in and shoot -- the one thing he can do -- the Nuggets need to find someone ready to fill in consistently for that little bit of Gallinari's offense. 
Defense
This is where it gets easier. Gallinari is a big, strong, long defender on the wing, but the Nuggets are stacked with good, long defenders on the wing. Iguodala is a Defensive Player of the Year candidate, Corey Brewer has become a major problem for teams in the pick and roll and creates mayhem in passing lanes. And Wilson Chandler is able to operate effectively from range and on the wing, as well as down low. 
The Nuggets' defensive numbers are great with Gallo on the wing, but the big shift this year has been having Gallo no longer responsible for the primary offensive weapon of the opponent and instead having the luxury of using a good defender on good players vs. great. The Nuggets, though, have multiple good defenders, and although they may not be as good overall as Gallinari, they're capable of being effective if they can lock in. 
It would be surprising, though not unfathomable, if the Nuggets are hurt significantly by Gallinari's absence. 
There are other factors to consider, but they have a good resource of leadership. They're not short on hustle players. They have intelligent players on the wing. They have guys to lift the spirit of the team, and if there's one thing that gets a team to bond together, it's an injury to a key player. 
The Nuggets' road to playoff success just got much harder. But it by no means ended Thursday night. 
The Cavs were supposed to honor their ex-star but ended up not showing the tribute video

James has a plan for his oldest son if they were ever to meet in the NBA: 'I'll foul the s---...

NBA players expressed their emotions after seeing Gordon Hayward suffer a gruesome ankle i...
No kneeling or protests from either side but the King issued his own statement

Gordon Hayward fell awkwardly in the first quarter.

Kyrie Irving is back in Cleveland and his welcome was not exactly a warm one