How to be a summer league veteran
In Las Vegas, it wasn't Shannon Brown, Chris Wright or Quincy Acy's first rodeo. As vets, they approach it differently.
• 5 min read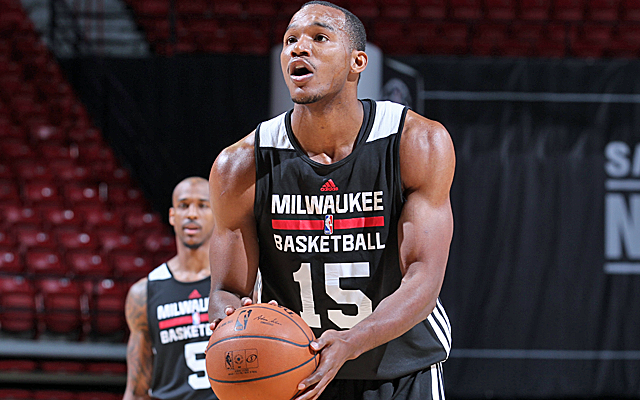 LAS VEGAS -- Shannon Brown is not new to summer league. Eight years ago, he played in his first. The event was in its third year in Las Vegas, nowhere near the sponsored spectacle it is today. Laughing as he reflected on it, Brown said the biggest difference now is his own maturity. Back then he was 20 years old, the No. 25 pick in the draft out of Michigan State. At 28, he can be described a number of ways. Some of them: a veteran, a journeyman and a two-time NBA champion. 
"I was trying to make a name for myself, you know what I mean?" Brown said. "And show people that I can play in the NBA. Now I'm trying to show people that I can still play in the NBA, if that makes sense."
Part of the job is teaching. Brown has three years on the second-oldest member of the New York Knicks summer league team, and he's a full seven years older than a few of them. The coach, Derek Fisher, was Brown's teammate when he won those titles. He admitted it was a bit weird to be playing for him.
"I respect him as a coach, as a person, as a player," Brown said. "I just try to put all that aside and try to hear what he's saying, what he wants us to do and accomplish on the basketball court, and go out there and try to help the young players."
New York is trying to install the triangle offense, and Brown is the only one with any experience in it. Fisher made it clear that he wants him to speak up while they're all learning. Brown said with just a couple of weeks of practices and games, you can only learn the basics, but he thinks the players picked up as much as possible. 
Much of what Brown is trying to impart goes beyond X's and O's. He knows what they're feeling, and he remembers having the same questions they did.
"I feel like they're just like me," he said. "They're aggressive, they're hungry, they want to establish themselves. They really don't know quite what to expect, they're young, they're naive, but they're going to go out there, they're going to play hard and they're going to do whatever the coach asks them to so they can stay on the basketball court, stay in the NBA. That's some of the same things that I was going through."
—
Two years ago, Milwaukee Bucks forward Chris Wright was one of the guys trying to watch and learn. He'd just spent a season split between the D-League and the Golden State Warriors after going undrafted. In Orlando's summer league, he played with the Warriors. In Las Vegas, he played for the Toronto Raptors. He was in both leagues again the subsequent season, and is now trying to stick with the team that signed him in March.
Due to the presence of 19-year-olds Jabari Parker and Giannis Antetokounmpo -- who are also expected to be the Bucks' starting frontcourt in the regular season -- the 25-year-old Wright came off the bench. He described his role as a big brother, someone who can demonstrate what it means to be professional.
"[I'm] trying to show them the ropes," he said. "There's a lot about basketball but then again there's a lot that goes on off the court that people don't get to see, and [I'm] just trying to be a professional at all times, especially when you know it's people watching all the time. Just trying to show guys that haven't really been in this situation before that you can have talent, but you also got to have the character to go along with it."
Parker and Antetokounmpo certainly have all the talent in the world, and their skills are advanced far beyond their years. It's not like they have character issues, either. In some ways, though, they're as green as Milwaukee's logo.
"Jabari, he went to prom almost a year and a half ago," Wright said. "It's things that he'll have to pick up and learn quick, but I think he's doing a good job with it. Just some of the conversations we have, just asking about the game and per diem and different things like that, just everyday questions that you kind of miss when you first came into the league."
—
Sacramento Kings forward Quincy Acy played with Wright on Toronto's team in 2012 and 2013. He made his name for playing as hard as humanly possible, and he did that in Vegas as a rookie after being selected in the second round. Going hard didn't mean he was where the coaches wanted him on the court, however. 
"I was moving a lot faster," Acy said. "I didn't know the game. This is my third summer league going into my third year, so I have experience and I think I just slowed down."
Acy is comfortable as a leader here or anywhere. Despite being only 23, during the season he likes to break the huddles. He's as vocal as anyone in the league when cheering from the sideline. That role is magnified here, though, similar to the way it was when he was a senior at Baylor.
After 21-year-old Ben McLemore struggled in the Kings' opener, missing six of his eight shots, Acy texted him about it. He said it would be a long summer league and the work McLemore was doing would pay off. McLemore responded well, scoring 51 points in his next three contests. Perhaps more important than this sort of encouragement, though, is that Acy sets an example. 
"I've been trying to be a vocal leader as well as leading by actions," Acy said. "I do everything the right way. I've been making sure nobody's seeing me out. I'm not going out, I'm not downstairs at the craps tables. I'm here for business. I'm trying to make that light shine on the young fellas here, so they know that everything in the NBA is a business."
Summer league is over for all but two teams, Sacramento being one of them. While it doesn't matter much whether the Kings beat the Houston Rockets, Acy knows by now to approach it the same way he's approached everything else here: like it's the real thing, and like people are paying attention.
"Any time you play, you want to win," he said. "I like how they added tournament-style, it makes it more competitive. I don't even know what the prize is if we win. It's probably nothing, it's probably a shirt. Or who knows? Just, you want to win. You want to say that you helped lead your team to a championship."
Greek Freak scores career-high 44 points and reaches scary level to finish the game

It was an ugly finish as the Warriors fell to 1-2 on the season -- both Curry and Kevin Durant...

Mirotic was hospitalized with facial fractures after an altercation with Portis during pra...
Irving had some choice words for a fan who heckled him in Philadelphia

Several teams were reportedly interested in Nelson after he was waived by the Nuggets

Cousins got into a heated exchange with a fan during the Pelicans' season opener