Iguodala on Under Armour and KD: 'I had a better shot at Halle Berry!'
On Twitter, Andre Iguodala chimed in on the Kevin Durant shoe situation
• 1 min read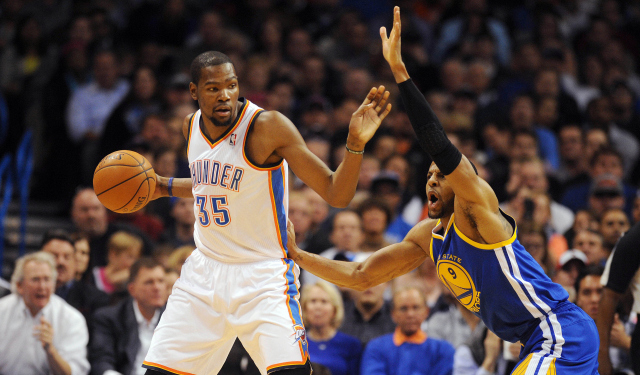 Golden State Warriors swingman (and Nike guy) Andre Iguodala did not think Under Armour ever had a chance of landing Oklahoma City Thunder superstar (and Nike guy, now until 2024) Kevin Durant, even with a $265 million-plus offer on the table. Here's Iguodala's response to ex-teammate Kent Bazemore of the Atlanta Hawks, who wears Under Armour:
@24Bazemore I had a better shot at Halle berry!

— Andre Iguodala (@andre) September 1, 2014
The thing about that is Durant was ready jump ship if Nike didn't pony up. He was essentially a restricted shoe free agent because of the terms of his previous contract. "Indications were strong that he would go to Under Armour," ESPN reported. But, meh, let Iguodala have his joke.
Irving has requested a trade away from the Cavaliers

The Lakers made a strong push for Rose, but he would have been a backup in Los Angeles

The small forward spent last season with the Sacramento Kings
Knight still has three years left on his five-year, $70 million contract

The Golden State forward is accused of assault, battery and making misleading statements

The Nets get their shooter a year later, and the Blazers reportedly will waive Nicholson