Iguodala on Under Armour and KD: 'I had a better shot at Halle Berry!'
On Twitter, Andre Iguodala chimed in on the Kevin Durant shoe situation
• 1 min read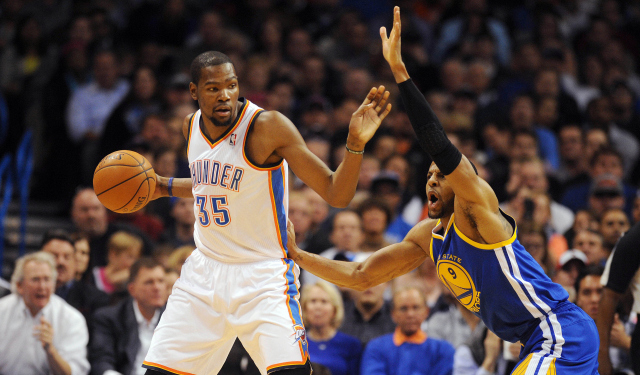 Golden State Warriors swingman (and Nike guy) Andre Iguodala did not think Under Armour ever had a chance of landing Oklahoma City Thunder superstar (and Nike guy, now until 2024) Kevin Durant, even with a $265 million-plus offer on the table. Here's Iguodala's response to ex-teammate Kent Bazemore of the Atlanta Hawks, who wears Under Armour:
@24Bazemore I had a better shot at Halle berry!

— Andre Iguodala (@andre) September 1, 2014
The thing about that is Durant was ready jump ship if Nike didn't pony up. He was essentially a restricted shoe free agent because of the terms of his previous contract. "Indications were strong that he would go to Under Armour," ESPN reported. But, meh, let Iguodala have his joke.
Chris Paul sat out the fourth quarter of the Rockets win due to an apparent knee injury

Durant couldn't quite get the shot off in time, and the Rockets prevailed

Draymond Green walked off the floor limping and rubbing his knee in the third quarter
Golden State raised its second banner in three years. Now they start their run for another

Hayward's injury left the Celtics shocked for a moment.

The 11-carat rings hold more diamonds than any other ring awarded in any other major sport...