Improvement with Hornets' Michael Kidd-Gilchrist is a straight shot
Charlotte Hornets' small forward Michael Kidd-Gilchrist was the second pick of the 2012 draft and figuring out his jumper will be the only way to come through.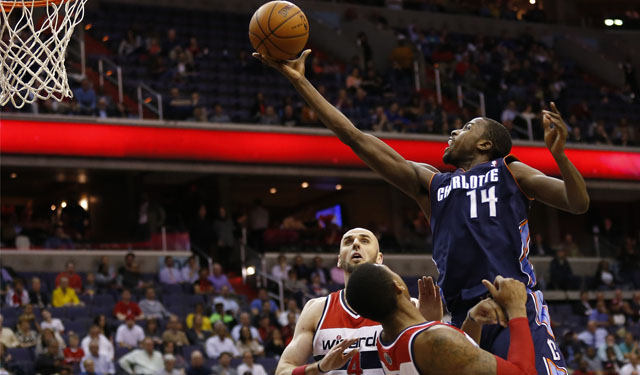 The ballad of Michael Kidd-Gilchrist has been relatively simple since he was the second pick in the 2012 draft.
"If he can figure out a way to shoot, look out."
Two years into his career, he hasn't shown that he's going to figure out how to shoot any time soon. The Charlotte Hornets' starting small forward is great at scoring around the basket and his defensive prowess is impressive. However, his shooting issues leave you wondering if he'll ever be capable of being "the next Andre Iguodala" as some had billed him heading into his rookie season.
How bad is his shooting? He was in the seventh percentile in spot-up scoring last season. That's not the top seventh percentile; only 30 players in the league were worse at scoring efficiency when spotting up. He made 29.7 percent of those spot-up opportunities. This is especially a problem because it was the thing he did the most for Charlotte. Spot-ups accounted for 25.2 percent of his offensive possessions, according to Synergy Sports.
On catch-and-shoot opportunities, Kidd-Gilchrist ranked in just the fifth percentile, with only 19 players in the NBA worse than him at catching and shooting (12 of them were big men). He made 27.8 percent of those attempts, and that percentage fell to 23.3 percent when he was guarded (bottom two percentile, only eight players worse). He only took nine 3-pointers the entire season, making one.
In fact, he's only taken 18 3-pointers in his two years in the NBA and he's made three of them. To show how rare that is for a player like him, only 17 other players in NBA history have played at least 3,500 minutes while shooting fewer than 20 3-pointers and grabbing fewer than 800 rebounds (included to weed out as many big men as possible) over their first two seasons. He's one of the rare wings over the last 35 years (3-point era) to play a lot of minutes and not hoist 3's.
It's not just that he can't hit his jumpers; his jump shot form just looks overly complicated:
Because of his shooting motion in which the off hand seems to cover the top of the ball before he releases, it looks like his body is mostly turned away from the basket. His right side is turned so far in. It flies in the face of telling a shooter to be squared up to the basket on their shot. From there, you have balance issues, the mechanical hitch in the shot, and the placement of his hands. It looks difficult to master when he's shooting alone in a gym, let alone having the most athletic defenders in the NBA flying at him with the shot clock running down and the pressure of being a No. 2 pick chasing him down.
Assistant coach Mark Price started working on fixing this jumper last summer, only we didn't see the results people were hoping would come right away. His spot-up shooting percentage was down 4.7 percent from his rookie season and he went from being a 74.9 percent free throw shooter as a rookie down to just 61.9 percent last season. Perhaps, MKG hit rock bottom with his scoring outside of the paint last season and will only go up from here, but his confidence didn't seem to be growing by the end of last season.
The question becomes "just how much can Kidd-Gilchrist help this team if he's a non-threat on the perimeter as a wing?"
He's not the playmaker many hoped he'd be. He's not the Iguodala type because you don't have to worry about his jumper. Play off him and take away any passes he could make. He's not steady enough with his dribble to make you pay for allowing him to gain a full head of steam off the bounce. It's why he only averages 1.2 assists for his career and had a usage rate of just 15.2 percent last season.
However, where he does help the Hornets the most is defensively. His quick feet and long arms help fuel a smart anticipation he has to take away your next move. The sixth best defense in the NBA (101.2 points per 100 possessions) was even better when MKG was on the court, when Charlotte gave up just 98.8 points per 100 possessions -- just behind what the Pacers and Bulls gave up last season. He can defend and he can finish around the hoop. 
Charlotte struggled to score last season though, and they were still quite good defensively when MKG was on the bench (102.6 points per 100 possessions, goon enough for 11th in NBA). The Hornets will have more options on the wing this season, too. It should push Kidd-Gilchrist to the point of finding a way to help more on offense so they are forced to keep his defense out there. Lance Stephenson joins the rotation, along with Marvin Williams. They still have veteran Gerald Henderson and will have Jeff Taylor coming back from an Achilles' rupture last December.
Kidd-Gilchrist already had shortened minutes (24.2 per game) last season and has more competition. It's possible having another playmaker on the floor in Stephenson will allow MKG to be a bigger weapon off the ball. He'll be able to get out in transition and be more effective. He'll be able to cut baseline or circle through the lane where he's consistently effective. The Hornets can get him more shots in positions where he can contribute on that end. 
At some point, he will have to figure out how to be a shooter that at least approaches being an average weapon. If you can get him moving toward the mean and away from the depths of lower ranks, then you can get Kidd-Gilchrist looking more like the player Charlotte hoped he would be.
Because if he can learn to shoot the ball even a little, look out.
The Warriors coach added there should be no shame in being picked last since everyone's an...

We've got all the scores, highlights and news from all of Saturday's games

The two teams have reportedly not had any substantial discussions to this point
Oladipo may be getting most of the shine, but this second-year big man has been phenomenal...

SportsLine's Mike McClure, a DFS pro with more than $1M in winnings, gives optimal lineup...

The Lakers were just 2-14 from the stripe