In a tough season, Brian Shaw has kept the Nuggets 'on the rope'
Denver has struggled in a transition season, but there are signs of life in the Mile High City. And don't think for a second coach Shaw has lost the team.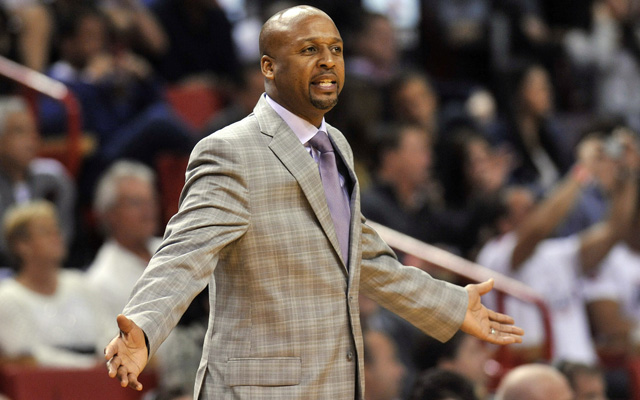 More NBA: Power Rankings | Expert Picks | Latest news, notes
It would have been easy to let go of the rope. 
That's the reality of where the Denver Nuggets are at. One season removed from a 57-win season, mired in mediocrity, their slim playoff hopes "on life support" as one veteran player said Monday night, and in a season where everything that can go wrong, has, there were a lot of reasons to simply check out.
After another first-round playoff exit for George Karl last spring thanks to an unbelievable shooting performance from the Golden State Warriors (the 10th best 3-point performance in a series all-time for a team shooting at least 200 3's in a series), major changes rocked the organization. Masai Ujiri was allowed to leave to take the job in Toronto. Faced with a major reshaping of the organization, and under pressure from Karl, the reigning Coach of the Year, to secure an extension for him and avoid his having to coach as a lame duck, ownership decided to make a move on that front as well. 
Tim Connelly was brought in as General Manager, and after several interviews over the past few years, Brian Shaw was hired, promising a style that would be more successful in the playoffs, even if the team might not make them this year. Still, with much of a roster that had won games back, there was optimism. 
Then everything went bad. Injuries hit, with the team losing Danilo Gallinari for the year after a confusing re-evaluation of is ACL tear. JaVale McGee for what wound up the year with a fractured leg (with surgery coming too late in the year for the Nuggets to apply for the injured player exception). Wilson Chandler missed time. Nate Robinson suffered a torn ACL. Ty Lawson , most importantly, missed time. 
Oh, and there was a major blowup between Shaw and the team's veteran leader, Andre Miller that resulted in a suspension and then an indefinite absence for Miller before his trade to Washington at the deadline. Players were unhappy with their role, unhappy with the schemes, generally unhappy. 
After the conflict between Shaw and Miller, the Nuggets held a three-hour series of meetings, an "airing of greivances." The Nuggets went on a winning streak afterwards, but shortly melted down again. Lawson missed more time and the team hit critical mass. 
After a nightmare blowout annihilation by the Chicago Bulls on national television, I tweeted "Brian Shaw hates his players and his players hate him." Shaw had been consistent with tempering praise in public with reiterations of what had to improve. No number of points, rebounds, or hustle plays were going to make up for blown rotations and the lack of a post game. For everyone else, the effort, more mental than physical, wasn't good enough. Shaw went out and shredded his players post-game. People I spoke with around the league couldn't think of a coach putting his players on blast to that degree in the pros, outside of Jerry Sloan. 
So when I showed up a few days later for what would turn out to be disappointing losses to the Sacramento Kings and Blazers, I expected to find Shaw gear down a bit. Instead, Shaw lit up his guys again pregame and then again postgame. You can say what you want about Brian Shaw; the guy's not backing down from anyone and is going to be honest and fair with his criticism. He tempered his criticism of Faried with praise earlier in the season, but when he lit into his team this time, there were no specific players called out. It was on the team. 
More surprising, though, was the support of his players. Randy Foye was adamant that the team's failures were not on the coach, but the players. J.J. Hickson too shouldered the blame. This was not a roster that had burned its coach out. 
"This isn't on coach at all," Foye said. "This is on us. He's trying to reach us, to get through to us."
Foye also said he and Lawson, who has been criticized in the past for not being an aggressive enough leader, had been "getting on guys" in practice, trying to push the team. 
It was at this point, when Denver had fallen out of the playoff race that I expected the Nuggets to shut it down. When the motivation of the playoffs falls by the wayside, guys check out. Foye and Lawson could talk about what they were trying to do, but too many teams in Denver's situation have mentally bailed under better conditions than what had gone a mile high this year. 
And then a funny thing happened. 
In the loss to the Blazers, they competed in the fourth quarter, but couldn't overcome a slow start. The same thing happened when Denver went down 29-8 vs. the Brooklyn Nets . 
But in March, Denver's gone 5-5. After a close losses in Portland and against the Wolves, the team went on a 12-day stretch going 5-3 with wins over the Miami Heat in Miami and capping it with Monday night's nationally televised game against the Los Angeles Clippers . So what was the turnaround? I baited Shaw with that question Monday night, asking how this team had stuck together. He had a simpler explanation. 
"Well, one reason is we're relatively healthy," Shaw said. "We have 12 available guys which we didn't have for a long time. We got our engine back in Ty. He's the engine for us. He exudes confidence for our guys when they're out there with them. But we're getting the effort. We're competing. Even when we lose and we compete, we can live with that. So now it's a matter of trying to be more consistent, but to learn from these situations and build off the fact that we've shown that when we play at the level we're capable of, we can compete with any team in the league."
Ty Lawson credited health as well, stating that having the veterans on the court cuts down on the mental mistakes. Darrell Arthur credited improved leadership in the locker room, specifically mentioning an interesting name: Kenneth Faried . 
"I think Faried has done a good job of being a vocal leader, and being a leader by example out there on the court with his effort," Arthur said.
Faried struggled in Shaw's system early, having never developed a post game or a mid-range jumper. The general consensus was that Faried woud never fit in Shaw's system, that Faried needed Karl's type of up-and-down running game to succeed. Instead, while there's a lot left for Faried to improve on, everything has been different as of late. He's always made effort plays defensively, but now his rotations are better, as it was when he chased down a steal attempt and then recovered back for a huge block on DeAndre Jordan Monday.
And offensively? In March, Faried is averaging 21.5 points, 10.4 rebounds and .8 blocks per game and shooting a startling 62 percent from the field. It may just be a momentary blip in a lost season, but Faried shows legitimate signs of "getting it" within the scope of Shaw's offense. 
Several veterans acknowledged Monday that the playoff race is over for Denver. (Their "tragic number" for elimination is 6, with both Phoenix and Minnesota ahead of them even if the Memphis Grizzlies were to lose out, meaning a combination of six more Denver losses or Memphis wins eliminates them from contention.) But they are finding out who they are under Shaw, a mystery that seemed nearly unsolvable in February.
The odds are that Denver will look significantly different next season. But after a year that left so many wondering how much different things had been if the team had simply not made its changes at the top in the offseason, there are signs of a new foundation being laid. And if nothing else, there's proof that even as Shaw continues to learn how to swing a head coaching job in the NBA, he's kept his guys on the rope.
A look at the context of the schedule and who plays who when, and how far they travel during...

Durant took on rapper Lil Dicky and actually might have lost

A report that James would once again be leaving Cleveland made the rounds on Wednesday
Known for his 'take that for data' rant, the Grizzlies coach touched on a number of important...

Wade's days with the Chicago Bulls appear to be numbered

Misty Suri will reportedly keep his job with the New Orleans Pelicans