In aftermath of Warriors drubbing, LeBron puts the Cavaliers on notice
If you're one of the people who think the Cavaliers are guaranteed to be in the NBA Finals, LeBron thinks you're crazy,
NEW YORK -- LeBron James may have just said that the Cleveland Cavaliers have "a long way to go" to become a championship team, but they didn't really have to travel far on the next leg of the journey.
Just a quick flight to New York in the aftermath of Monday night's 132-98 embarrassment at the hands of the defending champion Golden State Warriors, followed by a bus ride from the team hotel over to Basketball City at Pier 36 on Manhattan's Lower East Side.
Such was the venue for the Cavs' morning shootaround on Wednesday ahead of the next game -- there's always a next game -- in Brooklyn. The disappointment, baggage and venting that always come with such an obliteration were left behind in Cleveland -- apparently in a dumpster.
Presumably one that was on fire.
"Our last game against Golden State," James said, "you can kind of throw it in the trash."
And that's the very receptacle where James wants the Cavs to toss this notion that they're an "elite" team that's just counting the days to a return trip to the NBA Finals. The word of the day from LeBron on Wednesday was "absurd," and the message was even deeper.
Nothing's promised. Nothing's guaranteed.
"When I [talk about] us playing at a championship level, that doesn't automatically guarantee us [playing] until June," he said. "It's all about the habits; I preach the habits more than anything. For me to look and say that we're going to represent the East in the Finals would be absurd. I don't really talk like that. That's not what I'm about.
"I think we're a good team," he said. "But I don't think we're a great team right now. We've got to continue to get better. I really think it's absurd to think about May and June; it's not guaranteed, man. If we continue to win and put ourselves in position and we do make the playoffs, then we give ourselves a chance. ... But that doesn't guarantee you anything. One shot here, one shot there, a turnover here, a turnover there, can change a series. So for me, to focus on down that road when tomorrow isn't promised, I think, is absurd."
Tuesday, as you might imagine, "wasn't a great day for us," James said. More important than the on-court work (which he described as "really sharp") was a pre-practice conversation among the players about resisting the urge to allow Monday night's blowout to linger.
Then, of course, there was the obligatory watching of the film, which James never likes to avoid, no matter how grim. 
"Very ugly to watch," he said. "... Offensively, I don't think we were that bad. Defensively, we were a little behind. … We were a couple of steps behind, and against a team like that, it's like being a couple of steps behind a Patriots team right now. They're gonna make you pay; you can't do that."
A little less than a year ago, the Cavs were 19-20, having lost six in a row and nine out of 10. The burden of expectations that came with James returning to Cleveland, to team with All-Stars Kyrie Irving and Kevin Love, weighed heavily on him and on the franchise.
Now, they're 28-11 -- "a huge difference," James said -- but with the same expectations bearing down on them.
"I experienced this in Miami, too," James said. "People want instant success. When guys come together, it's like instant oatmeal. Throw it in the microwave, in 30 seconds it's done and it's ready to go. It doesn't work that way. You need time and you need adversity together. You need hardships. You need times when you don't like each other. You need the worst of times in order to become really good. I've experienced that over my career.
"This is not even a full two years with us," he said. "I don't even think we have 82 games together as a full [healthy] unit. You look at Golden State, San Antonio, you look at Chicago, Toronto, OKC, the Clippers, Miami -- I could keep naming -- those guys have so much game experience. And we don't. But we get this whole perception about who we should be. Our main focus is on what we can do every day to improve."
Besides the absurdity of it all, James said the Cavs need a dose of another condition that he's learned is necessary throughout his 13-year career.
"It's about the drive and how insane you are about wanting to be great," he said. "I have a little insanity."
And with that, James led the Cavs into the next shootaround, which leads to the next game, and then the next flight, next practice, and on and on. All the way to June, one would presume -- though James won't. He knows better.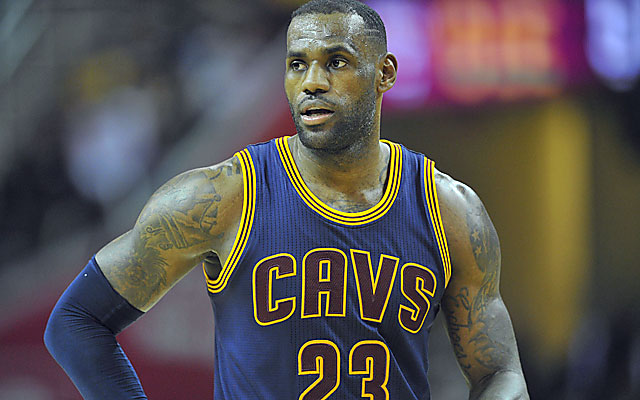 Kris Dunn somehow took a chunk of the Bulls court out with his teeth, but didn't lose any in...

The fallout from the Rockets-Clippers tussle continues; no Clippers were disciplined

DH12 is picked for free throws after a teammate gets ejected. He makes both, and lets Scott...
Bell was injured defending a Robin Lopez dunk and had to be taken off the floor in a wheel...

Trevor Ariza and Gerald Green are reportedly both suspended two games

We've got all the scores, highlights and news from Wednesday night