In first step to ouster, NBPA places Hunter on indefinite leave
In the first step toward his removal as executive director of the National Basketball Players Association, Billy Hunter was placed on indefinite leave Friday in the wake of a massive report questioning his leadership of the union.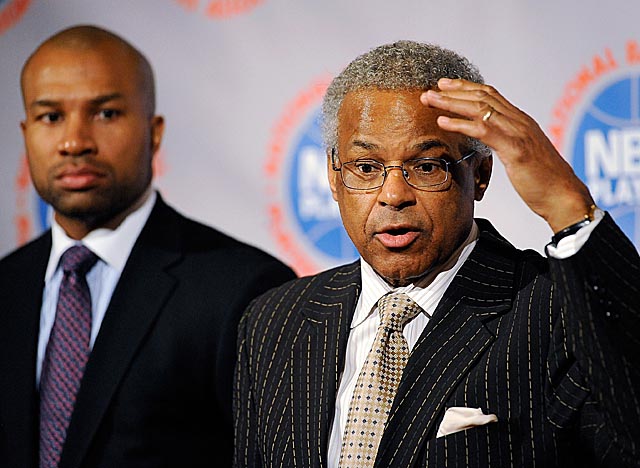 An interim executive director is in place after Billy Hunter was placed on indefinite leave. (Getty Images)
UPDATED 5:49 p.m. ET
In the first step toward his removal as executive director of the National Basketball Players Association, Billy Hunter was placed on indefinite leave Friday in the wake of a massive report calling his leadership of the union into question.
Deputy general counsel Ron Klempner has been appointed acting executive director, and executive and advisory committees are being formed to carry out union business going forward.
The moves were announced by NBPA president Derek Fisher, whose inquiries into the union's finances and business practices under Hunter led to a nine-month investigation resulting in a 469-page report detailing Hunter's failings.
"Unfortunately, it appears that Union management has lost sight of the NBPA's only task, to serve the best interests of their membership," Fisher said in a statement released by his publicist. "This is the reason I called for a review almost a year ago. The findings of that review confirm this unfortunate truth and we must now move forward as Players.
"Immediate change is necessary and I, along with the Committee Members, are committed to driving the process as difficult as it may be," Fisher said. "We ask for the cooperation, trust and patience of the Players, their representatives and some of our hard working NBPA staff as we navigate through this situation. But rest assured that our goal is to do what is right for the Players and we will emerge stronger than before."
Fisher will be on site at the union offices in New York to "assist during this time of transition," according to his news release. His publicist also has joined him in New York.
The actions, including Hunter's leave and the appointment of Klempner as interim director, were "approved unanimously" by the interim executive committee, which consists of the five active members of the previous committee: Fisher, Chris Paul, James Jones, Matt Bonner and Roger Mason Jr. The formation of additional committees to move the union forward was under way, Fisher said.
Fisher's proactive role in the transition and his formal announcement of Hunter being placed on leave will only fuel speculation among players and agents that Fisher is positioning himself for a run at the executive director position when Hunter is permanently removed. However, a person familiar with Fisher's plans said the union president is not seeking Hunter's post.
"Not even in the discussion," the person said.
It was Fisher's concerns about Hunter's leadership that led to the hiring of outside counsel Paul, Weiss, Rifkind, Wharton & Garrison to investigate the union's finances and business practices.
According to the report released Jan. 17, Fisher still is considered union president, and thus an executive committee member, because his term has not expired and he was on an NBA roster this season. Fisher was briefly signed by the Mavericks, who granted Fisher's request to be released in December. The Paul-Weiss report recommended that only Fisher and Bonner be considered active executive committee members, but Fisher's statement indicated that the interim committee of five players was formed "pursuant to the NBPA's Constitution and Bylaws."
Hunter challenged the authority of the five-person committee to act against him in a statement released by his attorney, Thomas Ashley of Newark, N.J. Ashley characterized the committee's authority to place Hunter on leave as "highly questionable" and said its power to do so is "not supported in either the Constitution or Bylaws of the NBPA."
"We believe his contract is valid and we will  soon offer a comprehensive rebuttal and explanation with respect to the allegations mentioned in the letter and report," Ashley said.
The union's bylaws do not specifically address the procedure for removal of an executive director, but the committee interpreted the following language as providing authority to take action against Hunter:
Article VI, Section 2 gives the executive committee the power to "establish any committee which, in its judgment, would serve the Players Association's interests." This is the authority to form the advisory committee alluded to in Fisher's statement.
Article VI, Section 3 states: "At any meeting of the Executive Committee, a majority of the members shall constitute a quorum, and the Committee may act by a majority vote of those present." Five out of nine members -- a majority -- voted unanimously in this case.
Mason, among the five committee members who voted to place Hunter on leave, told CBSSports.com's Matt Moore Friday that Hunter is "a man of integrity."
"Personally, a lot of respect for Billy," Mason said. "I know he's a man of integrity. I know this is a tough time for our union. We have to get the facts. Obviously, the report came out, and he's on an indefinite leave of absence. We'll get to the bottom of everything and everything will come to light at some point."
Among the key findings in the report, Paul-Weiss concluded that the players were not obligated to recognize Hunter's current contract as executive director because it was not voted on by the body of 30 player representatives. The newly formed committees, along with remaining union staff and outside counsel, will push to resolve the issues of union leadership at meetings scheduled for All-Star weekend in Houston this month.
The outside counsel that is being retained by the union is not Paul-Weiss, nor is it the Washington, D.C., law firm Patton Boggs, a league source told CBSSports,com. Patton Boggs is the firm that Fisher initially tried to retain to conduct the business review before the rest of the executive committee rejected the plan and instead voted 8-0 to request Fisher's resigniation as president in April 2012. Fisher refused to resign, and the union retained Paul-Weiss to conduct the probe.
The NBPA's constitution calls for 20-day notice to be given to all player representatives prior to a meeting at which nominations and elections for officers will be held. That notice was given previously, allowing for elections to occur at All-Star weekend, a league source said. However, the timing of the All-Star meetings might be revised to ensure that all players will be able to attend without conflict, Fisher's news release said.
Jared Dudley, the Phoenix Suns' alternate player representative, told CBSSports.com that he's advising teammates and other players to read the report on Hunter and be prepared to take action at All-Star weekend.
"I think it's time for a vote," Dudley said. "I think before, there was never a chance. I think because of what's going on, it's time now. It's like when we had to decide do we take the deal during the lockout or not take it? We voted on that and we had options. … I think now it's come to the point where guys, after taking a look at this information, should have an opportunity to vote: in or out."
Dudley characterized the report's findings on Hunter as "shady," and said, "Stuff under the rug has been going on."
"Any time the president and the union are colliding," Dudley said, "something needs to be checked up."
Earlier this week, in perhaps his final actions as executive director, Hunter announced that he'd removed family members from the union staff; terminated a union contract with his son's financial firm; and proposed a reorganization of union staff and the adoption of anti-nepotism and conflict of interest policies.
But the Paul-Weiss report galvanized those in the agent community who've been poised for Hunter's ouster long before the report was released. In a letter to his clients published in the New York Times, powerful agent Arn Tellem called for Hunter's removal. Nets star Deron Williams, a client of noted anti-Hunter agent Jeff Schwartz, told CBSSports.com recently that "change is needed, top to bottom" at the union.
Knicks player representative Steve Novak has said the players need to hear from Hunter before making a decision, but now it is not clear whether Hunter will be present at the All-Star meetings. 
The bigger question was how, and by whose motivation, the players would get organized and take the steps Tellem and others have requested.
"I feel like guys feel like there is something wrong," Dudley said. "I just don't know if guys know how to take action and what is the process for doing that. ... The people like the Chris Pauls and the [Maurice] Evanses and the [Keyon] Doolings, you felt like they and Billy were so close and tight. If you had a problem, you'd feel like you go to them and then it goes right back to Billy." 
The issue of who would organize the players against Hunter was resolved Friday, and the answer was Fisher, whose announcement of Hunter's indefinite leave left no doubt about who was prepared to fill the power vacuum, at least in the short term. Where the union goes from here in its search for new leadership will be the players' call.
"There's definitely some work to be done," Novak said.
LeBron and Durant both responded to a newswoman's recent comments, telling them to 'shut up...

Mitchell's Slam Dunk Contest win was the icing on the cake of an incredible run of success

Dennis Smith Jr. had a great dunk contest, but the judges didn't feel the same way
Mitchell was awesome, but Larry Nance Jr. and Dennis Smith Jr. had some serious moves of their...

Silver noted that there are many factors at play with the issue affecting both the NBA and...

Jazz rookie Donovan Mitchell came in as a replacement and ended up winning the whole thing