In the shadow of Durant's MVP, Westbrook sparks OKC firestorm
Russell Westbrook brought the Thunder in Game 2.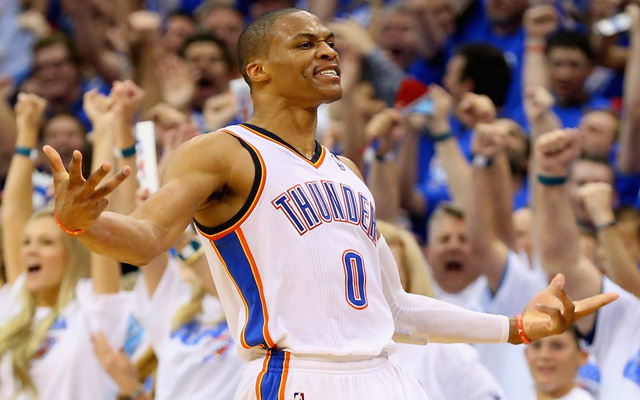 More postseason coverage: Playoff schedule, results | Latest news, notes
You would think that we would be past this. That after watching the Thunder melt into a pitiful puddle last season vs. the Grizzlies in the second round after Russell Westbrook's knee injury, that this constant criticism would have stopped. That we wouldn't have people still wondering if it's possible to have Westbrook play like he can without the reckless edge he plays on. Especially after Durant's comments on Tuesday: 
But no, people still don't get it. 
However, there will be no rebukes tomorrow. In Game 2, Westbrook left a Westbrook-shaped imprint all over the Chesapeake Energy arena floor, and showed why no matter how frustrating his decisions may be for his detractors, the benefits of Westbrook far outweigh any contrary effect. 
"He's not going to make every shot," coach Scott Brooks said after the game. "But he's going to compete, and after the game, you're going to know you played Russell Westbrook."
On Wednesday it wasn't some evolution of his game; he was who he is. Fast, lethal, efficient. He had the mid-range jumper working. He found open looks for Serge Ibaka under the basket and Thabo Sefolosha at the perimeter. (Funny how when Westbrook has 10 assists -- OK, nine; the last one was the scorer's table having super-fun imagination time -- no one talks about him shooting too much.) He was a demon on the boards, snatching 10 of them.
But it wasn't just the numbers. It was that Westbrook is able to stack play on top of play on top of play. Game 1 was defined by Chris Paul's precision and skill. Game 2 was defined by Westbrook's ferocity and relentlessness. Massive dunk, steal, offensive rebound, defense, rebound, assist. The plays came in strings one after another.
It's true that Westbrook rides that edge, has to navigate the fine line between anger that threatens to have him ejected for two technicals, to get him into foul trouble for crashing screens too aggressively. But that edge also puts him into a berserker mode where he's able to use his insane athletic gifts to make play lead to play. There's no one like Russell Westbrook in the NBA. That he plays next to a player who also has no comparison shouldn't mean that his brilliance should be caged. 
If anything, the contrast between Paul's precision and Westbrook's barely contained rage should illustrate how different approaches can be successful in the NBA. Westbrook does need to make his mid-range jumpers (see the shot chart below) to open up opportunities for him.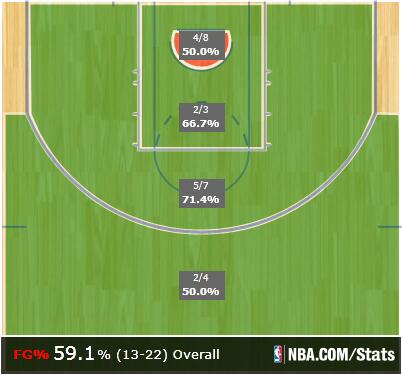 But for a guy who has come back from multiple knee surgeries this year, Westbrook is still in an elite class of athlete. And that helps when attacking defensively, which Scott Brooks commented on after the game. 
Westbrook's defensive energy fueled his offense and vice-versa. In the shadow of Durant's MVP, Westbrook somehow is still the target for criticism of the Thunder. But he's also the difference-maker for this team in its pursuit of a title. In Game 1, the Thunder were shellshocked. In Game 2, their Westbrook device was the difference in evening the series. 
We've got all the scores, highlights and news from all of Sunday's games

The Rockets beat the Warriors 116-108 on Saturday night

The Cavaliers gave up 148 points in their loss Saturday afternoon to the Thunder
Blatt made the comment before coaching in the All-Star Game in Turkey

Is this rock bottom for the Cavaliers because it sure feels like it is

Wade, as he's done so many times in his career, threw it up to LeBron for the thunderous f...