In the wake of Rondo injury, Boston begins to look forward
Celtics GM Danny Ainge doesn't expect drastic moves soon -- even after the loss of Rajon Rondo.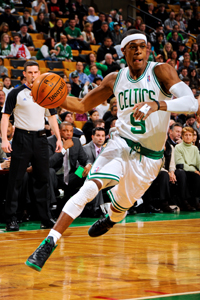 With Rondo out, what's next for the Celtics? 
(Getty Images)
We looked at the ramifications of the devastating injury to Rajon Rondo on Sunday. As the dust begins to settle, the question of "What's next?" begins to percolate. The Celtics seemingly had big decisions to make, and one way or another, there has to be action of some sort. And the Celtics have never been mysterious disappearing men in these situations, so we're starting to get indications. 
TO DETONATE OR NOT TO DETONATE
The biggest question concerns the "blow-up" of the Celtics. The immediate reaction when a team built around two players who are over 35 years old and a dynamic, younger point guard loses said point guard is "that's it, show's over, bring in the dynamite, time to build for the future." It makes sense, right? You were living on borrowed time, hoping everything went right for something magical to happen, and instead disaster struck. The season was lost anyway, why not move on? 
Because, simply, there's no real "win" in doing so. Let's start with what Ainge said to reporters Monday: 
"We weren't going to trade Rondo," Ainge said flatly. "But I'm not going to bring someone in now who is just going to sit on the bench. We could sign a couple of players to minimum contracts, but that's all we can do right now.  We have to see whether someone becomes available through trade or free agency who can actually crack our rotation.

"Right now I'm looking to give the guys we have a chance to play," he said. "Then we'll see what happens in the next few weeks."
via Celtics Insider | Boston Herald.
Here's how the formula shakes out. 
The Celtics' two most valuable trade pieces are Paul Pierce and Kevin Garnett. Pierce's moderately expensive contract with an affordable buyout gives teams a veteran star to try to put a team over the top, with no long-term implications. Garnett provides an elite defender and a monster playoff performer who changes the entire identity of the team he goes to. 
The problem is not that the Celtics' players aren't good enough to trade. It's that they're just good enough to require the Celtics to get great value in return, and that return value simply doesn't exist on the market right now. 
What would Ainge want in return for one or both of the final two members of the 2008 championship, Hall-of-Fame Big 3? He'd want young stars, cap relief and picks. Cap relief and picks are always available, but those young talented players are either inextractable (Cleveland's not moving Kyrie Irving, for example) or not quite good enough to make the move. Going down the rosters, you look at players like Paul George, and the Pacers can't possibly consider giving up on George to try to make one desperate attempt at a title. Eric Bledsoe and DeAndre Jordan are young, talented players playing well for a very good team in the Clippers, but is that enough return for the Celtics, and what do the Clippers do if those pieces don't work out? It's too much of a risk.
It's not that there's not a market for young, talented players, and it's not that there's not a market for Pierce and Garnett; it's that there's not a market to trade Pierce and Garnett for young promising players. 
Boston insiders have made it known over the past month that Ainge has been exploring deals, despite his rampant and vehement claims in the media to the contrary. He's known this team is broken in as far as its championship aspirations for a while. But there's no point in making a move just to make a move. The Celtics will have to do a total rebuild at some point. But when that time comes, it will be painfully obvious and unavoidable. To willingly execute the restart, you have to have incentive to do so. As much as "veteran team pretending to be a championship contender on a huge salary" is unappealing, it sells tickets and it's still better than "cheap, awful team with no true direction that blew its best trade value." 
SHORT-TERM SOLUTIONS
So if they're not going to blow it up, what do they do in the interim? Avery Bradley is technically regarded as a point guard, but he's neither the shooter nor creator that the team needs. So you imagine that they want a point guard, but as Ainge's comments indicate, he doesn't want to pay a lot for a backup. But with a good replacement, it's possible, not likely, but possible that a suddenly engaged, rally-around-Rondo's-absence Celtics team could make a run and then who knows? That's kind of been Boston's plan for the past three years with Rondo, so this isn't totally out of the question. 
Which leads us to Kyle Lowry. From Ken Berger of CBSSports.com: 
Conversely, could the Celtics find a way to shed a couple of spare parts for a viable point guard to replace Rondo and stitch their core group back together for one more run? The Raptors are almost certain to trade either Jose Calderon ($10.6 million expiring contract) or Kyle Lowry (only $1 million guaranteed next season). Either one would give Boston a chance to ride it out with their current group and deal with the tough decisions around the draft or in July.
via Rondo injury could hasten breakup of the Celtics -- CBSSports.com.
Lowry gives the Celtics a short-term option with monstrous talent who may be available. There's a lot of dissent in media sources as to whether Lowry is a) unhappy and b) available. The Raptors surrendered a pick for him. Do they give up on him to get a pick back with a veteran to shore up their team? And if so, what do they do with Jose Calderon and his $10 million expiring then? 
Lowry would likely be thrilled to go to a veteran team that can compete in the playoffs, something he's never had, which may solve his notoriously surly attitude. But what happens if the Celtics like his performance to retain him, and then Rondo comes back? Lowry returns to the bench, and the problem presents itself once more. 
For more of a short-term option, Keyon Dooling is apparently back on the table. 
He said he has entertained thoughts of a return to the court, and the Celtics now have a need for a veteran point guard.

"I'm not in shape, but I would [consider it]," he told the Globe after the Celtics' 100-98 double-overtime win over the Heat on Sunday at TD Garden.
via With Rajon Rondo injured, former Celtics guard Keyon Dooling says he would consider comeback -- Sports -- The Boston Globe.
Dooling retired at age 32 after revelations he was sexually abused as a child rocked his personal life. Dooling is serviceable, can run the offense and shoot, but he was considered more of a combo-guard. He's a veteran, so he would fit in, but he also has limited ability to impact the game. 
Boston's situation wasn't good going into Sunday. Even with a signature victory against the defending champion Heat, Rondo's injury only further complicates matters as Danny Ainge tries to unravel the answers to a season that looks nothing like what Boston expected this summer. 
The Trail Blazers are trying to win 13 in a row. They'll have to survive a back to back to...

The Rockets and Timberwolves meet up for an intriguing Western Conference showdown

Alvin Gentry seems fed up with how officials deal with his star big man in the paint
SportsLine's Mike McClure, a DFS pro with more than $1M in winnings, gives optimal lineup...

We have all the news, notes, scores and highlights from Sunday in the NBA

Stan Van Gundy believes the refs making bad calls is why the Pistons lost to the Blazers on...