Injury-ravaged USA Basketball prepares for London Olympics with talent to spare
USA Basketball opened its training program in advance of the 2012 London Olympics in Las Vegas on Friday.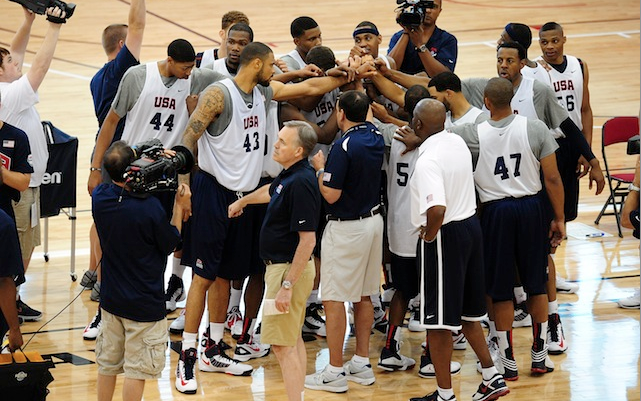 USA Basketball kicked off its preparations for the 2012 London Olympics in Las Vegas on Friday.
(Getty Images)
LAS VEGAS -- The group might be down a few bodies, but make no mistake: this isn't a B-team.
For all the recent headlines about who couldn't make it to USA Basketball's opening practice in preparation for the 2012 London Olympics, the group of 20-plus players in the UNLV gym was simply jaw-dropping in its combined athleticism, versatility, depth, focus and hunger. This is the best collection of talent in the same gym at the same time since Team USA convened four years ago, on its way to taking back the gold medal in the Beijing Games.
"We don't have any bad players," coach Mike Krzyzewski said after practice, with a smirk and a chuckle. "These are all top-of-the-line NBA players."
Quickly, the list of absentees: LaMarcus Aldridge (hip), Chauncey Billups (Achilles) Chris Bosh (abdominal muscle), Dwight Howard (back), Lamar Odom (Kardashian-related symptoms), Derrick Rose (knee) and Dwyane Wade (knee). Tally it up, and that's at least three members of the 2008 team who were expected back but are gone, and four potential frontcourt pieces off the depth chart.   
More on Olympic hoops
Related links
But even with only one true center and potentially half of its ideal roster unable to participate due to injuries and personal issues, the 2012 USA team will be absolutely loaded. Look no further than the two best players in the world: Miami Heat forward LeBron James and Oklahoma City Thunder forward Kevin Durant.
"There's nothing that we don't have on this roster," James, the NBA's reigning MVP, said. "We've got guys to step up. It's unfortunate that we had a lot of guys probably going to be part of the team [that are] not part of it. But that's what our league and USA is about. We've got guys who can step up when guys go down." 
"Guys are locked in and ready to play," Durant said. "Guys put their egos aside, but at the same time they play with that swagger they have during the season."
And before you get caught up in the 2012 Finals flavors of the month, Krzyzewski was quick to remind reporters that the old man on the roster, Kobe Bryant, is raring to go after his Los Angeles Lakers were eliminated in the Western Conference semifinals.
"Kobe told me: 'I'm ready, in great shape, full force, however you want to use me,'" Krzyzewski said, before referring to Bryant as Team USA's "most important" piece.
The immediate issue really is not a lack of talent, but of selecting the best mix of talent. Krzyzewski, his coaching staff and USA Basketball chairman Jerry Colangelo planned to convene Friday night to finalize a 12-man team from a group of 15 finalists. Both Krzyzewski and Colangelo stressed that this wasn't about making "cuts," as the roster has been in flux more than usual in recent months because of the litany of injuries and that the three who aren't selected will remain on "standby" in case of injury.
The players seemingly locked into the final 12-man group include James, Durant, Bryant, plus 2008 gold medalists Carmelo Anthony, Chris Paul and Deron Williams. Olympics newcomers Tyson Chandler, Kevin Love and Russell Westbrook are also expected to make the team. Megawatt Los Angeles Clippers forward Blake Griffin also appears to be a shoe-in.
Call that ten "locks" and two open spots. Five players will compete to fill out the group: Anthony Davis, Rudy Gay, Eric Gordon, James Harden and Andre Iguodala. Gay, Gordon and Iguodala could have a leg up because they were on the 2010 World Championships team that won gold in Turkey. 
"You can build a case for each of the contenders, if you will, depending on what you want," Colangelo said. "It's like a menu. If you want another shooter, it's Eric Gordon. You want a scoring guard, it's Harden. You want a defensive specialist, it's Iguodala. If you want another guy with length who can shoot the ball, it's Rudy Gay."
"It will really be a difficult choice," Krzyzewski said. "The guys who fill out the roster all give things that we can use. We just have to figure out what might be a little bit more important than another."
Davis, the No. 1 overall pick in the 2012 NBA Draft and the only big man among the contenders, is nursing an ankle injury that could keep him from being 100 percent healthy for weeks. 
"He has qualities that no one else has," Colangelo said. "He's incredibly long, shot-blocking. The question with him is the physicality. Can he withstand the physicality at this moment? That's a question I have. Unfortunately, we're not going to be able to really see him."
There weren't many between-the-lines hints regarding who will make the team, which is set to be announced during a Saturday evening press conference. Instead, the major messages on Friday were two-fold: the players are in good shape because of the short layoff after the 2011-12 lockout-shortened season, and the team's focus remains on positional versatility and ball movement.
"One of our big things in USA Basketball, guys grow up and do everything," Bryant said. "Pass the ball, shoot the ball, post up. We have so many athletes that can cover the floor from all aspects. We'll do a lot of screen-and-rolls, a lot of running in transition, some post-ups now and then. We'll probably see zone quite often."
"We're in a dynamic flow," he added. "Whoever gets the rebound pushes the ball."
That's how it boils down. This group is smaller, perhaps, but not necessarily weaker. Arguably more athletic. Arguably more versatile. And for those hung up on the "smaller" stuff, especially because a looming match-up with Spain's Pau and Marc Gasol surely awaits in London, look no further than the do-it-all James.
"I'm prepared to do whatever it takes to win," he said when asked if he would play center. "We've got some guys who are going to play both small and big, nothing that changes for us."
Asked by a reporter if he could remember the last time he played center, James, who was loose and smiling throughout practice, briefly turned incredulous.
"What's the last time I played the five?" he asked rhetorically. "When's the last time you watched basketball? I played five throughout the whole playoffs. At some point in the playoffs I played all five positions for our team."
This team, like the Heat, will be built around his talent, the likes of which the world has not seen. They got a taste in 2008; they're in store for plenty more over the next five weeks.
"We got younger," James said finally, comparing the 2012 group to 2008. "We got more athletic. We've got a lot of great guys who are going to be a part of this team."
And, on Day One, they had the look of overwhelming favorites.
LeBron and Durant both responded to a newswoman's recent comments, telling them to 'shut up...

Mitchell's Slam Dunk Contest win was the icing on the cake of an incredible run of success

Dennis Smith Jr. had a great dunk contest, but the judges didn't feel the same way
Mitchell was awesome, but Larry Nance Jr. and Dennis Smith Jr. had some serious moves of their...

Silver noted that there are many factors at play with the issue affecting both the NBA and...

Jazz rookie Donovan Mitchell came in as a replacement and ended up winning the whole thing