Instead of taking the easy way out, James and the Heat keep winning
With their winning streak in jeopardy Wednesday night in Cleveland, LeBron James and the Miami Heat chose winning over expedience. The Heat extended their winning streak to 24 games by erasing a 27-point deficit in a 98-95 victory over the Cleveland Cavaliers.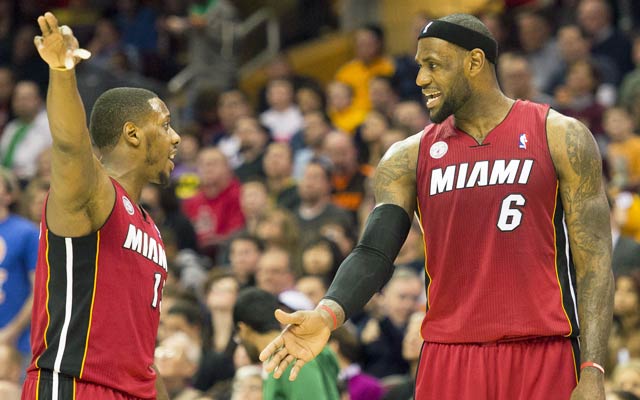 As the Miami Heat trailed by 27 points in the third quarter Wednesday night in Cleveland, it appeared that our long national nightmare -- and the Heat's historic burden -- was finally coming to an end.
The 23-game winning streak would end where it all began for LeBron James, and the Heat would go on about their business of mercilessly destroying the rest of the NBA and winning their second consecutive championship in peace.
The only problem with this theory was that James and the Heat clearly do not agree with my premise that they're better off with this streak ending. They clearly have no interest in doing things the easy way, no desire to stroll casually through the month of March and half of April while recharging their physical and mental batteries for a long playoff run.
LeBron and the Heat really don't seem to care much about anything other than winning. And they care very much about that. It is something they do at all costs, in all environments, under all circumstances, by any means necessary.
So the streak goes on, for better or worse.
In barely 10 minutes of game time, Miami erased that 27-point deficit with a 37-10 run orchestrated by the brilliant James, who torched his former team again in the place where his NBA career was born. Then, the Heat overcame some shaky offensive execution down the stretch, including no field goals in the final 3:44, to notch their 24th consecutive victory, 98-95 over the Cavs.
Two nights after coming back from a 17-point deficit in Boston, where they'd lost 10 consecutive regular-season games, the Heat could have been satisfied with the second-longest winning streak in NBA history. They could have taken their lumps in another charged road environment and returned to idyllic South Florida to begin a new one against the Pistons and Bobcats this weekend. Nobody would've blamed them.
But with the path of least resistance paved for them in Cleveland, they chose the hard way. The Heat chose winning at all costs over the expedience of ridding themselves of this exhausting pursuit of history. 
They overcame a delayed start due to a leaky scoreboard -- perhaps it was crying over James' departure nearly three years ago -- and shrugged off a fan who ran onto the court wearing a shirt that referred, of course, to James' impending free agency in 2014. 
"We miss you," the shirt read on the front. On the back, it said, "Come back 2014."
First, LeBron needed to unleash a 25-point, 12-rebound, 10-assist triple-double on his former team. First, he needed to lead the Heat back from a 27-point deficit. First, the Heat needed to win again, because that's what they do.
Whether it's good for them or not, that's what they do. And it's impossible not to appreciate it.
The Dubs will make a decision as a team on visiting the White House, but Steph would vote...

Wolves are an up-and-coming NBA squad, but this region knows heartache too well

The Bucks will be the sixth team since 2011 for the 31-year-old Green
Green helped KD through the tricky situation but not without enjoying his teammate's blund...

Vonleh reportedly suffered a shoulder strain during a pick-up game at the team's facility

OKC and Westbrook have until October 16 to agree to the deal