Is Doug Collins on the hot seat?
Things started rough for Doug Collins and the Sixers, and have only gotten worse from there.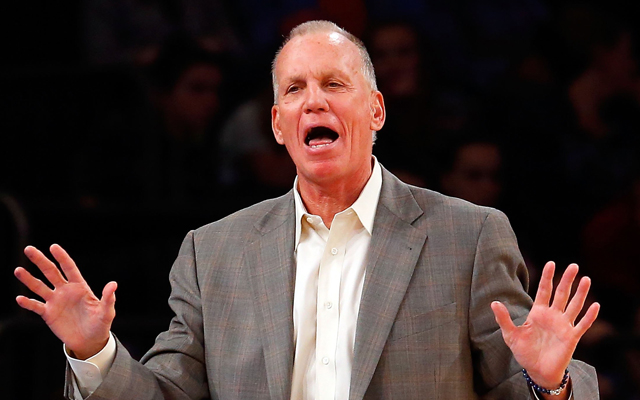 This Sixers season fell apart fast, then got worse. 
Andrew Bynum developed knee soreness which turned into a knee bruise, and then there was this thing with the bowling and suddenly it's March and Bynum hasn't played a second in Sixers gear. That blew apart the Sixers' plans for the season. They had no choice but to try and make their way through it. 
And they started off really well. Behind good defense and improved play from Jrue Holiday, the Sixers got off to a strong start. Slowly but surely, however, they've faded, and recently, they've fallen off a cliff. 
No, seriously. 

So that's ugly. 
And after a particularly ugly loss the other night, Doug Collins went on a little bit of a freak-out post-game. 
Well, Doug, you just invoked Pat Summitt and your own effort as a player after you got blown out by the Magic. So this is kind of rock bottom, we're going to assume.
 Thad Young missed time, they lost Jason Richardson for the season. But when your head coach is pointing to a player the team traded (Nikola Vucevic) and comparing his rebounding numbers to his starting power forward (Spencer Hawes), you're at an especially low point. 
(It should be noted that Collins refused to play Vucevic in the playoffs last year, instead allowing Hawes to watch Kevin Garnett nail 1,700 mid-range jumpers in his face, approximiately, while never extending to contest on the pick and pop. It was maddening.)
Collins was given a huge chunk of control for the roster of this team by management, we were at least lead to believe, yet he seems to be upset with the architect of the team, which would be himself. Maybe he's just mad at the basketball gods for torching the season the way they have. 
But there's also a legitimate concern, given how the team has slowly tailed off, that Collins has lost the squad. And reportedly, there's already talk of what happens if Collins is no longer in charge. From CSN Bay Area's Ric Bucher: 
If the Philadelphia 76ers let Doug Collins go after his don't-look?-at-me-loo?k-at-the-p? rant (but I'm not throwing anybody under the bus), sources say that assistant coach Michael Curry will take over. Curry, who was last a head coach with the Detroit Pistons, also is expected to be a candidate for the job, long-term
via Ric Bucher's post on Basketball | Latest updates on Sulia.
Curry did not have a great run with the Pistons.
But it seems premature. Collins has built a strong defense out of this squad, despite their roster issues, and without several of their key players. You have to think Collins deserves a chance to succeed with the roster intended for this season. 
At the same time, this offense was broken long, long ago. Collins goes against the modern ideas of offense, that the ranking of high percentage, and therefore optimal shots goes: 1. dunks 2. layups 3. free throws 4. corner three-pointers 5. above-the-break three-pointers 7,384. contested pull-up mid-range jumpers. Collins, though, encourages those jumpers. That would be one thing if his team were good at shooting those.
They are not. Observe.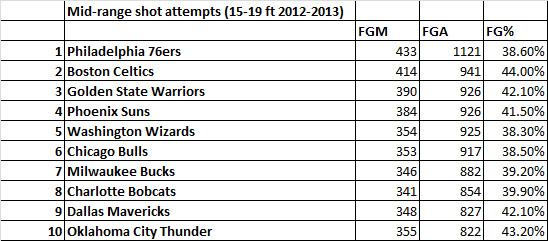 So to recap, Collins has built an offense that opts for more mid-range jumpers than any team, despite having the third-worst percentage of any team in the top 10 for attempts, and seventh-worst overall. That's a pretty basic design flaw. 
Would Andrew Bynum's post play help here? Absolutely. Would Jason Richardson's perimeter shooting? You bet. But the Sixers have had this problem for a while. And if you're going to survive the kind of bad luck the Sixers have had this year, you need to build an offense to take advantage of opportunities. Not make things harder on yourself. 
A season that looked like it would be the most exciting in years for Philadelphia has only caused more misery. Cruel fate and the inescapable complexities of life in the Eastern Conference have stacked the deck against Collins. Can he pull a split out of this season at least?
Gregg Popovich has never seen an injury lead to the issues that Kawhi Leonard has been fac...

Kobe Bryant, of course, had his 81-point game against Rose and the Raptors back in 2006

Keep it right here for all your Wednesday NBA scores, updates and highlights
A season-ending injury kept the Celtics guard's time at Duke very brief before he jumped to...

Here's a look at what has brought fans the most joy so far this season

Kevin Mackey says he gave Manute Bol a birthday because they didn't know how old he was