Is everybody OK with Derrick Rose watching Joakim Noah play injured?
With Joakim Noah hobbling up and down the playoff court, is Derrick Rose still comfortable watching his Chicago Bulls teammates play without him?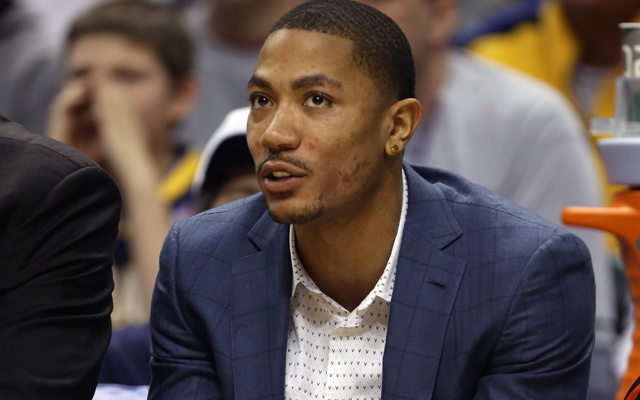 After just six minutes of play and about 65 minutes of actual time spent off the court, Joakim Noah started the third quarter for the Chicago Bulls on Saturday. The Bulls were down 25 points to the Brooklyn Nets, a deficit created by scoring as many points in the first half as the Nets did in the second quarter.
On the first play of the second half, Noah was part of a pick-and-roll with Kirk Hinrich. He took the pass on the right side of the lane, dove to the basket, and finished with a big dunk. It was an impressive play, considering Noah has been sidelined with and battling a tear in his plantar fascia. He's had cortisone shots, platelet-rich plasma injections, and a walking boot to try and ease the pain so he can play for his team.
After the dunk and the ensuing defensive possession, Noah hobbled back up the court. Every step he took was taken gingerly. On the next defensive possession, he challenged fellow All-Star big man Brook Lopez on a play at the basket. When he landed, you could see the pain shooting through his body and into his foot. He moved like he was stepping on hot coals. 
He told the broadcast team, "I have to play." Have to play. There is a sense of homecoming for Noah being back in the New York City area. It's where he's from and it's where he wants to help his Bulls team try to win at least one playoff game. If they manage to steal a game at Barclays Center and take care of business at home, then they'll move on to the second round. Moving on to the second round is something they couldn't manage to do last year in the wake of Derrick Rose's knee injury.
Watching Noah hobble up and down the court in a game that was all but decided and seeing shots of Rose on the sideline really made me uncomfortable as a basketball fan and as a viewer. Rose has been cleared to play for weeks now and has decided he's not ready. I fully support those feelings of his. If he doesn't feel like he's mentally prepared to execute his role and responsibilities on a basketball court, then it would be dangerous for him to go out there and play.
But does it feel awkward for him to watch his teammates playing through unbearable pain? Does it sting him to see the sting of a torn plantar fascia debilitating his teammate while he tries to help his team come back in an unwinnable game? His team is apparently fine with him not coming back yet. From ESPN Chicago:
"It's not bothersome because I know all that he's putting into it, and I know who he is," Thibodeau said. "I know his character. And he's done amazing things for our organization, and he's doing all he can. And that's all you could ever ask a guy to do. There's always going to be some negativity, but I think the vast majority of it is very positive." 

Rose is facing criticism that he has never felt before, and the spotlight that comes with the rest of his teammates being in the playoffs isn't doing him any favors. 

"I feel bad for him," Bulls forward Carlos Boozer said. "He's got a lot he's going through. He's obviously trying to make sure he does the right thing for himself and his family. And he's got all you guys asking questions about him every day and the pressure and all that. He's just got to take it a day at a time. When he's ready, he'll be back, and if he's not then we've got to take care of it without him."  
It's not like Rose is being lazy. He's worked through his own pain and suffering on the basketball court since his injury last year. His team has seen him fight through discomfort to try to get himself back to being the player he was before the ACL tear happened. He doesn't really have the luxury of Ricky Rubio or Iman Shumpert when it comes to returning from a torn ACL. When Rose returns, the Bulls have to be championship-level good again because that's where they were when he went down.
Is that possible if he's not mentally prepared to be back on the court? With the way the organization gutted the bench during the offseason, is that even possible if he does return as the MVP-type of player we saw before?
Perhaps Rose just sees the writing on the wall for this season. There isn't a title-contending team to return to -- not with the way the bench has been downgraded and not with his All-Star center hobbling up and down the court. But it can't make it any easier for Rose to watch Noah struggle to put one foot in front of the next so he can get back on defense or get up the floor to be a facilitator out of the high post.
I'm not sure I blame Rose for being so cautious in his return. He doesn't want the month of inconsistency that so many players experience when they come back. He wants to be able to take on the responsibility he was able to shoulder before he went down. He wants to be a full-time leader, instead of just a capable leader when his knee is feeling strong.
In the meantime, it's painful to see Noah battling through his injury while his teammate battles through being mentally ready to put the city of Chicago back on his shoulders. I don't doubt that it's tough for Rose.
I'm just curious what it looks like from his perspective at the end of the bench.
Jordan Bell had himself a night against Portland

The younger Ball brothers are heading to BC Prienai, but that could spell trouble

Not many games, but still plenty of action and intrigue Monday in the Association
SportsLine's advanced computer model simulated Tuesday night's Lakers-Knicks game 10,000 t...

The Reno Aces are concerned about the new WNBA franchise stealing their thunder

Hinkie parted ways with the 76ers in 2016 after drastically changing the direction of the...