Is it reasonable to expect the Cavaliers to win the title?
A Cavs blog believes it's reasonable to expect the Cavs to win the Eastern Conference. We look at their title odds and the road in front of them.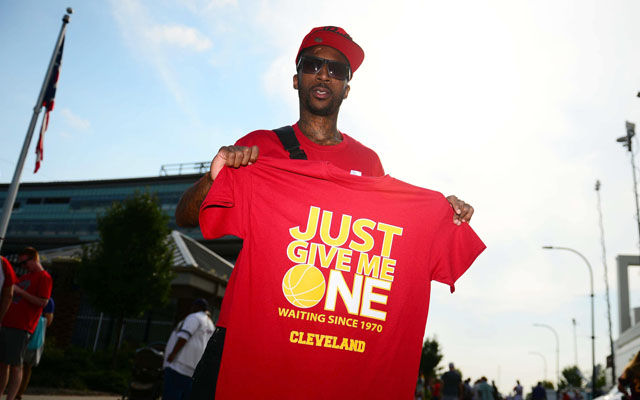 The Cleveland Cavaliers are heavy favorites to win the NBA title next season, despite it being their first season together with this core, with serious questions about youth and defense, in a tough division. At Sportsbook.com, they're listed as 16-5 favorites, at Bovada they're at 5-to-2, and at TheGreek.com they're at just 3-2. 
But outside of the obviously-public-affected odds at the online books, how reasonable is it to expect this team to not only contend, but win the championship right away? And if that's the expectation, is anything short of that a failure? Cavaliers blog Fear The Sword explored the question. 
When setting the expectation, it's always good to look at precedent. The most recent examples of teams built around a "big three" were the 2007-08 Boston Celtics, and the 2010-11 Miami Heat. The Celtics won the 2008 title after adding Ray Allen and Kevin Garnett to a team that already had Paul Pierce, but that was the only title that team won. The Heat, of course, won the East in 2011 but lost in the Finals. They did, however, win titles the next two seasons.

Based on that precedent, there shouldn't be any question that this Cavs team should be expected -- at a minimum -- to win the East. Most would agree that anything less would be a failure.

If they win the East and lose in the Finals, however, I'm not sure that we could comfortably call them a "failure." It would be a disappointment, at least in my mind, because I do think that this team is assembled in such a way that they should be the favorites to win the whole thing heading into the season. I realize what a bold position that is to take, especially in this city where I have not yet witnessed a championship for any of the professional teams that I root for. But everything that has happened in the past shouldn't matter. All that matters this season is this team. They are good. Really, really good. Good enough to win it all.

If they don't, we may be able to excuse it because there are teams from the West that are really good, too. There's also going to be some growing pains that come along with new guys playing with each other, as was demonstrated a little bit by Miami in 2011.
via Do the Cleveland Cavaliers have to win a championship for this season to be considered a success? - Fear The Sword.
Ah, Cleveland, constantly wanting to put the past misery behind them, right up until the point it returns to bite them with cruel intent once more. 
But it does pose an interesting question about whether Cavs fans, and the greater NBA community, should expect a Cleveland title, or at least an Eastern Conference title. 
First, there are so many things that can go wrong with any season. LeBron James has been invincible, injury wise, throughout his career, minus a few problems. But last year for the first time he started to really rack up a few bumps on that end. He had back problems that stayed with him. He's played an unbelievable number of minutes across a huge amount of games. James hasn't finished a season earlier than mid-may in nearly a decade. Knock on wood, his injury fortune continues, but as he gets older, that's going to be more and more of an issue. 
Love, meanwhile, has missed some time for various things. The biggest problem was a broken hand suffered doing knuckle-ups two years ago, a freak injury you can't consider to be his fault. He's also going to have more coverage against the bigger, badder opponents in Anderson Varejao. But Varejao, in particular, has had rotten, no-good, dirty luck when it comes to staying healthy. He's had everything from consistent ligament ailments to freakish, hospital-level, life-threatening things. Kyrie Irving also has had problems here and there. 
Then you've got the new team problem. We've learned from a lot of these superteams that it takes time for them to figure things out. The Heat, with a higher level of top talent, failed to win the titile in 2011 (but did win the East), largely because they still really hadn't figured out how to play together yet. (Also, the Mavericks were unbelievably awesome that year.)
Even with what really is a deeper team with a little more history of playing together, you've got consider it a challenge. 
Then there's the competition. 
Is this year's Bulls team better than that 2011 squad, the last time Rose was healthy enough to take on James? You kind of have to think on paper it is. On paper, that team wasn't considered great, only very good. It was only when we found out how good Tom Thibodeau is that they started to rack up wins. Pau Gasol, even at this age, may be better than Carlos Boozer was then, and the Joakim Noah they have now is better than that team's version. They're missing Kyle Korver, which is a big deal, but with Jimmy Butler taking Luol Deng's role, and the kind of frontcourt depth they have, Chicago has a way better chance here than the oddsmakers are giving them. 
And as much as people like to bag on the Eastern Conference, the power teams showed themselves to be serious last year with the Wizards' performance and with Al Horford back, a revamped Charlotte team, other unknowns and the fact that Miami's top three are Dwyane Wade, Chris Bosh, and Luol Deng, still very good for a regular season team, there's going to be tougher competition. 
In other words, I'm not sure the road to the Finals is as easy as it seems. Compound that with the excellent team that they're sure to face in the Finals were they to get that far and it may be time to pump the brakes a bit. 
What to expect from the Cavs? They'll be good, very good, and have as good a chance as anyone in the East to win the conference. But there's still a lot that has to go their way. Things change awfully fast in this league. Just ask the Miami Heat. 
Is this rock bottom for the Cavaliers because it sure feels like it is

Wade, as he's done so many times in his career, threw it up to LeBron for the thunderous f...

The Warriors coach added there should be no shame in being picked last since everyone's an...
We've got all the scores, highlights and news from all of Saturday's games

The two teams have reportedly not had any substantial discussions to this point

Oladipo may be getting most of the shine, but this second-year big man has been phenomenal...