Is Mike D'Antoni responsible for Kobe Bryant's Achilles injury?
Lakers GM Mitch Kupchak came out strongly in defense of coach Mike D'Antoni on Saturday after Kobe Bryant's string of 47-minute games ended with a torn left Achilles' tendon.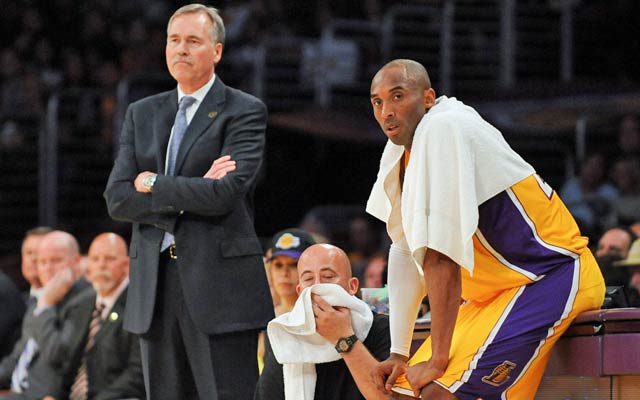 El SEGUNDO, Calif. -- The Lakers were in recovery mode Saturday as they braced for the unthinkable task of finishing this playoff push without Kobe Bryant. It looked like a normal day: players shooting free throws, coaches discussing strategy and Dwight Howard shooting left-handed 3-pointers and proclaiming that he was Sam Perkins.
But before the work could continue, it was time for damage control. The Lakers moved quickly to squelch speculation and accusations that coach Mike D'Antoni was responsible for Bryant's torn left Achilles' tendon because he allowed the 17-year veteran to continue to play 45 minutes a night and more at this stage of his career -- including a stretch of four games in 12 nights in which Bryant logged at least 47 minutes.
More on Kobe
Related Links
On Friday night, Bryant was on his way to his second consecutive 48-minute workload after logging every second of a 113-106 victory in Portland on Wednesday night -- a game in which Bryant incredibly produced 47 points, eight rebounds, five assists, four blocks and three steals on the second night of a back-to-back.
Lakers GM Mitch Kupchak came out firmly in defense of D'Antoni on Saturday, and the Lakers made athletic trainer Gary Vitti available to the media to dispel the notion that Bryant's recent workload had triggered the injury.
"If you want to say it's 48 minutes, it has to do more with every minute that you're on the court gives you an opportunity of being injured," Vitti said. "You can't be injured if you're on the bench. So if that's your argument, I can see that. The odds increase with time on the floor; you could step on somebody's foot, you can get yourself in a bad position and you can be injured.
"But to say that he was injured because he played 48 minutes, I think, is a stretch," Vitti said. "Lots of guys rupture their Achilles' tendon and don't play 48 minutes. So to make that correlation I don't think is fair. We've just had a really bad-luck season."
Kupchak said he spoke with Bryant about 10 days ago and expressed concern about the Hall of Famer's insistence on staying on the court every minute if it was necessary to get the Lakers into the postseason.
"His message to me was, 'Mitch, I hear what you're saying, but we've got to get in the playoffs,'" Kupchak said. "'And I'm playing and there's nothing you can do about it.'"
As has often been the case throughout Bryant's career, Kupchak said taking Bryant out of the game and Bryant actually coming out of the game are two different things.
"I don't think Mike is at blame here one bit," Kupchak said. "Certainly everybody can second-guess looking back on it now and say we could have done something different. But even if you take Kobe out of a game … there's a lot of times when he'll get up and put himself back in the game. So just because you say, 'You're out of the game,' doesn't mean he's going to come out of the game or stay out of the game."
Bryant said Friday night of his recent workload, "It was all necessary," and wouldn't second-guess his coach. Just as he did in the immediate aftermath of the injury, D'Antoni openly second-guessed himself Saturday -- responding to questions about his handling of Bryant with a mixture of candor and remorse.
"We always had that conversation with him ... and his belief was he wanted to do it and we couldn't make the playoffs without it and he said he was going to make the playoffs," D'Antoni said. "But he's a strong-willed individual."
D'Antoni was asked if, as the coach, it was part of his job to protect Bryant from himself and to order him to sit down at times.
"Yeah, I could," he said. "But there's one part of me going, 'Yeah, we need you out there. We're not going to make the playoffs if you're not out there.'"
There's little doubt there's correlation between Bryant's recent workload and the injury. Both are facts: He played a lot of minutes lately, and he got hurt. But correlation is not causality. Bryant's personal trainer, Tim Grover, said the workload D'Antoni allowed Bryant to take on since the stint of 47-minute nights began on March 30 at Sacramento was "not the determining factor" in the injury.
"It may have had a little bit to do, but it's just like everything else, " Grover said. "An Achilles' tendon, I've seen people pop it getting out of bed just putting their feet on the ground, or stepping off the sidewalk. Achilles is one of those things; it's a freakish thing. It just happened. I'm not to say that the minutes that he was playing was the sole cause of this. From my education and school work, I just can't see that being it.
"If it is a piece of the puzzle," Grover said, "it's a very small piece."
As for a left knee hyperextension Bryant had suffered earlier in the game possibly creating a bad movement pattern that resulted in the Achilles injury, Kupchak dismissed that theory, too. 
"That happens to players in every game and they get up and shake it off and continue to play," Kupchak said.
There also was a second play on which Bryant jammed his ankle, walked it off and continued playing. That one, more than the knee tweak, could've compromised his movement pattern on the play when the Achilles snapped. But there is no science to prove or disprove these theories. The only certainty was that Bryant wasn't coming out of the game after either play.
In truth, the dynamic between Bryant and D'Antoni when it came to playing time wasn't any different than the dynamic between him and Phil Jackson -- or Mike Brown, or Rudy Tomjanovich, for that matter. If Bryant doesn't want to come out, he doesn't come out. If he wants to go back in, he goes back in.
"He's earned the right to do certain things," D'Antoni said.
D'Antoni is an easy target here, but considering the frequent uproar when NBA coaches rest their stars during the latter stages of the regular season, it's a little disingenuous to target D'Antoni for playing his star when he needed him. First, you can't have it both ways. Second, the situations are entirely different. If the Lakers didn't need to win these games, Bryant wouldn't have been playing -- at least not 40-plus minutes a night.
"If I felt we could [make the playoffs] and steal minutes, we would've," D'Antoni said. "And I think you always second-guess that. We'd second-guess if we sat him out and didn't make the playoffs."
As for the theory that Bryant never would've been able to get over on Jackson this way, nobody will ever know. Jackson isn't the coach of the Lakers anymore. But Bryant offered some insight into his dialogue with D'Antoni about playing time after that incredible performance in Portland on Wednesday night.
"He looks at me in between quarters and either I give him the thumbs up or I say, 'I need a break,'" Bryant said. "Against Memphis a couple of times, I took myself out of the game because I was so exhausted. I'm honest about it. If I feel like I'm out there cutting corners, I'll sit down for a minute. But it'll only be a minute. If I'm going good, I give him the high sign."
As Bryant led the Lakers back from a nine-point, fourth-quarter deficit Friday night -- in a game they needed to keep control of their playoff fate -- there was only one way Bryant was coming out of the game. Well, two. He'd either have to be carried off, as most players with a torn Achilles' tendon would be. Or he'd shuffle off the court after knocking down two free throws on one leg.
"I gave him leeway," D'Antoni said. "Like I said, I'll sit and think about it. I feel awful what happened. But again, you deal with the circumstances at that time, you do the best you can and go forward and just fight."
For the short-term goal of making the playoffs, the Lakers now must deal with a much longer-term problem. Kupchak was even asked if he'd consider using the amnesty provision on Bryant, who is on the books for $30 million next season.
"That's not even something that we've discussed," Kupchak said. "... That's the furthest thing from my mind right now."
For now, the Lakers will get ready for the Spurs on Sunday and the Rockets on Wednesday, and if they can win both without Bryant, they're in the playoffs. If Utah loses one of its next two games -- at Minnesota and home to Memphis -- it would relieve a little pressure.
The mundane tasks, such as figuring out who carries the load for Bryant and who starts in his place -- Jodie Meeks is the answer to that one, by the way -- are well under way. But however this turns out, the Lakers will be looking back on this series of events for months to come. The ripple effects will be stronger than Bryant's will.
"You cannot predict an injury, just like we could not predict that Steve Nash was going to break his leg in Game 2 of the season," Kupchak said. "I don't know how you predict that. Maybe if we had a 10-game lead going into the playoffs you can rest guys and he wouldn't have gotten injured [Friday] night, but that's not the case."
Mike McClure, a DFS pro with more than $1M in winnings, gives optimal DraftKings and FanDuel...

LaVar's son couldn't live up to LaVar's hype. But there's more to this story

Carmelo Anthony is hoping for Kristaps Porzingis to see success on his own
Bill Reiter and Reid Forgrave break down the debuts of Lonzo Ball and OKC's new big 3, plus...

The world's No. 1 sports dad fired back at the Clippers guard

Frank Vogel was the Pacers coach when Paul George suffered a similarly severe leg injury