Is Mike Woodson unnecessarily tough on Iman Shumpert?
Iman Shumpert is young, talented, gifted, works hard and produces, yet receives public criticism from Mike Woodon. Why... exactly?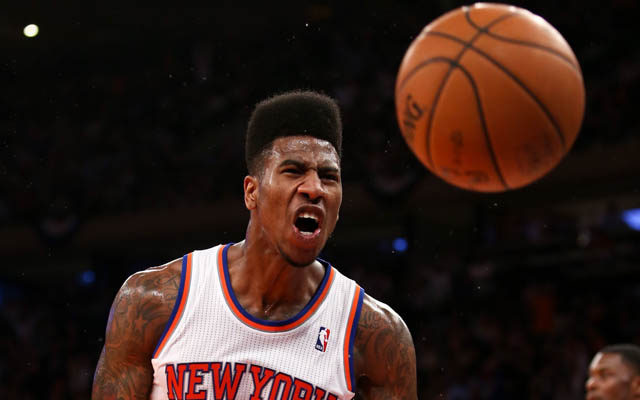 Someone's going to have to explain to me what the Knicks are doing with Iman Shumpert.
Let me back up a little bit.
So New York has this thing called a starting lineup. At the start of every basketball game, they pick five guys who will be the first five guys they use in a professional basketball game. While there have been major advancements in the field of positional flexibility, overall, five positions are still used. One of these is shooting guard.
The Knicks have a fine shooting guard in the name of J.R. Smith. He won Sixth Man of the Year last year by shooting and shooting and shooting and as it turns out, rebounding a whole lot of free throws. Unfortunately, the Swagasaurus Rex of Lexington Avenue is still recovering from knee surgery and upon his recovery, has to serve a five-game suspension for violation of the NBA's anti-drug policy.
No worries, though, because the Knicks have Iman Shumpert. Shumpert is a homegrown product, the only non-rookie Knick who was drafted by New York. Shumpert is a good finisher, a decent corner shooter, and an excellent defender. He's versatile, a fan favorite, and a professional with no off-court issues.
In fact, with the burst that Smith provides off the bench, and the fact that he needs a ridiculously high usage rate to accomplish that production -- something difficult with another high-usage player in Carmelo Anthony on the floor-- it's arguably a better tactic to repeat last year's plan of starting Shumpert and bringing Smith off the bench. Shumpert does what the Knicks need: defend at a high level, stay out of trouble, and hit corner threes. (Shumpert shot over 43 percent from the corner last year.)
So of course, Mike Woodson is making life unnecessarily difficult for him.
When camp opened, Woodson told reporters that outside of Tyson Chandler, Carmelo Anthony, and Raymond Felton, he didn't have a starting lineup set. That's fine, they have new pieces to evaluate. He needed to see where Andrea Bargnani was, physically, and see if he had anyone he could use in Jason Kidd's role from last season in a potential dual-point-guard set.
But when it became clear that wasn't an option, and with Shumpert shining in camp and in preseason play, you'd think the coach would throw him a bone.
Nope.
Woodson still calls Shumpert "Rook," entering his third season in the NBA. Even Tim Hardaway Jr. has managed to get a new nickname, despite being, you know, a rookie. But the much bigger issue past nicknames is the way he's chosen to publicly criticize Shumpert: 
"Iman plays hard. That to me is the thing that's kept him on the floor," said Woodson, who declared last week that Shumpert will compete with J.R. Smith for a starting job. "Iman just has to figure it out. We've got to help him figure out his game that coincides with what we want to do. He's got to be able to play pick-and-roll offense. He's got to be able to run the team with the ball in his hands, because our 'ones' and 'twos' and 'threes' handle the basketball. There are a number of things."
Woodson did not limit his critique to Shumpert's offense, adding that "defensively he's got to start being more solid and not so over-aggressive that he gets beat."
via Knicks' Iman Shumpert absorbs critique from Mike Woodson on improving.
Woodson said his criticisms of Shumpert aren't necessarily illustrations of tough love. "I coach everybody the same way," he said. "If [Carmelo Anthony's] not doing what he's supposed to be doing, I let him know about it. With Iman, I'm not coaching him [any] different than I was when he was a rookie."
via Knicks Get Tough on Iman Shumpert - WSJ.com.
A coach being critical of a player publicly isn't commonplace but it's not rare, either. It happens. What's odd is that he chooses to criticize Shumpert, while Smith is not only not available to the team (partly not his fault due to injury, partly his responsibility on account of the suspension), but has largely escaped Woodson's wrath publicly. Woodson made some vague comments last spring when Smith was absolutely melting down in the playoffs, but no matter his wild shot selection or poor decision making, what Smith does is treated as "just what J.R. does." 
I'm not advocating a harsher take on Smith, it's player dependent. Maybe Woodson really believes this is the best way to make Shumpert better and that Smith wouldn't respond the same way. It's just odd that a player who at least on the surface seems to do everything you want a player to do gets criticized publicly and not granted the reward of his hard work, and Smith's antics reward him with a big new contract. 
Shumpert has been consistently included in trade talks over the past year, and owner James Dolan was reportedly livid with Shumpert over his leaving Summer League this year... due to a previously scheduled contractual appearance. Summer League is good for a lot of players. Shumpert, though is likely beyond that, and had already scheduled the appearance. 
You want him in Summer League, talk to him more about it. 
There seems to be a pretty strong double standard in place. If you're a veteran, or specifically, a veteran in line with Carmelo Anthony, you're safe and supported. If you're a young player who's the best defensive perimeter player the Knicks have, you're never good enough. 
Shumpert is taking all this in stride: 
"Every level I've played at, I've gotten yelled at," he said. "I think it's because I can do a lot of different things and they expect a lot out of me. I'd rather someone expect a lot out of me than nothing at all."

Shumpert, in fact, seems to like being pushed by his coach.

Said Shumpert: "Everybody's got to learn. You've got to be a sponge in this league. That's the only way to stay in it."
via Knicks' Iman Shumpert absorbs critique from Mike Woodson on improving.
The Knicks fell into the trap of believing their own hype last year, and suffered for their hubris. First they narrowly avoided a self-destruction after wearing black to a "Celtics funeral" and then they were humbled by the Pacers in the second round. At some point, maybe the players who are actually fighting for their place on the team and committing themselves at both ends while staying out of trouble off the court deserve a little more support.
Mirotic and Portis combined for 49 points as the Bulls won their fifth straight game, beating...

Gobert, who missed 11 games earlier this season with a knee injury, will have an MRI

Get all the latest scores, news and highlights from Friday's NBA games
Porzingis is questionable for Carmelo Anthony's return to MSG on Saturday

The Spurs and Rockets will renew their in-state rivalry on Friday night

Anthony will play at Madison Square Garden on Saturday for the first time since being trad...