Isaiah Canaan is the key to saving the Houston Rockets' offseason
The Houston Rockets have had a rough offseason but the development of Isaiah Canaan, their draft pick from 2013, can save all of that.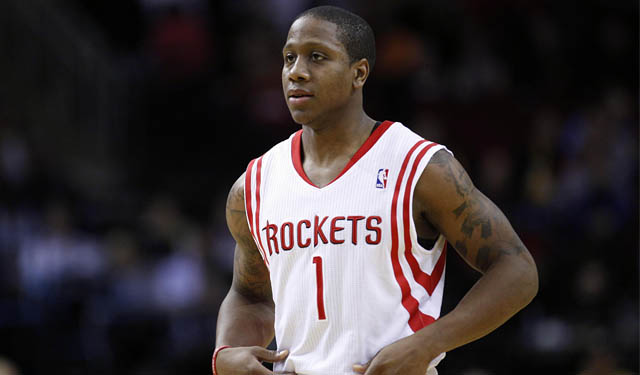 More Offseason Analysis: Coaching changes, news | Free Agency | Draft
LAS VEGAS -- Some of the buzz around the Las Vegas Summer League the past week has been regarding the Houston Rockets and their offseason. They had high hopes of adding a third star to the core of Dwight Howard and James Harden. The plan was to shed salary by dealing Jeremy Lin and Omer Asik, acquire the third star, and then match the offer sheet to Chandler Parsons. This was going to give them a great core.
That's not what happened though. Daryl Morey failed to add stars like Chris Bosh or Carmelo Anthony to the roster. They dealt away Lin and Asik to clear cap space that wasn't so easy to offer up the way they wanted to. The Rockets were never really in the Kevin Love sweepstakes that are still ongoing. When the Dallas Mavericks agreed to an offer sheet for three years and $46 million with Parsons, the Rockets had to use their cap space before matching it. They used it on Trevor Ariza for four years and $32 million, but decided not to match Parsons.
Their offseason plan seemingly blew up in their face by essentially trading three rotation players in Lin, Asik, and Parsons while only bringing in Ariza. It would be impossible for Ariza to make up for the value of what's heading out of town in this offseason. However, the moves Morey has made during July have opened up an opportunity for a young player to emerge.
Isaiah Canaan, a dauntless point guard out of Murray State, was the 34th overall pick in the 2013 draft. The Rockets took him in the second round and eventually gave him a three-year minimum contract. As is the case with most second rounders now, Canaan's path to making has involved putting in work with the development staff, shuttling back and forth between practices in the NBA and games with the D-League affiliate, and waiting for an opportunity to present itself.
"It's all about making the best of the opportunity that's put in front of you," Canaan said after leading the Rockets' summer league team to the championship game. "With the Rockets making [the Lin trade], it gives me the opportunity to go in and compete for a rotation spot. That's exactly what I'm going to do."
Canaan's game was tailor-made for what the Rockets love to do. He only stands at just about 6-feet, depending on the shoes he's wearing. But he's built like a running back now and uses his strength on the floor. He's also one of the better 3-point shooters at the point guard position. He only shot 32.7 percent in limited opportunities for the Rockets his rookie season, but his 36.9 percent from downtown on nearly nine attempts per game in the D-League tell a different story. In his four years at Murray State, Canaan took 725 3-pointers while making 41.9 percent of them.
He's been the driving offensive force of this Rockets' summer league team, proving he can run a team successfully. Canaan has taken big shots, been a leader on the floor, and showed a relentless attack that puts his team in position to win. It's exactly what Houston would need out of him as a rotation player.
He's a sniper on the court, but it doesn't just come from running him off screens or having him spot-up to get him open. He's lethal in the pick-and-roll, and a true shooter who can rise up off the dribble and rip the ball through the net from any range. He's shown the summer league talent can't really hang with him when he gets it going.
"Yeah, I try to do whatever the defense gives me," Canaan said about his game fitting in with how the Rockets love to play. "They back off of me, I rise up and shoot it. They press up on me, I can go by them."
He doesn't have the height of Lin, but he's a much better shooter, and possibly a better decision-maker in the pick-and-roll. Houston has taken the most 3-pointers out of any team the last two seasons, but slipped from ninth in accuracy in 2012-13 to 16th in 3-point percentage this past season. Adding a true marksman to the rotation could get them back where they like to be. The process to get into that rotation over the past year has been arduous but it's starting to work out.
"It was a process," Canaan explained about the last year of one summer league experience to the next. "I was doing everything I was asked to do, at the same time working on my game and making sure I was studying, paying attention to everything that we went through last year. And just learning. That was a big learning experience for me and now I got a chance to go out there and actually produce. That's what I've been trying to do."
Canaan's time in the D-League with the Rio Grande Valley Vipers was instrumental in his development over the past year. On a team that took nearly as many 3-pointers (2,268) as 2-pointers (2,567), Canaan fit right in and made an impact in their system. In 18 games, he averaged 21.8 points, 8.2 assists, and 4.0 rebounds in 34.1 minutes. In four playoff contests with the Vipers, Canaan dropped 34.5 points per game while making 43.6 percent of his 3-pointers (55 attempts in four games). He took what the organization told him to do and flourished with it.
"It's very valuable," Canaan said. "It's a big learning experience down there. Give you a chance to actually play in games. Give you a chance to actually go out there and work on the things you need to work on. At the same time, the coaches and the staff are watching you, so they evaluate you and make sure you're doing the right things. Making sure you're not playing with your head down because you're down there.
Going out with the right mind frame. Showing them you are down here to work; you are down here to do your job. When your name is called, you'll be ready."
The Rockets will likely be calling his name a lot more this season and Canaan will be ready. Can it lessen the blow of a disappointing offseason? With Canaan, it's always worth a shot.
Kris Dunn somehow took a chunk of the Bulls court out with his teeth, but didn't lose any in...

The fallout from the Rockets-Clippers tussle continues; no Clippers were disciplined

DH12 is picked for free throws after a teammate gets ejected. He makes both, and lets Scott...
Bell was injured defending a Robin Lopez dunk and had to be taken off the floor in a wheel...

Trevor Ariza and Gerald Green are reportedly both suspended two games

We've got all the scores, highlights and news from Wednesday night