Isaiah Thomas on the Kings: 'I felt very disrespected'
Phoenix Suns' guard Isaiah Thomas says he felt "very disrespected" by the Sacramento Kings and their quest to replace him.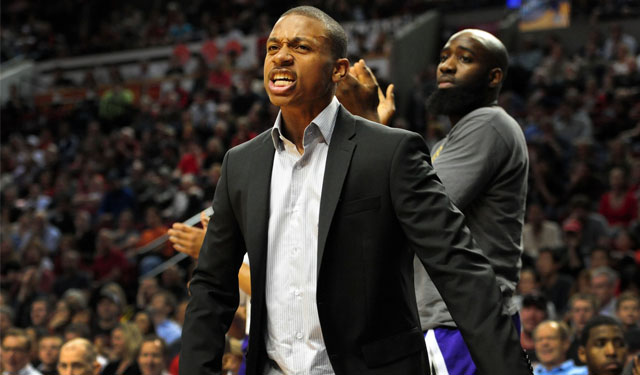 More Offseason Analysis: Coaching changes, news | Free Agency | Draft
The Phoenix Suns recently executed a sign-and-trade for Isaiah Thomas from the Sacramento Kings. After starting 153 out of 216 games the last three seasons since being the last pick in the 2011 draft, Thomas wasn't really wanted by the Kings anymore. At least, he wasn't wanted for the price it was assumed Thomas was going to command on the restricted free agency market. The Kings went out and signed Darren Collison to replace him before any real traction was out there with Thomas and other teams.
This didn't sit well with Thomas, according to Bob Young of the Arizona Republic. After three years of having to claw his way into the starting lineup and fend off another challenger to replace him time after time, Thomas says he felt "very disrespected" by the Kings and is ready for something special coming with the Suns.
Yet, the Kings seemed to look for someone to replace Thomas at every opportunity.

"They were," he said matter-of-factly. "I felt very disrespected. Every year it was somebody new. I felt I did a good enough job to show them I was a starting point guard or a guy who could play a big role with their team. But they thought differently.

"They're going to go forward without me, and I'm going to go forward with the Phoenix Suns, and I know something special is coming here."
Thomas has a point, in terms of them consistently looking for another guy to be the starting point guard other than him. Not many people expected this type of play out of Thomas, especially not this early in his career. After the Kings gave up on the experiment of Tyreke Evans as the lead guard in Thomas' rookie season, the Washington point guard found his way into the starting lineup. He was the starting point guard for most of his second year, except for a brief period when the Kings brought in Aaron Brooks. In Thomas' third season, Greivis Vasquez was given the starting gig for the first 18 games before being traded. It was only then that Thomas secured the starting position for the rest of the season.
The lack of interest in Thomas and a potentially high price tag frustrated the point guard and many Kings' fans as well. He had earned more respect than he was being shown, but at the same time, there are plenty of argument to be made of why you might not want Thomas as your starting point guard for the expected $9-10 million per season he was reportedly seeking. Once they signed Collison for the mid-level exception and the final salary for Thomas ended up being $7 million per season with the Suns, the argument no longer made much sense at all.
It's also a curious move by Thomas, considering the Suns have Goran Dragic, are expected to retain restricted free agent Eric Bledsoe, and drafted Tyler Ennis out of Syracuse with the 18th pick. Suns' coach Jeff Hornacek implemented a lot of two-point guard lineups throughout last season and saw great success with them. Adding a point guard capable of averaging 20 points like Thomas did last season gives them even more firepower and options. And for Thomas, the Suns did something the Kings simply never really did -- make him feel wanted. 
The NBA commissioner said expansion is 'inevitable,' but not a priority right now

The NBA social media world was buzzing after a leak of what looks like the Cavs' new jersey...

The guard's injury hampered him in the NBA playoffs but he's slowly ramping up his on-court...
The tipping point might be whether the Wolves are willing to part with Andrew Wiggins

Anthony is reportedly still intent on being traded to the Rockets

Irving has requested a trade away from the Cavaliers