It's official: Kevin Durant named 2013-14 Most Valuable Player
Oklahoma City Thunder star Kevin Durant has been named the 2013-14 NBA Most Valuable Player over LeBron James.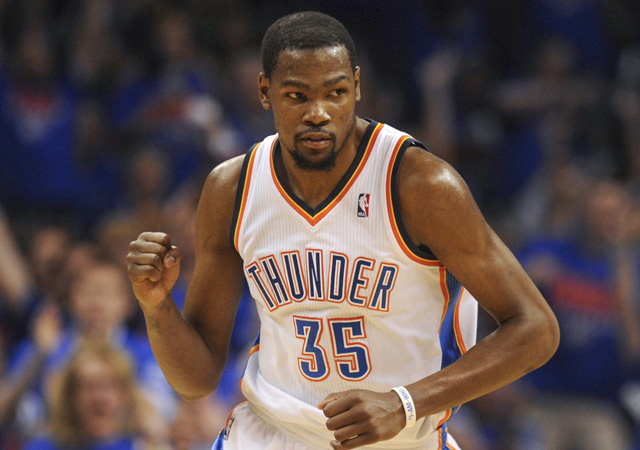 More postseason coverage: Playoff schedule, results | Latest news, notes
It's official. Oklahoma City Thunder superstar Kevin Durant was announced as the 2013-14 NBA's Most Valuable Player on Tuesday. After leading the Thunder to 59 wins behind averages of 32.0 points (league leader), 7.4 rebounds and 5.5 assists, Durant received the first MVP award of his career. He also shot 50.3 percent from the field, 39.1 percent from 3-point range, and 87.3 percent from the free throw line.
He ran away with the voting, receiving 119 of the possible 125 first-place votes and six second-place votes. He finished with 1,232 points from the voting, which gives 10 points for a first-place vote, seven points for a second, five points for a third, three points for a fourth, and one point for a fifth. LeBron James finished second in the voting, receiving the other six first-place votes, 118 seconds, and one third. Blake Griffin received the other second-place vote.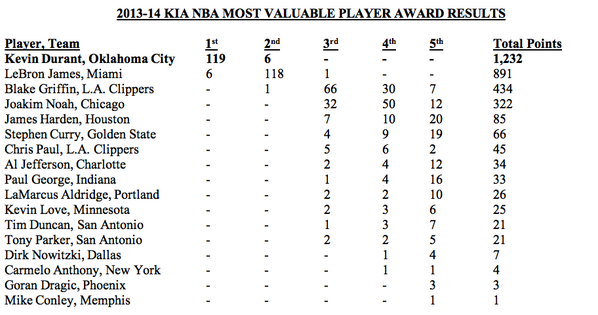 You can see a breakdown of how media members voted for the MVP here.
The Warriors rookie threw down an off-the-backboard dunk while up 25 late in the fourth qu...

The third member of the club might come as a surprise

LaVar said Lonzo won't lose again this week, and Marcin Gortat found that pretty funny
Eric Bledsoe is going to be traded at some point and these tweets will explain how it got...

Curry's outburst will cost him some money, but he won't miss any games

A look at the ups and downs for various suitors as Bledsoe has left the team.