It's prediction time, from conference champs to individual awards
Sure it's silly to make predictions with so little information at hand, but it is also quite a bit of fun. You can probably guess the Eastern Conference champ prediction, but others might surprise you.
It's that time of year -- my favorite time of year because the NBA season is revving up, and my least favorite time because that can only mean one thing.
Time to make predictions.
Predictions are the worst. Preseason predictions are the worst of the worst. Why? We don't know anything yet. We can't possibly know anything, except maybe which teams are trying the hardest to lose this season and maximize their chances of scoring big in a loaded 2014 draft.
Aside from Riggin' for Wiggins, the 2013-14 NBA season presents numerous compelling storylines. Will Kobe Bryant make it all the way back from an Achilles injury at age 35? Will Dwight Howard be happy -- and successful -- in Houston? Will the Miami Heat three-peat? And of course, will LeBron James and/or Carmelo Anthony change teams as free agents when it's all over?
But before we get to all of those, and more, we are duty-bound to peer into the crystal ball and predict what's going to happen at a point in the season when we have the least information possible -- none.
Once the season has played out and we have some data, tendencies and matchup metrics to compare, predictions hold more weight. When I predicted that the Golden State Warriors would upset the Denver Nuggets in six games in last season's first round, it was based on some information about both teams and how they matched up -- information that meant something, I thought. And with my subsequent Finals pick of San Antonio over Miami in six, this blind squirrel would've unearthed a very large acorn if not for Ray Allen drilling that dramatic 3-pointer from the corner late in regulation of the sixth game in that epic series.
Preseason picks? I hope nobody's paying attention to those. At this time last year, I picked the Los Angeles Lakers over the Heat in the Finals. Two years ago, I had the Chicago Bulls over the Oklahoma City Thunder . Could I have known that Dwight Howard was going to play like Dwight Yoakam last season, or that Derrick Rose was going to blow out his knee in the first game of the 2012 playoffs? Nope. That's what makes preseason predictions so precarious, silly and (I guess) fun.
So here we go ... it's time to predict what's going to happen from a vantage point that offers no hope of actually knowing what's going to happen. We call this ... expertise!
Eastern Conference finals: Heat over Pacers
The Bulls will be back in the mix with the return of Derrick Rose and the Brooklyn Nets are going to be a nuisance all year. But the Heat have kept their championship group together and haven't gotten worse. The Pacers have gotten better, making key additions to strengthen their bench. Continuity is very underrated in today's NBA, and the Heat and Pacers both have it.
Western Conference finals: Clippers over Thunder
If Russell Westbrook hadn't gone down, I believe it would've been a rematch of the Heat and Thunder in last year's Finals. I do think the Houston Rockets will be dangerous and compelling, but it's exceedingly difficult to put a team together via trade ( James Harden ) and free agency (Dwight Howard) and make a run to the conference finals or beyond in your first season together. The exception to that rule was the 2007-08 Boston Celtics , who were coached by Doc Rivers. Fast forward to 2013-14, and Rivers takes over a team that is talented enough to be the last one standing in the West. Another team ready to take the next step? Golden State. A healthy Andrew Bogut (fresh off a three-year, $36 million extension), the electrifying Stephen Curry and the addition of wing stopper Andre Iguodala makes the Warriors a serious threat to land in the conference finals or beyond.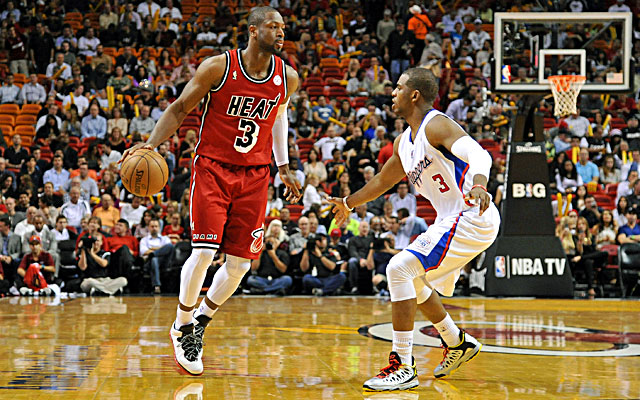 NBA Finals: Heat over Clippers
The boldness of my Clippers pick is more than eclipsed by the dullness of my Heat three-peat prediction. LeBron James and the Heat may not be able to keep the Big Three together beyond this season. But until then, it's hard to come up with realistic scenarios under which they can be beaten.
MVP: Chris Paul , Clippers. A couple of things happen with the MVP voting over the years. One, voters eventually get "repeat fatigue." How did Michael Jordan not win the MVP award nearly every year of his career? Repeat fatigue. Rightly or wrongly, voters get tired of giving to the same guy every year.
The other thing that happens is, voters (myself included) get caught up in storylines. That's how Derrick Rose (for whom I voted) won the MVP award three seasons ago. I can already feel the groundswell building for the Clippers storyline to dominate the narrative this season. The Clippers will win 60 games and head into the playoffs as serious title contenders. Their best player by far will be CP3, who will find an extra gear of greatness playing for Rivers. The CP3 for MVP storyline will take off, and once it does, there will be no reining it back in -- even though LeBron is still better than everybody.
Rookie of the year: Ben McLemore , Sacramento Kings . Unless there's a clear-cut favorite -- and this year, there isn't -- this honor is all about playing time and opportunity. McLemore will have plenty of both in Sacramento, and will take full advantage.
Defensive player of the year: Dwight Howard, Rockets. You're going to see a much more engaged, much healthier, much more focused Howard this season. Part of it is that around the All-Star break last season, Howard started taking better care of himself. Part of it will be a hunger to prove he wants to dominate more than he wants to clown around. A significant factor will be a respected big man, Kevin McHale, coaching the best out of him. All of this will add up to a monstrous season on the defensive end for Howard, who should be the best defensive player in the league every year.
Sixth man of the year: Harrison Barnes , Warriors. With Carl Landry and Jarrett Jack leaving via free agency, a window opens for Barnes to be the key contributor off the Warriors' bench. How much do I like the Warriors? The Vegas odds are astronomical that at this point eight months from now, I'll be ruing the day I failed to predict a Heat-Warriors Finals.
Most-improved player: Derrick Favors , Utah Jazz . Another award based on minutes and opportunity, and Favors will have healthy helpings of both with the departures of Al Jefferson and Paul Millsap from Utah's front line.
Coach of the year: Monty Williams, New Orleans Pelicans . Those in the coaching business and in NBA huddles have known for some time that Williams is one of the bright young coaches in the sport. With the Pelicans ready to take a big step this season, Williams will get his due. Though Williams isn't as comfortable with the spotlight as the Warriors' Mark Jackson, he commands a room in much the same way. Players respect him unconditionally.
Executive of the year: Billy King, Nets. Before you dismiss me and ridicule the Nets on the theory that anyone could put together a winning team with an unlimited budget, let's think this through. King pursued Carmelo Anthony and Dwight Howard, and was futile in both efforts. But his comeback from losing out on Melo -- boldly trading for Deron Williams with zero guarantee he'd extend long term -- was fairly epic in retrospect. When Howard waffled, King locked up Brook Lopez and traded for Joe Johnson . Yes, he was the only executive in the league with green light from his owner to take on the massive luxury-tax bill that came along with Kevin Garnett , Paul Pierce , Jason Terry and Andrei Kirilenko . But that alone doesn't invalidate the moves. King's boldness, coupled with the salary-cap smarts of assistant GM Bobby Marks to calibrate all of this excess within NBA rules, put the franchise on a high-risk, high-reward path that can only go awry if the team badly underachieves. Looking at the talent on the roster, it's hard to envision that outcome.
The Hawks and Sharecare reportedly agreed to terms on a five-year deal

A look at the context of the schedule and who plays who when, and how far they travel during...

Durant took on rapper Lil Dicky and actually might have lost
A report that James would once again be leaving Cleveland made the rounds on Wednesday

Known for his 'take that for data' rant, the Grizzlies coach touched on a number of important...

Wade's days with the Chicago Bulls may be numbered