Jabari Parker denies tanking Cleveland workout
Prospect Jabari Parker said he has "too much pride" to not try his hardest in a workout.
• 1 min read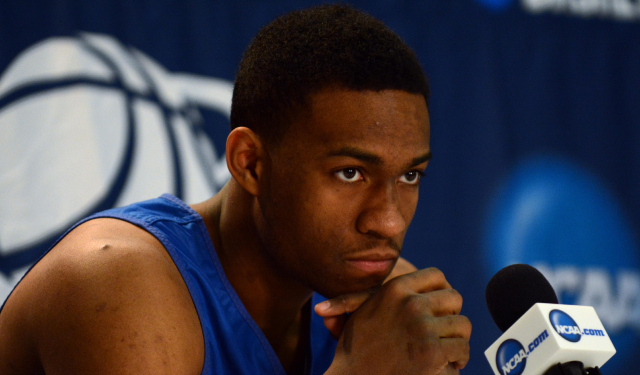 More draft: Mock drafts | Draft order | Prospect rankings
Jabari Parker disputed a report that he'd "tanked" his workout with the Cleveland Cavaliers at pre-draft media availability on Tuesday, via the Milwaukee Journal Sentinel's Charles F. Gardner::
Parker said he did not tank his workout in Cleveland, as speculated in media reports.

— cfgardner (@cf_gardner) June 25, 2014
Parker: "I think I have too much pride to just waste other people's time. I come from Duke and I come from a family with good values."

— cfgardner (@cf_gardner) June 25, 2014
Parker had an unimpressive showing in Cleveland and would rather go to the Milwaukee Bucks at No. 2 than the Cavs at No. 1, according to the report from ESPN's Chad Ford:
Parker came in to work out on Friday in front of the Cavs' front office and ownership. Parker wasn't great. He was a bit heavy (he weighed in at 255 pounds), didn't shoot the ball well and got winded at times. Furthermore, two different sources told ESPN.com that Parker seemed a bit indifferent. One source said he thought Parker "tanked" the workout.

Why? A source says he strongly prefers to play in Milwaukee. The Cavs appear to be aware of this. "Jabari wasn't himself," one source said. "It was clear we weren't his first option."
The Duke product told reporters that he expected to be selected by Milwaukee, as Cleveland was coy about its plans.
Jabari Parker says he expects the Bucks will draft him at No. 2. "I had some comfort level with them, especially telling me, 'We want you.'

— cfgardner (@cf_gardner) June 25, 2014
Parker: "I didn't really get any answers from the Cavs, so I'm just going with what I'm certain with."

— cfgardner (@cf_gardner) June 25, 2014
We've got all the scores, highlights and news from all of Sunday's games

The Rockets beat the Warriors 116-108 on Saturday night

The Cavaliers gave up 148 points in their loss Saturday afternoon to the Thunder
Blatt made the comment before coaching in the All-Star Game in Turkey

Is this rock bottom for the Cavaliers because it sure feels like it is

Wade, as he's done so many times in his career, threw it up to LeBron for the thunderous f...