Jackson hopeful Melo is man of word in 'topsy-turvy' FA world
Phil Jackson hopes Carmelo Anthony is a man of his word when it comes to wanting to stay with the Knicks. But he knows he has no control.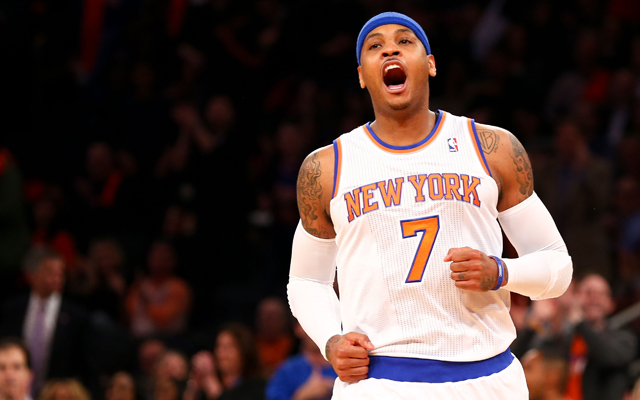 More Offseason Analysis: Coaching changes, news | Free Agency | Draft
We're a few days away from teams being able to throw their free agent pitches at the stars and role players around the league. The New York Knicks will be one of the teams hoping those outside pitches fall on deaf ears. With Carmelo Anthony hitting free agency and the Knicks not having much to get excited about on their roster beyond him, they probably need their star to re-sign just to remain relevant. 
Phil Jackson is hoping Melo's past desires to be a Knick and want to re-sign with this organization still hold true come July 1. While describing the free agency situation as "topsy-turvy," Jackson put the pressure on Melo's words of the past when he said he wanted to re-sign and be on the Knicks beyond last season. From the New York Post: 
Jackson also maintained Thursday he still has "every confidence'' Anthony will stick to his word that he loves playing in New York and re-sign, but added the Knicks have "no control'' any longer now that Anthony opted out of his contract, and called the situation "topsy-turvy.''

"It's a big question,'' Jackson said. "So many things that could happen out there. We really don't know. With LeBron [James] getting in this free agency, it's topsy-turvy right now. We don't know what all that means. But we have every confidence that Carmelo is good for what his word is that he wants to be in New York. He likes playing in New York. He wants to compete. He wants to be part of a playoff team that's competitive bound toward a championship.''

"We don't have control,'' Jackson said. "When someone goes into free agency, that's what it's about, to have the option to do that and get a chance [to see] what other people have to say about it and appeal to him. He'll have to make that judgment call. We just hope what we're doing appeals to him also.''
The Knicks are in as a precarious situation as Anthony. They need Carmelo to be on the team if they're going to remain decently competitive, but in reality it would be good for them to find a way to clear the decks, acquire assets, and find a way to do a proper rebuild. Even with it being New York, the Knicks need a basketball culture that isn't full of internet jokes and people bemoaning national television appearances. Not committing big money to Anthony could be the start of that, even though it would get a lot worse before it gets better.
For Carmelo, his prior words of loyalty will be held against him if his priorities have changed. We judge players on winning titles and he simply can't accomplish that any time soon with the Knicks. What he can do is find a good basketball culture with proper coaching and help on the roster to put him in a position to win. The Chicago Bulls, Dallas Mavericks, and Houston Rockets can provide that easier and more readily than the current Knicks.
We've got all the scores, top plays and news from a busy NBA Friday

Butler didn't put any pressure on his right leg as he was helped to the locker room on Fri...

Our advanced computer model simulated Saturday's Magic vs. 76ers game 10,000 times
Several playoff contenders could use the services of Ilyasova, who's nearing a buyout agre...

Durant says he probably wouldn't have gone to college because he 'needed the money'

Ball, who has missed the last 15 games with a sprained MCL, will be on a minutes restricti...