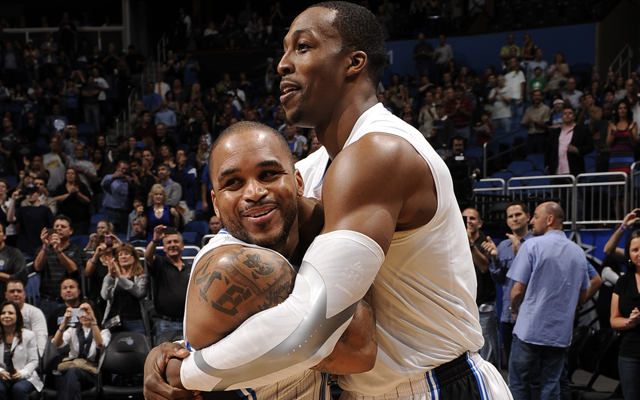 For two years, Jameer Nelson played the good soldier. Every time the Magic would visit a city with a star point guard and people would ask Dwight Howard about what it would be like to play with that kind of guy, Nelson never remarked. When Howard would talk about Derrick Rose or Chris Paul, Nelson, who was an All-Star alongside Howard in 2009 and a huge part of the Magic's success for many years, never blanched. 
He always just talked about being friends with Howard, about appreciating him. 
Apparently, he's had enough. And good for him. After Howard said that his Magic teams were full of players "nobody wanted," Nelson responded Wednesday. From the Orlando Sentinel:
At some point, when are you [Howard] gonna, as a man, when are you going to take ownership and stay out of the media in a professional manner?" Nelson told the Sentinel after Wednesday's shoot-around in Miami.

"I would be less of a man to comment on certain things that people comment on about me and my teammates. We had a great run as a group, as core guys, and he was a part of it (reaching the 2009 Finals) and for him to say things about anybody in a negative manner, that's up to him.

"That's his opinion. If that's how he feels, that's how he feels."
(via Magic's Jameer Nelson fires back at Dwight Howard - OrlandoSentinel.com)
Standing ovation, Jameer. 
Nelson is an aging player, and his effectiveness has gone down. But those Magic teams were legit. They were outmatched by the Lakers in 2009, and ran into a freak buzz saw of a Celtics team in 2010. Then management started bringing in players who took them down a notch. Interestingly, those players? They were all guys who Howard reportedly asked management to get. 
Since then, former GM Otis Smith has been thrown under the media bus as responsible for building terrible teams, when in reality, he and Stan Van Gundy constructed a great team that used Howard to his potential and created lethal offensive efficiency with staggeringly good defense. 
It wasn't Howard holding up a terrible team. In many cases, the 3-point shooting carried Howard's rudimentary offense. Howard is a phenomenal player, and the biggest reason for the team's success. But he's flat-out wrong, and even if he's right, there's no reason to do that to guys who went to battle with him night after night, through all his nonsense. 
They deserved better. 
So for the last time, Howard, listen to people. Heck, listen to your former teammate and friend. Quit talking and just play. 
The Magic face the Lakers next Tuesday in Orlando.