Jarrett Jack's terrible defense has to go away for Warriors to win Game 2
Jarrett Jack's defense was a problem in Game 1 when the Golden State Warriors tried to defend the 3-point shot by the San Antonio Spurs.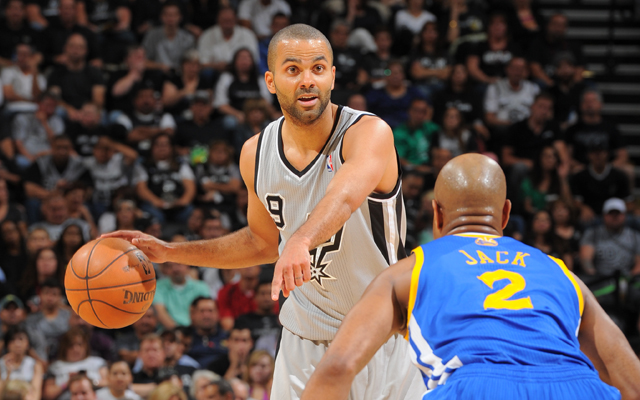 The San Antonio Spurs are geniuses when it comes to exposing weaknesses in an opposing defense. If you have a big man who can't defend in the pick-and-roll, Tony Parker and Manu Ginobili are going to attack that player all night long. If you have a guy who can't defend Tim Duncan inside (and not many historically can, even today), guess who is getting the ball on the low block?
What happens if you have a perimeter player who can't stay with shooters around the 3-point line?
Gregg Popovich is going to find a way to make the defender prove that he can be competent defending the corners and the wing spots. This is why the Spurs are so good at what they do. They identify weakness, see how their system can exploit that weakness, and then show everybody just how truly weak it is.
Against the Golden State Warriors, it's unlikely you're going to try to consistently attack Andrew Bogut inside. They'll do it occasionally to keep him honest and see if they can grab some quick personal fouls on the Aussie, but for the most part you're not going to just let him have a block party at the rim. Klay Thompson is a young wing defender, but he's a good wing defender. It's the same way with Harrison Barnes. And while Stephen Curry isn't an elite defender by any means, he's good enough to not get shredded on every play, especially when Mark Jackson hides him on a lesser offensive player.
With Jarrett Jack, though, the Warriors have a hard time finding a way to get him to defend off the ball. If he's on the ball, he can be a pest because he's quick enough to stick with a lot of first steps and he's strong enough to make up for it by knocking a guy off balance with a crafty, veteran tactic. Get him away from the ball and ask him to keep up with shooters, though, and you'll probably see plenty of good outside shots flying toward the basket.
In Game 1 between the Spurs and Warriors, San Antonio found a great way to exploit his weakness. The team made 13 of its 26 3-point shots in the game, including some huge ones down the stretch that extended the game and eventually ended it in their favor. Five of those 13 3-point makes were finding a way to get Jack confused in help defense. 
There are so many fundamental problems Jack shows in that video and a lot of them have to do with awareness and decision-making. One of the typical tenets of help defense is you usually only shy away from the corner shooter when the ball is on the opposite side of the floor. If you're on the strong side of the floor, you want to stick the shooter in the corner, unless they're really bad.
Gary Neal is not a really bad 3-point shooter. For his career, he's made 39.8 percent of his 3s. Granted, it's lower because he only made 35.5 percent of them this season, but he made 41.9 percent of his attempts in each of the previous two seasons. It's possible the Warriors don't believe in sticking with the shooter on the strong side. It's possible Mark Jackson wants his defenders to leave good 3-point shooters on the strong side. 
Let's pretend for a minute that this isn't true, though; why would Jack just leave the strong side shooter open? And did he think Ginobili and his phenomenal court vision would think Neal was too open and that the defense was setting some kind of obvious and yet cunning trap? 
Doing the same thing and expecting results is typically viewed as insanity. It can also be viewed as the way Jack defended Neal on the next 3-point attempt he took against him. Ginobili runs a pick-and-roll with DeJuan Blair to the left side of the floor and is essentially dribbling into a trap. He can kick it to Matt Bonner on the strong side wing, but there isn't a ton of space between the shooter and Draymond Green to guarantee an open look. 
What Ginobili really needs is a defensive breakdown from the Warriors. Even though Manu is going to the left side of the lane, Jack starts dropping down into the area around the right low block. We just talked about it being OK and common practice to help off the weak-side shooter. And with Ginobili's motion to the left side, Neal is officially a weak-side shooter. But where is Jack helping? There isn't an offensive player in the vicinity and Ginobili has to teleport to the basket to get through two defenders. Neal is still a career 39.8 percent shooter from downtown and he shows it.
With the Spurs on a big run to erase a 16-point deficit to send it into overtime, they've cut it to eight points with under two minutes left in the game. Ginobili and Kawhi Leonard run a quick pick-and-pop that leads to Jack switching onto Leonard. While Jack is in the correct proximity to play defense on Leonard, he's in no position to actually challenge a shot. Leonard recognizes this and pops the 3-pointer right away to cut it to a five-point game. 
If your coach is famous for saying "hand down, man down," should you ever be caught with your hands down on defense?
On the 3-pointer that tied the game and eventually sent it into overtime, Jack is guarding Leonard and Curry is defending Green. Green sets a screen to bring Leonard across the lane. This allows Leonard to take Curry out of the play, which wouldn't be a big deal if Jack decided to switch to defending Green on the play. Instead, he stays with Leonard and Green swings around a Boris Diaw screen to get to the right wing for a game-tying attempt.
Danny Green shot 42.9 percent from 3-point range this season. From the right wing, he shot an insane 47.7 percent. A defensive breakdown let him tee up from a spot on the floor he's had the most success from this season.
On the final 3-pointer the Spurs made in Game 1, the Warriors had their biggest defensive breakdown. The Spurs run Parker off of a double screen by Ginobili and Diaw. Jack is defending Diaw on the play, but switches out to guard Parker in case he catches the ball 35 feet away from the basket. Unfortunately, he didn't let Harrison Barnes know this was happening.
Diaw rolls to the basket. Kent Bazemore had to pick him up, which meant Ginobili was all alone on the far wing. He received the pass and put a little extra arc on his shot over a late but admirably closing Bazemore to give the Spurs the Game 1 victory. 
Jarrett Jack had plenty of good moments in that game. He hit a couple of big shots in the first overtime that helped keep the Warriors in the thick of that game. But he has to correct these defensive lapses the rest of the series in order to make one of the top shooting teams in the league hurt the Warriors from somewhere else on the floor.
The Spurs are simply too smart for this kind of poor defense.
CBS Sports HQ Daily Newsletter
Get the best highlights and stories - yeah, just the good stuff handpicked by our team to start your day.
Please check the opt-in box to acknowledge that you would like to subscribe.
Thanks for signing up!
Keep an eye on your inbox for the latest sports news.
Sorry!
There was an error processing your subscription.
There are just three games on this Tuesday night, but some big stars are in action

Walton, whose new-look Lakers have started off 0-3, is followed by Tom Thibodeau (Wolves) and...

Rondo spoke in detail about the incident that earned him a three-game suspension
Kobe stans will never give LeBron the credit he deserves during his time in L.A.

The newest Golden State Warriors star hasn't seen the court since January after tearing his...