Jason Collins makes NBA history after signing with Nets
Free agent big man Jason Collins signs a 10-day contract with the Brooklyn Nets and makes his season debut against the Lakers.
More NBA: Report: Davis opts for Clippers | More news, notes
UPDATE: Jason Collins became the first openly gay player in major American professional team sports, getting in Sunday's game for the Brooklyn Nets against the Lakers.
The 35-year-old center and 12-year NBA veteran, who signed a 10-day contract with Brooklyn earlier Sunday, finishes with zero points and two rebounds in 12 minutes of action in his season debut.
(Posted earlier)
Roughly 10 months since being the first active athlete in one of the four major team sports to come out as gay during his playing career, Jason Collins will be signed by a team and in uniform Sunday night. After missing out on recently waived Glen Davis, the Brooklyn Nets will sign Collins and he'll be in uniform against the Los Angeles Lakers.
The Nets announced Sunday they've signed Collins to a 10-day contract. 
The Brooklyn Nets have signed center Jason Collins to a 10-day contract, General Manager Billy King announced today.

"The decision to sign Jason was a basketball decision," said King.  " We needed to increase our depth inside, and with his experience and size, we felt he was the right choice for a 10-day contract."
NBA commissioner Adam Silver issued a statement regarding the signing, considering the momentous nature of the Collins signing following his announcement last year:
"Jason told us that his goal was to earn another contract with an NBA team.  Today, I want to commend him on achieving his goal. I know everyone in the NBA family is excited for him and proud that our league fosters an inclusive and respectful environment."
Athlete Ally, a non-profit organization that works with the NBA on LGBT inclusion, also issued a statement on the signing:
Athlete Ally Ambassador and standout Denver Nuggets forward Kenneth Faried said, "With Jason Collins signing with the Nets today, I belive our world as professional athletes will open up and become less ignorant of gay male atheltes playing and more accepting and embracing of the whole situation."

"We are entering a new era of inclusion with Jason Collins, the Brooklyn Nets and the NBA at the forefront. Jason may be the first, but he's not the last. It's because of him and the unprecedented leadership of professional leagues like the NBA that we'll see more and more LGBT athletes at all levels of competition", said Hudson Taylor, Executive Director of Athlete Ally. Taylor added: "I have seen first hand how committed the NBA is to ensuring that every team is welcoming and inclusive. It's invested in this effort and it's invested in Jason. I could not be happier for the NBA family today. Congratulations!" 

"Jason Collins and the Nets making history like this literally helps save lives. For generations, countless LGBT youth have lacked important openly gay role models in professional men's sports, " said Akil Patterson, leader of Athlete Ally youth programs. "Ultimately, Jason Collins' contribution won't simply be measured by a box score or his hustle on the basketball court, but also by how his life impacts the lives of others" 

"Today, Jason Collins tore open the last remaining closet in America, and became the first openly gay player to be signed by a team in one of the big four sports. We are especially excited that Jason will be playing in Brooklyn, just like Jackie Robinson, and in a marriage equality state. This is a piece of history, an important point on the continuum toward justice and a moment to celebrate," said Brian Ellner, a member of the Athlete Ally Board of Directors.
This will be Collins' 13th season in the NBA, which started with the New Jersey Nets as the 18th pick in the 2001 draft. He was originally drafted by the Houston Rockets before being dealt to the Nets on draft night. He played the first 6.5 seasons of his career with the Nets organization before being traded to the Memphis Grizzlies in 2008.
Without Brook Lopez (out for the season with a foot injury), the Nets are desperate for size to round out the roster as they try to salvage a season that had title aspirations coming in. Collins has been known as one of the best post-up defenders in the NBA for seasons now, more of a specialist in this craft than an all-around player.
In the spring, Collins unveiled to the sporting world that he's a gay athlete. As people wondered what this will do to his playing career as a 34-year old specialist, Collins was left waiting for an opportunity to extend his career and do so with a new stigma and conversation attached to his existence in the NBA. After not getting signed in the offseason or before contracts became guaranteed on January 10, Collins was left waiting until after the trade deadline to truly get a chance to be the first openly gay athlete in one of the four major team sports leagues.
He had to wait for another domino to fall before signing with the Nets. The Nets were trying to woo Davis to their roster with Collins as the backup plan. Davis is expected to sign with the Clippers on Sunday, giving Collins the open spot on the Nets' roster. He'll be playing with former teammates Paul Pierce and Kevin Garnett, who shared a locker room with Collins in Boston for 32 games last season before Collins was dealt to the Wizards. Nets coach Jason Kidd was a teammate of Collins from 2001 to February of 2008.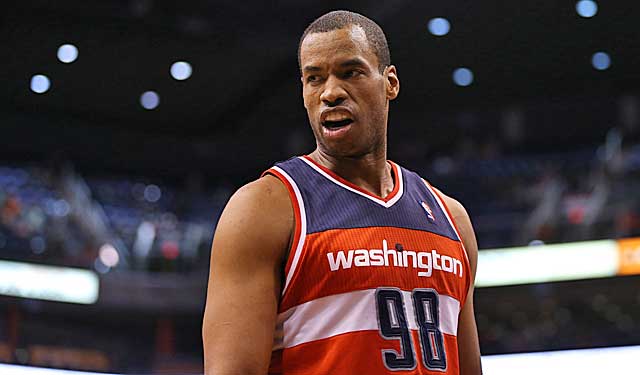 The future of the league was on display on Tuesday night

Check in throughout the night for the latest news and highlights from NBA games

The Lakers legend details why the NBA popularity will continue to rise
SportsLine's Mike McClure, a DFS pro with more than $1M in winnings, gives optimal lineup...

If the Thunder forward doesn't know the reason, he has a very short memory

The 76ers star doesn't see a bright future for Jon Snow