Jason Collins says he's been taunted by one opposing player
Jason Collins says he's been taunted by one opposing player, but he shook it off by just calling him a 'knucklehead.'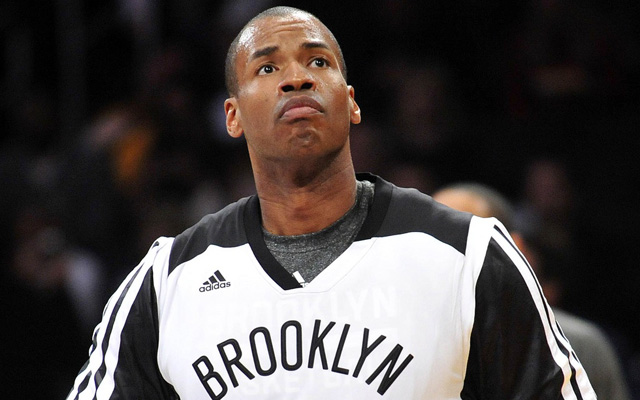 When Jason Collins became the first openly gay player in American sports, he received nothing but public support. From former and current teammates, coaches, front office personnel, fans and even opposing players, Collins has heard basically nothing but positive reaction.
Except for one player, who Collins labeled simply as a "knucklehead." Via the New York Daily News:
"One player, one knucklehead from another team," Collins said in an interview with the Daily News. "He's a knucklehead. So I just let it go. Again, that goes back to controlling what you can control. That's how I conduct myself -- just being professional."

Collins wouldn't name names, because as he's said since the beginning, he wants the focus on the basketball, along with a positive message. And giving attention to a knucklehead doesn't serve anyone. 
"You can't control what other people are going to do," Collins said.
"Not just for myself, but I think for everyone. This shows that 'distraction' is B.S. That it's about the team; it's about the sport," said Collins, who signed for the rest of the season last week. "I hope this shows all players that you can still have your life off the court and not have to hide anything. And still have your life on the court or on the field or on the ice, I guess, in hockey. That's a credit to my teammates and the entire Nets organization -- from ownership to coaching to teammates to everyone."
Green helped KD through the tricky situation but not without enjoying his teammate's blund...

Vonleh reportedly suffered a shoulder strain during a pick-up game at the team's facility

OKC and Westbrook have until October 16 to agree to the deal
The league is implementing the 'Zaza Rule' and 'Harden Rule' in 2017 geared toward player...

Thunder GM Sam Presti went on to say the procedure on the MVP's right knee was "nothing se...

Hayward credited the Cavs guard as a big reason why he chose Boston in free agency