Jason Kidd announces retirement after 19 seasons
After 19 seasons and 12,091 assists, Jason Kidd has announced his retirement from the NBA.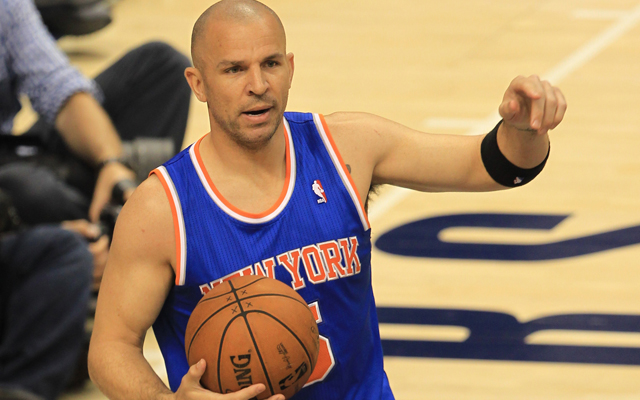 One of the greatest point guards ever has dished his last assist.
Jason Kidd is retiring after 19 NBA seasons, the Knicks announced Tuesday. 
"My time in professional basketball has been an incredible journey, but one that must come to an end after 19 years," Kidd said in a statemtn. "As I reflect on my time with the four teams I represented in the NBA, I look back fondly at every season and thank each every one of my teammates and coaches that joined me on the court."
Kidd, 40, was drafted No. 2 overall by the Mavericks in 1994 and played two separate stints with the team. He also played for the Suns, Nets and Knicks. 
"Veteran leadership on and off the court was a huge factor for our team that recorded 54 victories and an Atlantic Division crown," Knicks coach Mike Woodson said. "Jason provided an incredible voice inside our lockerroom and I considered it an honor to say I coached him."
Fellow '94 draft classmate Grant Hill (picked third) also announced his retirement after 19 seasons on Sunday. As Zach Harper of CBSSports.com tweeted, the two entered the league together in 1994 and were named co-Rookie of the Year, and could enter the Hall of Fame together in 2018. 
A revolutionary point guard standing 6-foot-4, 220 pounds, Kidd kind of pioneered the scoring, athletic creator role that we see guys like Tony Parker, Russell Westbrook, Deron Williams and Derrick Rose excelling in today. Kidd had microfracture surgery in 2004 and lost some of that explosiveness and quickness that made him one of the toughest covers in the league. 
But he reinvented his game, developing a consistent 3-point shot. One of the major Achilles' heels of his game before, Kidd focused hard on his shooting actually ranks third all-time in 3-pointers made with 1,988. 
Strange thing about how Kidd finished his career, though: He didn't score in any of his final 10 games and missed his last 18 shots. Maybe that's why he's retiring. Kind of got the message in those final 10. 
Kidd ranks second all-time in assists with 12,091, behind only John Stockton, who had 15,806. Kidd played in 113 fewer games. He's the only player in NBA history with at least 15,000 points, 10,000 assists and 7,000 rebounds. Kidd is third all-time in triple-doubles (107), second all-time in steals (2,684), third in minutes played (50,111) and 71st in total points scored (17,529).  
A two-time gold medalist in the Olympics in 2000 and 2008, Kidd played in 1,391 games (sixth all-time), appaeared in back-to-back NBA Finals (2002, 2003), won an NBA championship with the Mavs in 2011, and was a 10-time All-Star. He was named to five first-team All-NBA squads, one second-team, four All-Defense first-teams, led the league in assists five times and won back-to-back Sportsmanship awards his final two seasons.
He posted career averages of 12.6 points, 8.7 assists, 6.3 rebounds and 1.9 steals. 
Johnson had a career-high 31 points, while Olynyk had 30 points, eight rebounds, five assists...

Green's injury left the Warriors without all four of their All-Stars

Giannis showed off his incredible length to throw this one down
We've got all the scores, top plays and news from Monday's NBA games

Love has been sidelined since late January with a broken hand

Green retaliated after Gorgui Dieng pushed Paul to the floor on Sunday