Jason Kidd, Bucks can use potential (Parker, Greek Freak) to get creative
The Milwaukee Bucks enter the 2014-15 season with options and potential, so they'd be wise to pull out all the stops and try new things.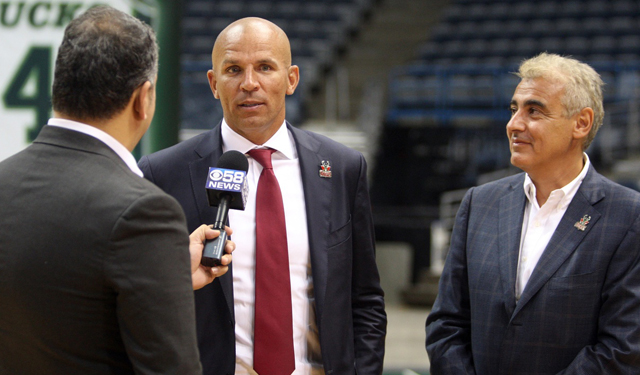 More Offseason Analysis: Coaching changes, news | Free Agency | Draft
What does potential give you as an organization?
The answer to this question is most often "losses." Having guys with a lot of potential doesn't really mean much for the present when that potential hasn't been harnessed into tangible results. Even in the first two seasons of Kevin Durant with the Sonics/Thunder, his teams went 43-121 and didn't start winning until Russell Westbrook's second year (Durant's third). You can build with youth but you also need either a great coach to bring it all together or bring in a veteran presence or two to help put a young roster with potential over the hump.
Until you get to that point where you're ready to start contending for a playoff spot, potential also gives you options. When you're not a title contender, options for an organization are the greatest asset you can possess. Having options and flexibility in your roster allow you to revamp your squad if need be, have the assets to pounce on acquiring an unhappy veteran on another team, or really take advantage of most personnel situations when they arise. With so much potential on a rebuilding roster, you also have options on the court that can allow for deeper development in the young players.
The Milwaukee Bucks are sitting pretty right now. Yes, they just tried to build a playoff team in the East in the summer of 2013 and ended up with a 15-win debacle, but it worked out in their favor overall. The Bucks ended up with the No. 2 pick in the 2014 draft and took Jabari Parker out of Duke once the Cleveland Cavaliers secured Wiggins. In Parker they have a combo forward who can be a top scoring option right away as he learns how to turn into an elite scoring option. And it's with the players surrounding Parker that new coach Jason Kidd has a chance to truly try some weird things to maximize the development of his players.
Kidd's one-year coaching foray with the Brooklyn Nets was a great experience for him. When things fell apart in the first two months of the season and spilling drinks on the court wasn't working, Kidd eventually found his sweet spot with that roster. Once Brook Lopez went down with another foot injury, Kidd went less conventional and more modern with his small ball, interchangeable lineups. He threw multiple ball handlers onto the court, as many as four at a time and often went small. He wasn't able to push the tempo because he was dealing with a lot of veterans, but this necessary change catapulted Brooklyn to the sixth-best record in the NBA (34-17) after Jan. 1.
He really had something with the multiple ball handlers on the court at the same time, as it allowed plenty of dribble penetration attacks that led to kickouts to a player who could catch the ball and attack off the dribble immediately. Once you get the defense scrambling, you can find a good shot. The Nets' offense jumped up four points per 100 possessions after the turn of the calendar.
Kidd has similar options he can go with on this Bucks roster to create discomfort for his opponents. For starters, things don't get much weirder than Giannis Antetokounmpo. A lanky 6-foot-9 small forward out of Greece has become a 6-11 freak of a human body that is filling out with muscle. Not only does he have the body of a created player on NBA 2K but he has the skill set of one, too. 
In the Las Vegas Summer League in July, Antetokounmpo spent a lot of time as the main initiator on offense. You could call him the point guard or point forward during those times, but I'm not even sure that's accurate. He was the lead forward, bouncing smaller bodies off of his expanding frame and using his seemingly infinite length to create the most wingspan'd poster in NBA history.
While I think playing him exclusively at lead forward or whatever we're going to call it is probably not a great idea, they idea of him handling a lot of playmaking responsibilities opens up the weirdness options for the Bucks. You can run out lineups of Antetokounmpo, Brandon Knight playing off the ball, Ersan Ilyasova stretching the floor, Parker as the main scorer and John Henson making life on the boards impossible. Between Giannis, Parker and Knight, you'd have your three ball handlers on the floor.
Throwing Antetokounmpo as the main playmaker gives him a similar opportunity that Victor Oladipo had with Orlando last season. Yes, he's playing out of position and that will result in some growing pains, but some of the best teaching that players get in this league is through the trial and error of being thrust into a decision-making role. If he comes out the other side looking at least like Nicolas Batum in a couple of years, you've had an incredible success story with the 15th pick in a horrible draft.
This also allows Knight to be more of a shot-maker than a creator. He was a 37.3 percent 3-point shooter in his two years with Detroit but dropped to 32.5 percent with the Bucks last season. He would benefit from being on the receiving end of some catch-and-shoots instead of having to create all by himself. You also hope that Ilyasova is able to recapture the 44.7 percent 3-point accuracy he showed from 2011-2013 and rise far above the abysmal 28.2 percent he shot from downtown.
Henson and Larry Sanders can be interchangeable in this type of lineup, but both should be quality rebounders and rim protectors with their length. It also wouldn't be the worst thing in the world to make Sanders earn his minutes back, even if he has a big contract supporting him. You can sprinkle in guys like Nate Wolters or Carlos Delfino here and there to stretch the floor. You can see what Damien Ingles is able to contribute in small bursts. You can even let Miroslav Ruduljica be the halftime entertainment as he carves stone sculptures with his punches.
The most important thing for this developing Bucks' youth is to get them as many reps in match-up advantages as possible. Kidd should have them push the tempo and try to recreate the insane pace the Philadelphia 76ers showed in their 17-win season. It didn't bring a lot of victories but it gave the fans some excitement on many nights, which is impressive for such a horrendous roster. It also increases the number of reps these players are getting in these situations and allows them to have the potential to learn quicker.
This team will be awful but they're going to be awful even if you throw them into a more conventional setting. Larry Drew had his Bucks team playing with the 24th fastest pace, which is otherwise known as the seventh slowest. And while it's not a huge sample size, when the Bucks played at league average pace or higher last season, they were 6-18 (25.0 winning percentage). When they played slower than the league pace, Milwaukee was 9-49 (15.5 winning percentage).
Fans love potential and if you mix in some weirdness on the court with a break-neck pace to go with it, you can not only likely be more successful in the win column but you'll also be able to bring back some fans. Only the Pistons and 76ers drew fewer fans than the Bucks last season. You're maxing out at around 25 wins, but if you give the fans a fun 25 wins with the promise of more in the future, you'll likely see a return at the gates.
After all, you want to give the fans the potential to get excited about this team.
Another day, another social media beef for Embiid

We have all the latest scores, highlights and news from Wednesday's NBA games

Thomas spent a day with a 10-year-old girl whose family is also new to Cleveland
Barkley did not hold back with his opinion of the Big Baller Brand patriarch

LaVar Ball also made it clear he thinks his sons are being placed in 'a great situation'

The Thunder are just 12-14 on the season, despite the addition of Paul George and Carmelo...