Jason Kidd says Kevin Garnett 'probably' won't play back-to-backs
New Nets coach Jason Kidd says Kevin Garnett probably won't play both games of back-to-backs this season.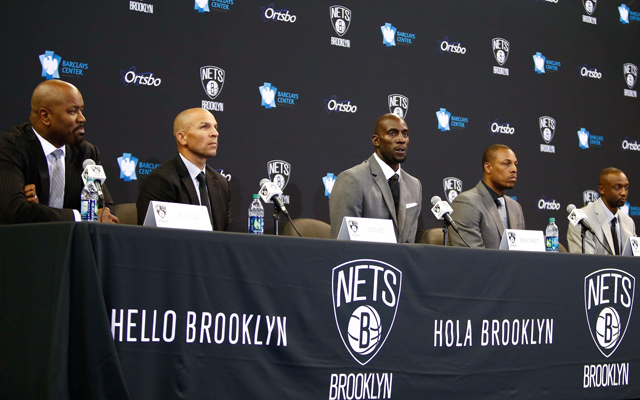 If what Nets coach Jason Kidd says holds true, pencil Kevin Garnett to miss as least 10 games next season. 
Via the New York Daily News, Kidd told reporters that Garnett "probably" won't play any back-to-backs next season.
"When you look at KG, probably no back-to-backs, but those are just topics right now that are being thrown around," he said. 
The Nets play 20 back-to-back sets next season and with Garnett being 37 years old and having battled a few injuries over the last few seasons, they're obviously interested in keeping him as fresh and healthy as possible for the postseason. 
It's the same strategy the Spurs have deployed a lot with Tim Duncan, keeping him out of having to play a game and then get ready to play another 24 hours later. 
And the Nets have been mindful to prepare for this time of situation stocking their frontcourt with a good amount of depth with Andray Blatche, Andrei Kirilenko, Reggie Evans and rookie Mason Plumlee. 
Garnett averaged just 29.7 minutes last season with the Celtics and missed 14 games. He hasn't played more than 32.8 minutes a game since the 2006-07 season, his last with the Timberwolves. 
Trevor Ariza and Gerald Green are reportedly both suspended two games

We've got all the scores, highlights and news from the night's games

Jonah Keri talks with NFL and NBA broadcaster Ian Eagle
SportsLine simulated Wednesday's Nuggets-Clippers game 10,000 times

Galin Dragiev has his finger on the pulse of the Lakers and just locked in a play for Wedn...

No more McNuggets allowed in the Barnes household