Jason Terry says he'd consider the Heat, that the Mavs want Deron Williams
Jason Terry says he'd consider signing with the Heat. Wait, what?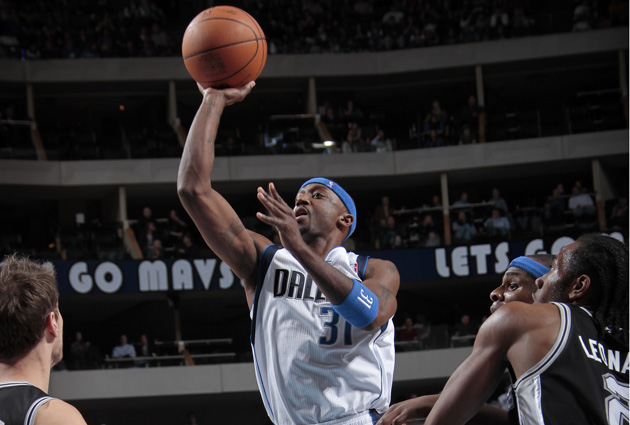 Jason Terry says he'd consider signing with the Heat.
Wait, what?
Despite all the trash talking, all the beefing, all the squabbling and whatever else Terry was quoted as saying he'd be open to it if they were interested,
via Fox Sports Florida
:
"No question, they need a veteran shooter, a guy who can score besides LeBron (James) and (Dwyane Wade), and they know they can count on. I'm a guy that's been in this league 13 years, (averaging) 15 points a night, easy. Off the bench or the starting lineup, it doesn't matter. So I think I'd be an asset to them."
Terry likes to run his mouth and he's probably just doing more of it here. Because you know the thought of Terry in a Heat uniform is something that makes Mark Cuban nauseous.
Keep in mind,
Terry has mocked LeBron in a rap video before
and has never had nice things to say about those in South Beach. But that's who he is. He likes to talk, likes to pop off and likes to act like he's the baddest man in basketball. It's his thing.
Why is he talking about this though? Well, obviously he was asked but instead of pulling the "I'm focused on this team" line, he chose to talk future, because evidently that's what the Mavs are doing, according to him.
"They didn't even lowball me," Terry said of an offer from Dallas. "They didn't want to bring anybody back from last year. (Team officials said they're) clearing the cap as low and we can and this summer we're going after Dwight Howard, which hasn't happened, and Deron Williams, which they still have an opportunity."
I don't think that's any landmark news. The Mavs would love to bring in Williams, a Dallas native, to be the new future of the franchise. Time is short with the current core and they're looking to restock around a new star as Dirk and others start their ride off into the sunset. Terry has been a loyal soldier for the Mavs for a lot of years, but he's obviously not really in the long-term picture any more. So maybe just to spite the Mavs, he says he'd go sign with the Heat, a team Dallas does not have a fond outlook of.
The NBA All-Star Game is here. Follow our live updates to keep up with the action

Bryant says he was looking at schools in Chicago and was ready to meet Jerry Reinsdorf and...

The 76ers guard is in hot water after a controversial video surfaced showing him using a racial...
James Harden is the only player representing the best team in the NBA

Adam Silver sees a 1-16 playoff as a real possibility in the future if they can figure out...

Galin Dragiev is SportsLine's No 1. NBA expert and locked in a pick for Team LeBron vs. Team...