Jason Terry says Knicks could win the championship at Rucker Park
Brooklyn Nets reserve Jason Terry is amused by New York Knicks reserve J.R. Smith's guarantee of the Knicks winning the championship.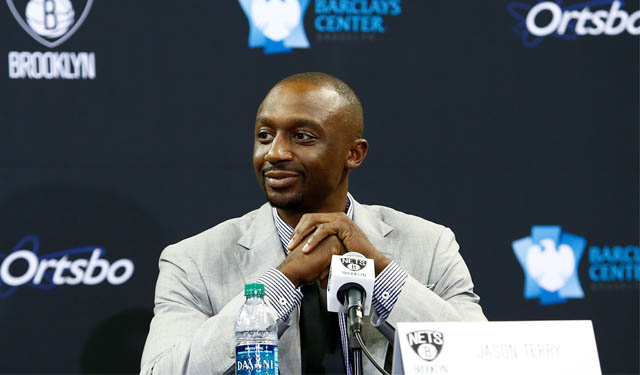 There was a report a couple weeks ago in which the NBA apparently asked the war of words between the New York Knicks and Brooklyn Nets calmed down a bit as to ensure that things didn't get too petty and stayed cordial. Everything was quiet for a few days until Sixth Man extraordinaire J.R. Smith began running his mouth about Paul Pierce and then talking about the Knicks' title chances and the Nets still not being good.
The Nets won't take the bait though, right? They'll respect the league's plea to pull back off the throttle of trash talking and just let things play out on the court instead of being played through the media, correct? In case you forgot, Jason Terry was acquired in the deal for Kevin Garnett and Paul Pierce and JET has never been one to hold his tongue. In a Q&A with Dime Magazine, Terry gave his thoughts on Smith's declaration that the Knicks would end their title draught.
Dime: Speaking of this upcoming season, you recently said that you guys have "the formula" to knock off the 2013 NBA champions, the Miami Heat. But there's also another team in New York with championship aspirations after J.R. Smith recently guaranteed that the Knicks would be crowned in 2014. Talk about the hype going into this new found rivalry. 
JT: They would win what? What did he guarantee? They would win what? I didn't hear that.

Dime: The championship.
JT: They would win the championship?

Dime: Yeah, he said 100 percent guarantee.
JT: The NBA championship?

Dime: Yup.
JT: Right. Maybe the Rucker Park Championship. I don't know, not the NBA championship. I don't see how they could guarantee that, at all. I'm not buying it, so… I mean, it's a bitter rivalry, you know it's going to be intense, and however they feel over there in that locker room they are guaranteed and entitled to feel that way but we don't want to see that happen on our watch.
Terry has a point. Guaranteeing the title before the season even starts is a little ridiculous and just too showy. How can J.R. Smith even say things like that? What's next, Smith is going to tattoo the Larry O'Brien trophy on his arm?
It's unclear how much the league actually wants these two teams to quiet down when it comes to trading barbs through the media. If anything, it seems like it would boost ratings for the eventual Knicks-Nets matchups throughout the season and as long as things don't get violent on the court, it shouldn't be a problem at all. But if a cordial meeting to keep things quiet between these two teams isn't yielding any silence between these two teams, eventually the NBA is going to have to stop threatening to pull the car over and actually pull the car over.
Until then, we've got guys like Raymond Felton, Jason Terry, J.R. Smith, and Paul Pierce to keep this going, which means we should be in for a lot of fun.
Barkley spoke to the NFL Today crew about the response the president received in his home...

The restricted free agent has a deal in place that will keep him with the Bulls after a st...

James' support continues his trend of social activism on social media
The newly-acquired All-Star thinks the addition of Anthony boosts the Thunder in the NBA's...

The Knicks were asking for the house in discussions for Carmelo Anthony

Steve Kerr has given his response to Donald Trump in writing