JaVale McGee re-signs with the Nuggets
The Nuggets made a big move to acquire JaVale McGee, so they definitely weren't keen on the idea of letting him get away in free agency.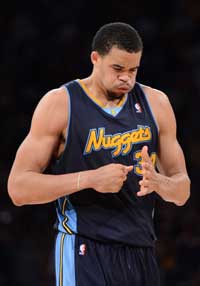 McGee has signed to stay in Denver.
(Getty Images)
The Nuggets made a big move last season to acquire JaVale McGee, so they definitely weren't keen on the idea of letting him get away in free agency.
Via McGee himself, the Nuggets have re-signed their new big man.
Just signed with Denver, could not be happier! Thank you to the Kroenke family and the fans for their support.
According to Yahoo Sports, McGee's deal is four years, $44 million.
The Nuggets had recently offered him a reported five-year, $50 million extension but McGee was considering that while also waiting to weigh it against any other options. Evidently those other offers didn't come or McGee decided one less year and a little more per year was good enough.
The Nuggets signed big man Nene last summer for five years, $67 million. And then traded him at the deadline to Washington for McGee, who they are paying $2 million less per year.
McGee was a restricted free agent, which would've allowed the Nuggets to match on any offer sheet extended to him, but it didn't come to that.
He's gained a reputation for being a bit of a goofball -- if you Google his name the first two autofill results are "JaVale McGee stupid" and "JaVale McGee embarrassing" -- but at 24 years old and a heap of talent in that lenghty seven-foot frame, McGee has a ton of upside.
By acquiring him last season, the Nuggets were looking for a defensive, athletic presence inside to go with their up-tempo attack. McGee averaged 11.3 points and 7.8 rebounds per game and was second in the league in blocked shots.
The Warriors rookie threw down an off-the-backboard dunk while up 25 late in the fourth qu...

The third member of the club might come as a surprise

LaVar said Lonzo won't lose again this week, and Marcin Gortat found that pretty funny
Eric Bledsoe is going to be traded at some point and these tweets will explain how it got...

Curry's outburst will cost him some money, but he won't miss any games

A look at the ups and downs for various suitors as Bledsoe has left the team.