Jazz waive point guard Jamaal Tinsley
The Utah Jazz have waived point guard Jamaal Tinsley after an incredibly slow start by the veteran.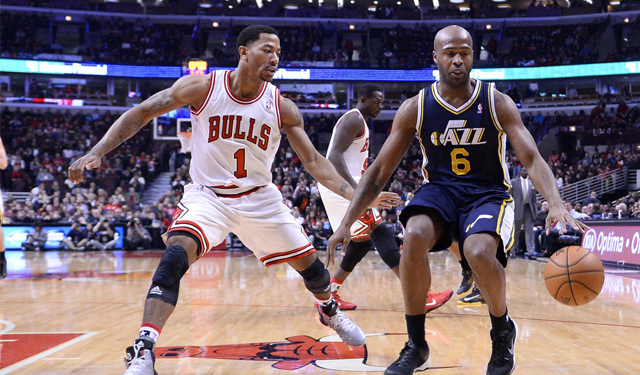 The Utah Jazz are waiting for lottery pick Trey Burke to be healthy enough to run their team. The dynamic point guard out of Michigan has been sidelined after finger surgery as the Jazz start out with an 0-8 record. Until he can return, Utah is just throwing point guards out there, hoping to have some solid direction and play out of that position while they wait for their rookie to heal up.
However, the point guard options for the Jazz will not include Jamaal Tinsley anymore. The 11-year veteran has been waived by Utah after a horrendous start to the season that has seen him quickly fall out of favor with the Jazz. 
The Jazz have waived PG Jamaal Tinsley.

— Aaron Falk (@tribjazz) November 12, 2013
First name I'm hearing in connection with Utah's roster opening: Diante Garrett out of the D-League who played with Phoenix last season

— Marc Stein (@ESPNSteinLine) November 12, 2013
John Lucas III started out the season as the starting point guard before Jamaal Tinsley took over after two games. Tinsley's play left a lot to be desired as he played just 13.8 minutes per game and shot a putrid 20.0 percent from the field and 6.7 percent from 3-point range. Lucas took the starting job back from Tinsley when the Jazz registered their eighth straight loss to start the season.
Diante Garrett as a possibility shows the team is just throwing options at the wall and hoping something sticks. Garrett could easily supplant Lucas or Ian Clark at the point guard position if he signs because the team just doesn't have much to offer right now. They're just waiting for Burke to return to see how their future core player looks out there.
In his Cavs debut, Rose's timely cut opened up Kevin Love for a 3-pointer which sealed the...

If the 21-year-old wing takes the next step, Washington could be much more dangerous this time...

Minnesota is another team poised to make the leap from pretender to contender
The 76ers are trying to prove that they're finally for real behind Joel Embiid and Markelle...

Golden State led by 17 on ring night, but they missed Draymond Green and Andre Iguodala in...

Durant's shot is too late and the champs lose; Hayward's awful injury overshadowed Cleveland's...