Jeanie Buss in book: 'Betrayal' when D'Antoni was hired over Jackson
Lakers VP reveals tensions with her brother over decision not to hire Phil Jackson after approaching him last year to take over after firing Mike Brown.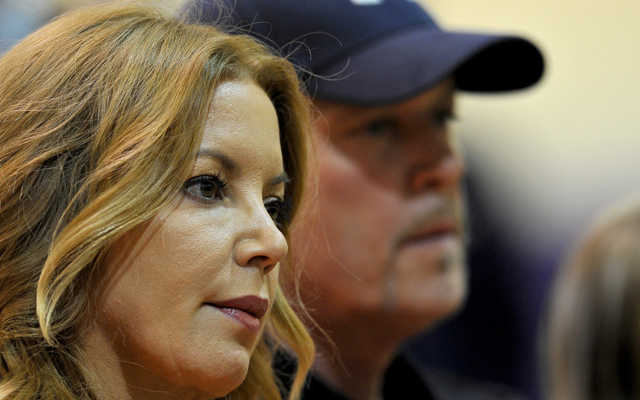 Lakers executive vice president of business operations Jeanie Buss has a new version of her book "Laker Girl," a personal memoir of her life. In it, she covers the last tumultous year of her life, that includes the death of her father, Lakers patriarch Jerry Buss, and offers her point of view when the Lakers approached her boyfriend (now fiance) Phil Jackson to coach the team after firing Mike Brown last season only five games in. 
There's a lot to chew through in the excerpt released to the Los Angeles Times. Some highlights: 
Phil called me from the gym after he saw the news on ESPN. "That's not right," he said. "It's not enough time for a coach. I dont care who it is. You dont fire a coach five games in." ...
So this immediately paints Phil as a sympathetic figure, who didn't think Mike Brown should have been fired. But Jackson's a member of the coaches' association counsel, so he feels coaches should be put in a position to succeed. Fired after only five games is definitely not a position to succeed. 
"I feel really bad that I made this mistake in hiring Mike Brown [her brother Jim Buss said]. I've cost the family money. But I had to let him go and we are going to have to continue to pay that contract. What I want to know from you is, do you think Phil and I could work together?"

My brother really caught me off guard with that question.

"I have no idea if Phil is even interested in coming back," I said. "If you want to discuss it, Jim, it has to be between you and him. I can't be in the middle. The only way it's going to work is if I'm not involved." ...
OK, calling your sister on the suface may seem weird. But I can understand it. He wanted to test the waters, his sister is romantically involved with Jackson, and if she says, "He's not interested, no reason to call," Jim Buss saves time and some embarrasment. If Buss is as prideful a guy as he's been made out to be, he doesn't want to call the guy he ran out in 2011 to save him only to be rejected. So I can understand that. 
There was no discussion of money at the meeting or any of the supposed demands by Phil that were later erroneously reported in the media.

Looking back, I wonder where the media was getting its information. Someone was talking.
Ah, yes, the popular blame-the-media game. Such a great go-to move. She also says she left the meeting to let them talk, taking her "dog for a drive." Sure. So she wasn't there, but she knows that there was no discussion. If she said "Phil said," that would explain her conviction a little more strongly. Of course she trusts him. 
You also have to love the subtle shot at her brother here, basically saying, "He was leaking all the stuff that came out." Good times!
I asked him that Sunday, "Who is the better coach for this team, you or [Mike] D'Antoni?"

Phil said, "Well, by far, D'Antoni is a better coach for Steve Nash, but I'm a far better coach for Dwight Howard."
This is like if someone asked you, who was a better driver, you or someone else, and you said, "Well, he/she is better at working the air conditioner, but I handle the steering wheel better." Also it's kind of odd given that Jackson's system would have Howard in the post vs. D'Antoni's which would feature him in the pick and roll, where he's much better. But sure. 
That Sunday night, just before he started preparing dinner, Phil put on his Lakers Hawaiian shirt, the one he had often worn during the season. It was clear to me he was getting mentally ready to return to his old job.

Nothing was for sure, but things were moving in that direction.
Sorry, I just found this hilarious. "You can tell Phil's getting ready to coach because he put on a Hawaiian shirt with a Lakers pattern." I actually laughed out loud when I read this. The only way it would have been better is if she had written "That Sunday night, just before he started his nightly peyote smoke and meditation ritual, Phil put on his Lakers boxer shorts. You could tell he was getting mentally ready to return to his old job. Also, he was tripping mad."
When he hung up, I asked him what that was about, and he said, "Mitch called to tell me they've hired D'Antoni. He said that they feel given the personnel they have that D'Antoni is a better fit. He said they know they are going to take a bit of a PR hit, but he thinks it will blow over in a month."

"He said it will blow over in a month?" I repeated in disbelief.

I was still trying to wake up.

I was stunned. I said to Phil, "They came to you. You were not looking for the job. I cannot believe this."

I knew Phil wasn't going to argue with them.

"That was really odd," he said in the quiet of our bedroom as he replayed the conversation in his mind.
This is maybe the worst approximation of a casual conversation I can possibly imagine. Who says, in the middle of the night, to the person you're sleeping next to, who works for the team, "given the personnel they have that D'Antoni is a better fit." Excuse me for not quite believing that Jackson just said "Eh," and went back to sleep. If she had just thrown in a little bit of opinion or context there, I'd buy it. But this seems awfully one-sided. 
Two days after Phil got that phone call, I was at the gym when I started crying so hysterically that they sent me home.

My sister, Janie, knew the whole situation was tearing me apart, but I don't think anybody else in my family understood how much it had hurt me. It physically hurt me.

The sequence of events -- Phil almost coming back and then being told someone else was better for the job -- practically destroyed me. It almost took away my passion for this job and this game. It felt like I had been stabbed in the back. It was a betrayal. I was devastated.

I felt that I got played. Why did they have to do that? Why did Jim pull Phil back into the mix if he wasn't sincere about it? ...

Phil wasn't looking for the job, and then he wasted 36 hours of his life preparing for it when they were never in a million years going to hire him anyway.

How do you do that to your sister? How do you do that to Phil Jackson?
So ... that's not good. That's the daughter of the owner, the executive vice-president of business operations, who felt that how her brother handled things "destroyed" her and that she was "devastated." All year long, there have been comments from Jim Buss that he and Phil Jackson have a good relationship, that he provides counseling. And this is how Jeanie feels?
Now, maybe the rest of the book showcases how after the death of their father, the two were brought back together, and that have the same vision going forward... with the coach that they hired over her boyfriend. Maybe that's how...
Despite my brother's desire to open up the channels of communication between us, we still rarely if ever discuss basketball. That should be okay because my dad was confident the franchise could be run that way. But I want my brother to realize that I'm not the enemy.
... or not. That, too. Not a great situation for the Lakers facing a difficult season with Kobe Bryant recovering from Achilles tendon surgery and after Dwight Howard left for redder pastures in Houston. 
The Raptors will try to continue their run of dominance.

The Rockets are still the NBA's hottest team, but don't sleep on the Spurs now that Leonard...

Kevin Garnett has no interest in working with Glen Taylor, but he'd gladly buy the Timberwolves...
LaVar Ball formed a pop up shop in New York to sell Big Baller Brand merchandise. The results...

The Cavaliers players took a stand against bullying on social media

The Rockets are gunning for their 10th consecutive win