Jeanie Buss thinks Dr. Buss could have kept Dwight Howard
Dwight Howard's departure from the Lakers was one of the few times the team missed on their target. Jeanie Buss thinks her dad could've kept Dwight.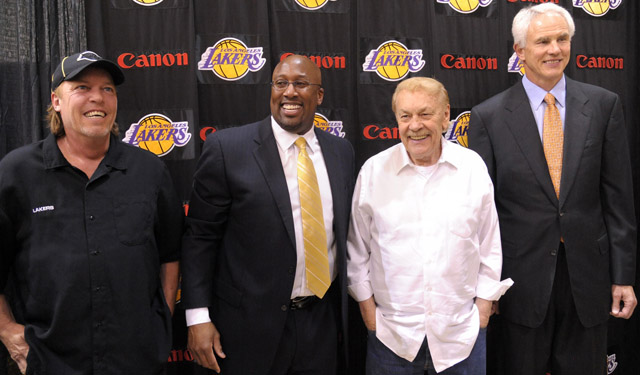 We're less than two months until the start of training camp, which means were roughly a month since Dwight Howard told the Los Angeles Lakers he was leaving them to sign with the Houston Rockets. It was one of the rare times in which the Lakers didn't get their man. It was also the first time since Dr. Jerry Buss passed away that they didn't have one of the most influential people in all of sports directing the courting process when it came to a free agent the team was trying to sign.
Jeanie Buss, the Lakers' executive vice president of business operations, believes things would have gone differently with the Dwight Howard courtship and negotiations if Dr. Buss were still with us. She told ESPN Los Angeles that the Lakers lose the best closer in the business, implying that the Lakers' way of convincing players to love LA isn't the same as it used to be.
"They would've probably had a better relationship if my dad hadn't been sick," Jeanie Buss said in a wide-ranging interview with hosts Mark Willard and Mychal Thompson on ESPNLA 710 Thursday morning. "When it came time to try to convince Dwight to stay, we lost the best closer in the business in Dr. Buss.

"Putting up billboards maybe wasn't the right thing. But we maybe have to learn to do things differently because Dr. Buss isn't here anymore. People said [of the billboards], 'Oh, that's not the Laker way.' Well, the Laker way isn't the same, because Dr. Buss isn't here."
Dr. Jerry Buss passed away on February 18, 2013 due to kidney failure after battling cancer for some time. His succession plan left the basketball operations to his son Jim Buss and the business operations to his daughter Jeanie Buss. But what the Lakers still need to find is a member of the organization who was as well liked and well respected as Dr. Buss. He owned the Lakers for nearly 35 years and was one of the most successful owners in sports history.
Perhaps Howard would have still left the organization to find his own way with the Houston Rockets even if Dr. Buss was still around to provide leadership for the franchise, but it was pretty rare when the Lakers missed out on a targeted player they wanted to add to their roster. As for now, the team has to find its next era once Kobe Bryant has retired or moved on to another team and perhaps some leadership at the top to help carry on the Lakers' legacy of basketball greatness and almost always getting their man.
Fredette's shoe is with the Chinese brand 361

There's been some weird things happening with Durant's social media accounts

Minnesota's first practice is set for this weekend
Dragic and Doncic lead Slovenia to their first EuroBasket title on Sunday

Curry was in London for the big Chelsea-Arsenal match on Sunday

The league also appears to be moving in a more technology-driven approach