Jeff Van Gundy: Magic CEO Alex Martins is 'unprofessional' and 'knows nothing about basketball'
Television commentator Jeff Van Gundy rips Orlando Magic CEO Alex Martins for firing Stan Van Gundy.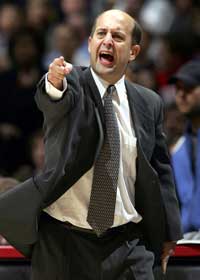 Jeff Van Gundy went off on Magic CEO Alex Martins.
(Getty Images)
Brotherly love can produce some serious venom.
On Monday, the Orlando
Magic
announced that coach Stan Van Gundy had been fired and that the organization had decided to part ways with GM Otis Smith. While the decisions weren't particularly surprising given the months of drama involving the future of All-Star center
Dwight Howard
, they did set off television commentator Jeff Van Gundy, who took to sports radio to stand up for his brother.
TheBigLead.com
 found audio of a Van Gundy appearance on
the Stephen A. Smith show on Thursday
 in which he carved up Magic CEO Alex Martins for his handling of Stan's dismissal and comments made during a press conference that announced the moves. In a rant that lasted nearly three minutes, Van Gundy called Martins "unprofessional." He said Martins was being disingeunous by saying that Howard had nothing to do with Stan's dismissal and said that Martins knew "nothing" about basketball. 
"[Stan's] coaching is beyond reproach so he doesn't need me to defend him," he began. "At the same time, teams throughout history of professional sports, they change coaches. How you go about it is important." 
At issue here, he argued, was that Martins did not confront Stan face-to-face to deliver the bad news.
"For [Stan] to be in the office all day and the president Alex Martins knows he's there, then let's him leave, and then calls him on the phone to fire him," Jeff said. "It's unprofessional. It's unprofessional."
Of course, the elephant in the room is Howard's role in all of this. Martins said Howard was not involved in the decision. Jeff Van Gundy felt otherwise.
"To hide behind the fact to make everyone believe that Dwight Howard didn't have a part in this is absurd," he said. "Just say, 'Hey listen, we fired this guy because we felt this was our best chance to keep Dwight Howard. Dwight Howard and I decided to fire him.' To do anything else is to play a game of semantics. It really is."
Jeff Van Gundy continued his attack by criticizing Martins's tone at the press conference, which he characterized as a "woe is me" approach.
"Third, at the press conference that they hold, going on and on about how difficult of a day it is for you, personally, Alex Martins. He does this every time he fires somebody at the Magic. With callous disregard for how it impacts the people he's just fired. My brother is fine financially but he has uprooted so many other lives. And you want sympathy and empathy because you have it hard. Callous disregard for what normal Americans are going through. He's fired many people there and he always comes up with the same thing, 'It's been a tough day for me' without any regard for their feelings."
But Jeff Van Gundy, who coached 11 years for the New York Knicks and Houston Rockets, saved the killshot for last, directly questioning Martins' basketball knowledge.
"Finally, this one is the biggest one to me, he said there that my brother is the finest X and O coach he's been around in his 25 years in the business," Jeff Van Gundy said. "OK, listen: all you have done in your 25 years in the business is release press releases and run the business side. You don't know if a ball is blown up or stuffed. You don't know if their pick and roll coverage on the side or high was right or wrong. Just say, 'I have no knowledge about basketball.' It's offensive when someone who has no knowledge about basketball  -- even in the positive comments -- tries to sort of negate what [former Magic coaches] Brian Hill or Matt Guokas did as a coach. He doesn't know one thing about basketball so please hold off your comments on my brother's expertise since you know nothing about basketball."
Lakers rookie got his shot to fall, thanks in part to some of the worst defense you will ever...

The singer of the national anthem at the Nets game took a knee at the end

This was the Lonzo Ball people were expecting out of college
Antetokounmpo finished with 34 points, 8 rebounds, 8 assists, and 3 steals, but the Cavs won,...

John Wall is proud of his ability to block shots and thinks nobody at his position has been...

Giannis went at LeBron on a fast break, but LeBron won the matchup