Jeff Van Gundy says the Nets have the best starting talent in the league
Former Knicks and Rockets coach Jeff Van Gundy told a radio station how awesome the Nets are, talent-wise.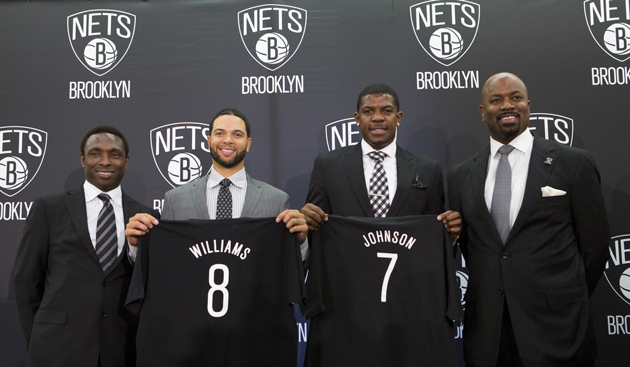 Former Knicks coach Jeff Van Gundy told a New York radio station that he thinks the Nets have the best starting five in basketball. From the New York Post: 
Speaking in an interview on ESPN 98.7 FM Friday afternoon – a day after the Nets stole the headlines from the draft they hosted at Barclays Center with a massive blockbuster trade that saw them land Paul Pierce, Kevin Garnett and Jason Terry from the Celtics – Van Gundy praised the move for the Nets.

"I think, for the short term, the Nets certainly have the best starting lineup, talent-wise, in the NBA," Van Gundy said.
via ESPN's Van Gundy: Nets have best starting lineup in NBA.
Now bear in mind that Van Gundy thought the Heat would go 82-0, and that the Lakers would be unstoppable. (I thought the same thing. Whoops.) So he's prone to hyperbole. 
It's a reasonable question. Deron Williams was once thought to be a top-five point guard. Joe Johnson was once thought to be a top-five shooting guard. Kevin Garnett is an all-time great. Paul Pierce was once maybe the best small foward in the league. Brook Lopez was a top-five center last season. 
Notice how many of those guys used to be the best team? In 2009, this is the best starting five in basketball. Now, it's a very good team with a lot of guys with a lot of miles on them. Williams and Johnson were both disappointing last season and Pierce and Garnett seemed very much like the league has passed them by. Garnett was still a monster defensively, but one that could be attacked, exploited in certain coverages. Pierce just looked old. 
Can they recover and be the best they have been in years? That's the only way the Nets are going to be the title contender their payroll says they are. 
The inaugural BIG3 season comes to a close Sunday with the championship game

Thomas was traded to Cleveland yet some fans are taking it out on him ... and his jerseys

The Celtics dealt the No. 1 pick to Cleveland as part of the Kyrie Irving-Isaiah Thomas tr...
Thompson was rumored to have been a point of discussion with the Cavs regarding Kyrie Irvi...

What the Celtics and Cavs look like after the Eastern Conference powers swap point men

Simmons was the No. 1 pick in the 2016 NBA Draft but did not play last season