Jeremy Lin was happy he wasn't voted an All-Star starter
Jeremy Lin is glad he didn't get voted in as an All-Star starter.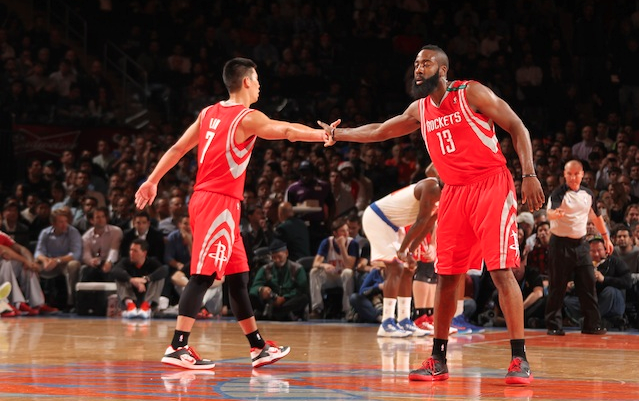 Jeremy Lin is glad he didn't join teammate James Harden in the All-Star Game in Houston.
(Getty Images)
We all know fan voting for NBA All-Stars is pretty much ridiculous. It's understood what it is, we accept it, we gripe about it, and we all move on from it. 
This season, there was almost an all-time fan voting debacle with Rockets guard Jeremy Lin -- who very much was not All-Star worthy -- getting the starting nod over Chris Paul. He came within about 45,000 votes of taking the spot, finishing third in Western backcourt voting. 
He didn't get the spot, and in fact, he wasn't even in consideration to be named a Western reserve. The only way he was making this All-Star team was on the backs of passionate fans, and Lin was quite happy, actually. From CSN Houston: 
"I'm kind of thankful I didn't get voted because when … I want to make sure I'm fully, fully deserving of it, when I play," Lin said after the team's evening practice on Monday. "And I didn't feel like that was the case this year."
Lin received 883,809 votes, which again, was the third highest of any Western guard. Higher than teammate James Harden. Higher than Russell Westbrook, Tony Parker or Stephen Curry. 
I, for one, really appreciate Lin's refreshing honesty. He knows the situation, knows he has a massive following internationally and was in consideration essentially only because of that following. He's had a decent season -- 12.6 points, 6.2 assists, a PER of 14.85 -- but by no means anything All-Star caliber. Especially compared next to CP3, who won the game's MVP award. 
However, maybe there's a downside to Lin not making it as a starter: it might've been the straw that finally got rid of the absurdity of allowing fans to have the full say in All-Star starters. Lin's inclusion would've forced out a very deserving All-Star and would've been pretty awkward for both Lin, and the league.
Of course, there have been other undeserving All-Stars voted in, but that's because of the reputation they've built over the years. For example, Kevin Garnett this season. Or even Yao Ming in year's past. Those didn't feel as gross as it would've with Lin.
LaVar Ball formed a pop up shop in New York to sell Big Baller Brand merchandise. The results...

The Cavaliers players took a stand against bullying on social media

The Rockets are gunning for their 10th consecutive win
Victor Oladipo just wants to live his life and enjoy his breakout season with his new team

Keep it right here for all of the news, notes, scores, and highlights from around the Asso...

LeBron has a player option for next season, and is expected to opt out and become a free a...