Jermaine O'Neal: 'Feel' is Mark Jackson won't return for Warriors
Warriors center admits the feeling is that the front office will fire coach who won 51 games with Golden State.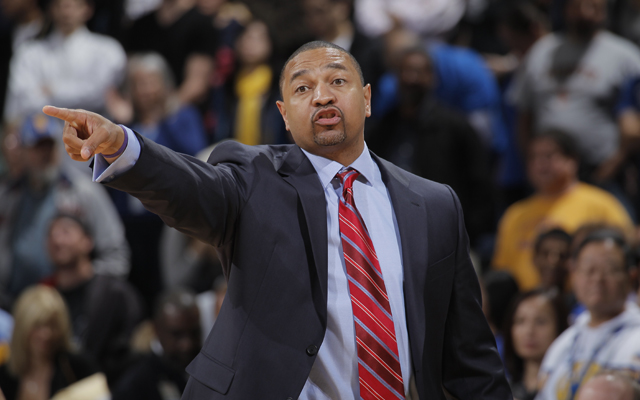 More postseason coverage: Playoff schedule, results | Latest news, notes
Warriors center Jermaine O'Neal told USA Today that the "feel" of the team is that Mark Jackson won't be the coach of the Warriors next season. 
"You get the feel that no matter what happens, our coach won't be our coach next year," Warriors center Jermaine O'Neal said after the win. "You just get that feel. But we are willing to give all we've got for this group, for that coach, and hopefully whatever that will and whatever we've given is good enough to take us as far as we should go."

Much like Jackson before him, O'Neal had a lot to say and - with this one crucial win - a little extra time to say it.

"Winning is hard, and hopefully everybody that supports this organization, that runs this organization, understands just how hard it is to win," he continued. "And if you get a group that's a good group that loves each other, that fights for each other, and can get a head coach (where) you see (former Warriors point guard and current Cleveland Cavaliers point guard) Jarrett Jack speaking about now from another situation, don't take that for granted (because) 51 (wins) can go to 31.

"You know, chemistry is everything, and we'll just keep fighting and find a way."
via Mark Jackson, defiant Warriors live to fight another day.
The situation in Golden State has unfolded in bizarre fashion, with constant rumors and reports that ownership and the front office is unhappy with Jackson, despite the team winning 51 games and being on the verge of advancing to the second round. Jackson has lost two assistant coaches inside of a month. 
Owner Joe Lacob denied that a decision had been made recently. He claimed the situation was primarily fabricated by media, but at this point there are nearly daily stories about how Jackson's job is in trouble, and this one's coming from a Warriors player. It would appear something is up.
Cavs star chose to be very secretive when talking to Lakers rookie after Thursday's game

New York announced Porzingis would not return shortly after star forward left game

Teletovic missed the final three months of 2014-15 season with Nets recovering from same i...
Keep it right here for all of the news, notes, scores and highlights from around the leagu...

The NBA's City edition Nike jerseys are bold and very different

The Wolves may be smoke and mirrors, but the Pacers have the look of a team that can hang in...