Jerry Colangelo is reconsidering Team USA's roster after Derrick Rose's injury
With a rash of injuries, Jerry Colangelo says Team USA's roster is back open for business.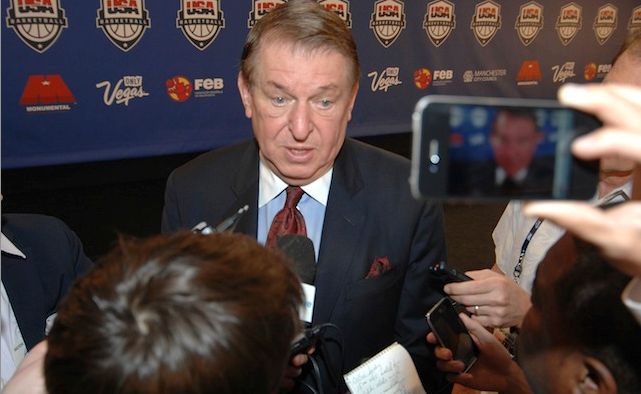 Team USA might get a little makeover.
(Getty Images)
The door was pretty much shut on Team USA's roster player pool.
Jerry Colangelo had said just last week
that there would be no new additions to the team.
"We're not going to add anyone," Colangelo said. "Even with the losses, we still feel like we're pretty well covered."
Well, that all changed Sunday afternoon with about a minute left in Chicago's Game 1 against the
76ers
. When
Derrick Rose
went down with a season-ending knee injury, it not only greatly affected the
Bulls
' championship aspirations, but it was a big hit to Team USA's London hopes as well.
So as a result, Colangelo said he's reconsidering last week's statement.
Via SI.com
:
Just three days after saying the roster of Olympic team finalists would not be expanded after the recent rash of injuries to key players, USA Basketball chairman Jerry Colangelo told SI.com that he is reconsidering his stance after the Bulls point guard tore his ACL in Game 1 of their series against the Sixers.

"What I said [previously] was that we didn't plan to do any additions, but we had to continue to monitor the injury situation," Colangelo said. "Obviously this is a big loss. [Point guard] seems to be, at this point, still a pretty strong position. But at this stage, quite honestly, I think all bets are off."
This is of course after
Dwight Howard
recently had back surgery, knocking him out of the 2012 games. But that's not it.
Chauncey Billups
,
LaMarcus Aldridge
and
Lamar Odom
are all out as well.
Team USA is pretty thin up front. And if you're saying
Andrew Bynum
, forget it.
He said he's not interested
.
The players in the pool currently are
Chris Paul
,
Russell Westbrook
,
Deron Williams
,
Kevin Durant
,
LeBron James
,
Carmelo Anthony
,
Dwyane Wade
,
Kobe Bryant
,
Eric Gordon
,
Rudy Gay
,
Andre Iguodala
,
Chris Bosh
,
Blake Griffin
,
Kevin Love
and
Tyson Chandler
.
You'll notice only one true center on that list. And with Spain having the powerful interior unit of Marc and
Pau Gasol
along with
Serge Ibaka
, Team USA might need some more size.
Roy Hibbert
maybe? Anthony Davis? Or just bring in an extra versatile power forward and plan on playing small. Something Mike Krzyzewski likes to do and was successful with in the 2010 World Championships in Turkey.
Without Rose, Russell Westbrook has become a mortal lock to go with Chris Paul. Deron Williams is likely with
Rajon Rondo
,
Ty Lawson
,
Kyle Lowry
and maybe even
Jeremy Lin
getting new looks. Again, Coach K likes his guards, so he'll probably prefer carrying at least three point guards, with maybe a fourth combo style guy.
Team USA is going to be the favorite regardless and while Rose's injury is obviously impactful, it happened at a position of strength for the U.S. team. With Paul, Westbrook and Williams, Team USA should be able to survive fine. The bigger worry is inside against Spain and those Gasol brothers.
Mirotic and Portis combined for 49 points as the Bulls won their fifth straight game, beating...

Gobert, who missed 11 games earlier this season with a knee injury, will have an MRI

Get all the latest scores, news and highlights from Friday's NBA games
Porzingis is questionable for Carmelo Anthony's return to MSG on Saturday

The Spurs and Rockets will renew their in-state rivalry on Friday night

Anthony will play at Madison Square Garden on Saturday for the first time since being trad...