Jerry Colangelo on Kevin Durant: 'He didn't have his zeal' at camp
USA Basketball chairman Jerry Colangelo said that he'd spoken with Team USA coaches about Kevin Durant's lack of energy at training camp.
• 2 min read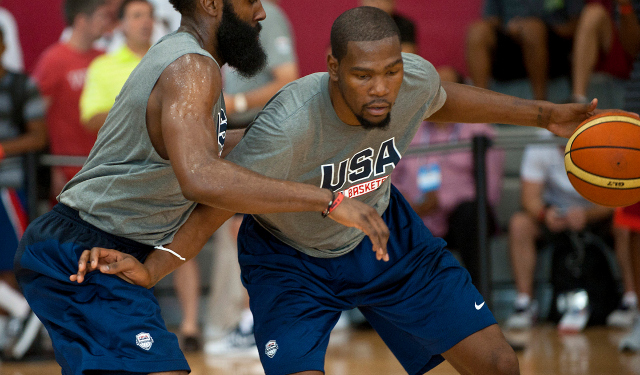 Offseason: Free Agency | Latest from Ken Berger | Rumors
Kevin Durant surprisingly left Team USA on Thursday, and the Oklahoma City Thunder superstar had given USA Basketball no indication that this was coming. Chairman Jerry Colangelo, however, said on SiriusXM NBA radio that he'd noticed Durant wasn't acting like his normal self at training camp. 
Did you guys have any indication that Durant was even considering pulling his name out of consideration for the World Cup?

No. There was no consideration. As a matter of fact, last Friday night in Las Vegas he left after the game as did maybe half the players, and he really, it appeared he wanted to make sure that everyone kind of hung in there. And [he] wanted everyone's emails, phone numbers to be sure that he was in contact with all of them, acting as a leader in that sense. As I think back on the week, Kevin wasn't himself during the camp. He didn't have his zeal. He didn't have his energy. I mentioned it to the coaches on a couple or three occasions. I said, 'You know, there's something wrong here, he just doesn't have it.' And that's so untypical of Kevin Durant 'cause he's always played with great enthusiasm, innocence, he loved being out on the court, and I didn't really sense that. But nothing was set. And so yesterday at 4:00 or 4:30, when he called, of course it was disappointing and of course I was going to support his decision, but in some ways I wasn't surprised. Just based [on] as I look back on last week, and my recollection of where he was.

When you sensed that lack of energy and said Durant wasn't himself, did you or Coach K or anybody on the staff have a conversation with Durant about it?

We kind of looked at it and, in conversation with him, never addressed that issue, but asked him questions: 'Everything OK? How's it going? Anything on your mind?' Of course, there's been a lot of things circulating about his business dealings. New representation, Nike, Under Armour negotiations, just a lot of stuff. And Kevin's the kind of guy, at least in my relationship with him and getting to know him, he doesn't need a lot of clutter in his life. He loves being on the floor, and he loves to play with great passion. And if he's not playing like a free spirit, which is who he is, that's a load on his shoulders. And I think all of it is probably weighing on him. Is he tired? Absolutely. I think mentally and physically, when he says he's wiped out, I believe he is. 
There was a report that Durant could make up to $30 million a year from Under Armour in a shoe deal. The MVP also played more minutes than anyone else in the NBA last year. It's understandable if he was somewhat distracted, and it's more than understandable if he was exhausted. "Basketball never stops" was an awesome slogan, but everyone does need a bit of rest. Colangelo clearly sensed that something was off, and it would be crazy for him to criticize Durant for making this difficult decision.
Cavs star chose to be very secretive when talking to Lakers rookie after Thursday's game

New York announced Porzingis would not return shortly after star forward left game

Teletovic missed the final three months of 2014-15 season with Nets recovering from same i...
Keep it right here for all of the news, notes, scores and highlights from around the leagu...

The NBA's City edition Nike jerseys are bold and very different

The Wolves may be smoke and mirrors, but the Pacers have the look of a team that can hang in...