Jerry Colangelo on Kevin Love playing in World Cup: 'It's an option'
USA Basketball chairman Jerry Colangelo hasn't completely ruled out Kevin Love for the World Cup.
• 1 min read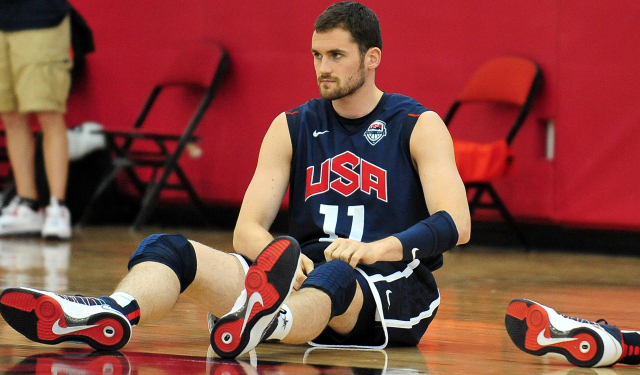 Offseason: Free Agency | Latest from Ken Berger | Rumors
While USA Basketball put out a statement saying that Minnesota Timberwolves forward Kevin Love had withdrawn from the national team this summer, chairman Jerry Colangelo told CSNNW's Chris Haynes that Love playing at the FIBA World Cup in Spain is not completely out of the question. Cleveland Cavaliers rookie Andrew Wiggins will be eligible to be traded on Aug. 23, so a Love-for-Wiggins trade could be completed before the beginning of the tournament.
The first game of FIBA World Cup play is Aug. 30. Colangelo says he has to submit a final roster 24 hours ahead of time. If the Timberwolves and Cavaliers execute the much-anticipated trade before the roster submission deadline, Love would be able to play for his country.

"Technically it is possible," Colangelo said to CSNNW.com following Day 4 of Team USA training camp. "But I have to weigh all of the considerations if I were to look at that. Is it fair to the guys who are here putting in the time and effort? How do the teams think about that after the fact? I don't know. We'll see how it plays out.

"I know it's an option. I know it's possible that he could play, but we'll see."
If Love is available, that puts USA Basketball in an interesting position. Colangelo told USA Today on Wednesday that Love "almost cried" on the phone when informing him that he couldn't play. It's not that he doesn't want to; it's that he's in a position where the smartest thing to do is sit out and avoid the risk of injury. Still, the fact is that Love will have missed training camp and the team's series of exhibition games. It's debatable whether or not it's fair to give him a spot over, say, Kenneth Faried or DeMarcus Cousins, who have been participating. 
The tricky thing about this is that Team USA could really use Love. He'd be arguably the second-best player on the roster behind Kevin Durant, who told CSNNW.com that "we'd love to have" Love and "it wouldn't be a problem." Love's combination of rebounding and three-point shooting is unmatched, and while the team doesn't need him to win gold, you'd think he'd at least warrant some consideration if his situation gets settled. 
Irving has requested a trade away from the Cavaliers

The Lakers made a strong push for Rose, but he would have been a backup in Los Angeles

The small forward spent last season with the Sacramento Kings
Knight still has three years left on his five-year, $70 million contract

The Golden State forward is accused of assault, battery and making misleading statements

The Nets get their shooter a year later, and the Blazers reportedly will waive Nicholson