Jerry Colangelo says Deron Williams overweight for 2012 Olympics
Is Deron Williams battling with conditioning issues that date back to the London Olympics?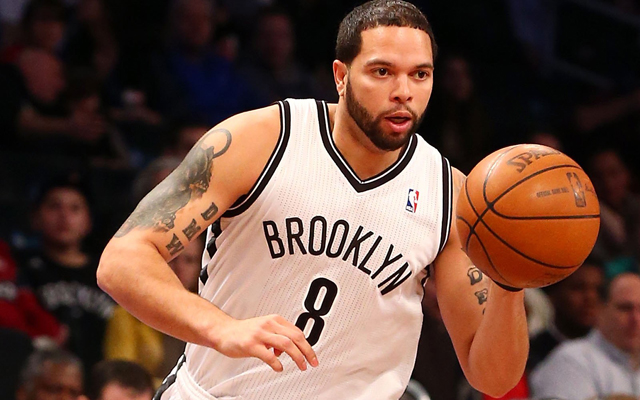 Deron's first season in Brooklyn hasn't gone as planned.
(Getty Images)
Deron Williams' first season in Brooklyn has not gone as expected. He re-signed for the max and was the star that Mikhail Prokhorov and Billy King had dreamed of. They plastered his face everywhere. But he has struggled with his shot, movement and injuries. He received platelet treatment on his ankle before the All-Star break.
There has been talk about what kind of shape he has been in. At All-Star Weekend, the New York Daily News reports that USA Basketball head Jerry Colangelo said Williams was out of shape last summer during the London Olympics, contributing to an ankle injury that has lingered.
Deron Williams was out of shape before aggravating an ankle injury in the Olympics that has hindered his first season in Brooklyn, USA Basketball president Jerry Colangelo told the Daily News.

The Nets have maintained their injured point guard's body is worn down because of nonstop playing over the last two summers — which led to PRP platelet-rich plasma injections in both ankles this week — but Colangelo indicated Williams needed the work to lose weight.

"Deron Williams, for the Olympics, was not in the best shape," Colangelo told The News on Friday. "He was a little overweight, and I told him that at the time."
via Brooklyn Nets star Deron Williams unfit at Olympics, according to USA Basketball president Jerry Colangelo - NY Daily News.
"A little overweight" shouldn't be a big deal, right? And Nets GM Billy King told the Daily News that Williams is currently just one pound over what he was when he was traded to New Jersey two seasons ago. 
Whether it's weight, focus or just plain ol' "one of those years," things haven't gone the way that Williams wanted for the first half of the season. But it's a long season, and maybe a full week and a half off for the break will be what he needs to get right physically, mentally, spiritually, whatever. The Nets need it, any way it comes. 
Thomas is rehabbing from a hip injury that cut short his 2016-17 playoff run with the Celt...

James wondered whether he did something to drive Irving away

Beal went on a tangent at Washington's media day about Trump's recent comments
The Cleveland Cavaliers also have 6-1 odds of landing the former Bulls and Heat star

OKC fans welcomed the 10-time All-Star at the airport with chants of 'Melo!'

Jordan joined LeBron James to show support of those who wish to exercise their freedom of...