Jerry Colangelo says James Harden is the leader of Team USA
Rockets guard James Harden is taking on a leadership role with his national team.
• 2 min read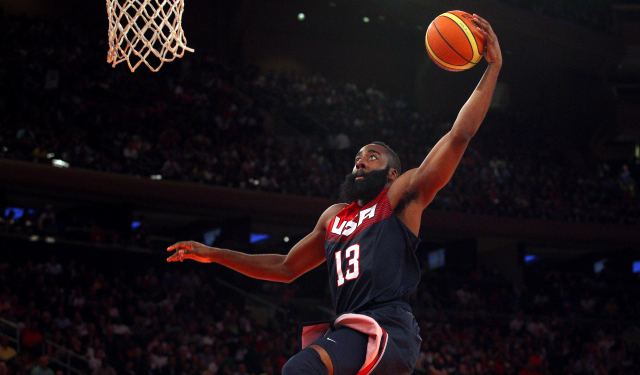 Houston Rockets guard James Harden is the leader of Team USA, according to USA Basketball chairman Jerry Colangelo. From the Washington Post's Michael Lee:
"Right now, I think I would look to Harden as that leader," USA Basketball chairman Jerry Colangelo said as his team continues to prepare for the tournament in which the winner earns an automatic berth in the 2016 Olympics in Rio de Janeiro. "Harden is kind of a natural leader and he seems to be willing to accept that role. And you can just kind of feel it and sense. He's the one."

…

Colangelo said Harden has been one of the team's most vocal players and has helped elevate practices with his effort and tenacity.

"I don't know if he's been waiting [to lead]. It's evolved," Colangelo said. "He came in as a pretty high draft pick. Got off to a great start in Oklahoma City. Whether he was disappointed or surprised by what transpired, he found himself in another uniform and that's part of life in pro sports and the NBA, and I think he's adjusted to that and his numbers get bigger and he's being recognized more and more as the player he is. And this is a great platform for him to come out as a leader."
Considering the other guys on the roster, this is a rather striking set of statements. Harden is only 25 years old, and he has only been a starter in the NBA for the past two seasons. He's not known as a big rah-rah guy, and his lackadaisical defense has attracted so much attention over the past few months that his offensive brilliance has become underrated. As Lee pointed out in his Harden profile, he's the only first-team All-NBA guy left for Team USA after Kevin Durant pulled out.
While Anthony Davis is establishing himself as a true superstar and Derrick Rose is working his way back from injury, perhaps this summer can be just as valuable for Harden. He's been showing more effort on defense, and he's been extremely assertive with the ball in his hands. If he's learning how to lead, too, that's a bonus for Houston. The Rockets lost some depth this summer, and some growth from their star shooting guard could have a huge impact. 
The 2014 FIBA World Cup begins on Saturday.
Mike D'Antoni and Blake Griffin's altercation turned out to be the tip of the iceberg for a...

The former Clipper apparently had some tricks up his sleeve after a chippy game

The Rockets were apparently looking for Austin Rivers and Blake Griffin after a chippy gam...
If they don't meet in the Finals again, let's appreciate every one of the 27 matchups since...

D-Wade picked up the steal and got creative on the fast break as the Cavs headed into half...

Despite the embarrassing hiccup, the youngest Ball had himself a pretty great day on the c...