Jim Boeheim defends Carmelo Anthony, blasts New York Knicks
Carmelo Anthony's former coach at Syracuse, Jim Boeheim, says the Knicks' problem was their supporting cast, and defends Melo from critics.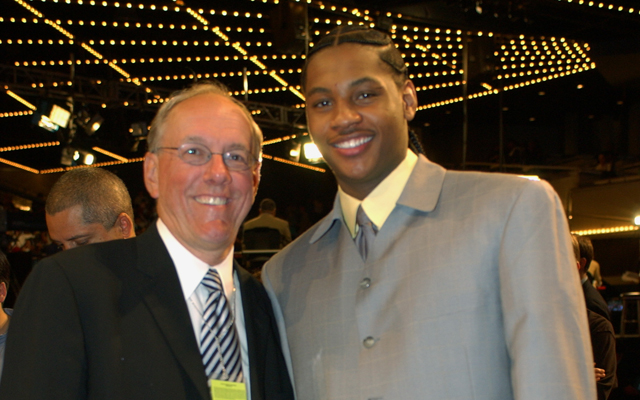 Carmelo Anthony's former coach at Syracuse, Jim Boeheim, came out firing to diagnose what the problem is with the Knicks, and it's not Melo. It's his teammates. From Syracuse.com: 
"Not on that team," Boeheim said (on whether or not Anthony can win a title with the Knicks). "He did what he can do. He played very well the final game. Everybody's killing him but Tyson Chandler just didn't try to catch the ball. He threw him the ball and Tyson Chandler went like this (Boeheim dodged in a chair in his office in the Carmelo K. Anthony Center). He was wide open. He should have been looking for the ball right here. Kenyon Martin should have been looking for the ball. They both went like this Boeheim dodged again. Carmelo gets turnovers and the announcers aren't smart enough to even think, Well, the guy should try to catch the ball."

Boeheim said he watched the Knicks series closely, following his former star.

Anthony averaged 28.5 points in the Eastern Conference semifinals, including a 39-point effort in Game 6 when the Knicks lost 106-99 to the Indiana Pacers. He scored more than twice as many points as any other Knick in the 4-2 series.

Boeheim said the Knicks needed Anthony, Raymond Felton and J.R. Smith to play well every night to have a chance in almost any game this season.

"Those guys weren't great players where they were and now theyre asking them to be second and third options," Boeheim said. "In Miami, the second and third options are Dwyane Wade and Chris Bosh. Your fourth option is Ray Allen, who is still in good shape. Your fifth option is Shane Battier, who is still a good player. The New York Knicks have who?"
Well, they have an All-Star in Chandler, who led the league in field goal percentage last season; they have Raymond Felton, one of the best pick-and-roll point guards in the league. They have shooters in Steve Novak, a stretch-four in Chris Copeland, one of the best point guards of all time who won a title as a starter two years ago in Jason Kidd, the Sixth Man of the Year in J.R. Smith, and spot minutes from a still-useful Amar'e Stoudemire. 
This Knicks' roster was one of the best Anthony has ever had around him, and it showed in their win total this season. 
Boeheim says Anthony had no choice but to go into isolation, because the other players wouldn't catch the ball. But most of that is a knoweldge that the set is being run for Melo to isolate. Because that's what he wants to do. He's always wanted to do that. He's said openly that's where he's comfortable. 
That's not hard to establish. Boeheim's protecting his former player, which makes sense, but he's also not criticizing Mike Woodson, who built the system. That's in part because Woodson's system was designed to make Anthony happy. It just doesn't work in a playoff series against a good defense. Anything with that much isolation won't be successful in the modern NBA based on how these teams defend with help. 
But throwing the rest of the players under the bus to spare Anthony, who went 2-for-7 in the fourth quarter of Game 6 vs. the Pacers with three turnovers, seems like too much. Anthony wanted the setup he got in New York, the teammates, the system, the spotlight. It didn't work out because Anthony has never learned to expand his game to make teammates better, which would open more opportunities for himself. 
In short, the Knicks lost because they were out-coached, out-played, and out-hustled. But they also lost because a team that gave Anthony everything he wanted the way he wanted it was simply too solvable, despite his incredible talent.
Mirotic and Portis combined for 49 points as the Bulls won their fifth straight game, beating...

Gobert, who missed 11 games earlier this season with a knee injury, will have an MRI

Get all the latest scores, news and highlights from Friday's NBA games
Porzingis is questionable for Carmelo Anthony's return to MSG on Saturday

The Spurs and Rockets will renew their in-state rivalry on Friday night

Anthony will play at Madison Square Garden on Saturday for the first time since being trad...