Jim Boeheim on Derrick Rose: 'He's been the most impressive guy here'
Team USA assistant coach Jim Boeheim raved about Derrick Rose's play at national team training camp.
• 2 min read
Offseason: Free Agency | Latest from Ken Berger | Rumors
In news that is sure to please Chicago Bulls fans, Team USA assistant coach Jim Boeheim absolutely raved about guard Derrick Rose after two days of training camp in Las Vegas, via ESPN's Nick Friedell:
"That's my biggest surprise coming in here," Syracuse coach and Team USA assistant Jim Boeheim told ESPNChicago.com, in reference to Rose's performance. "The one thing I was worried about is whether he would be able to step in after so much time [off]. He looks, to me, as good as when we had him in the world championship in '10, when he was at full strength coming [into] an MVP year. He looks very, very good. Obviously, [when] he gets in some games, it will be a little different, but it's not like he hasn't had success in games. He had a lot of success.

"He's been the most impressive guy here."
On Monday, Rose discussed the work he'd been putting in to get to this point after his meniscus tear, and how sitting out had made him a more mature player. In short video clips, you can see that he's in shape and has some bounce. Head coach Mike Krzyzewski hasn't put any restrictions on him, and on Tuesday he sounded ecstatic about what he'd seen:
"He was phenomenal [Monday], and he was today, too," Krzyzewski said. "He hasn't held anything back. The neat thing about today was we went hard [Monday] and we went hard today, and he hasn't been in this [practice] environment, and he was as good or better today."

…

"He's gone after people," Krzyzewski said. "[Shying away from contact] ain't happening. He's going after everybody, and he's really going hard. His movement on defense has been spectacular. When we started practice [Monday], what he did defensively -- whoa. It picked everybody up. You don't play that type of defense in the NBA because you have to play 40 minutes and 100 games, but here if you play 20 minutes, that's a lot, but you don't have to play consecutively, so you can go to an extreme -- that's what he's doing. I think he's shown he has great balance and strength. He's stronger, and he has better balance, and he's shooting the ball great. I think he's been absolutely terrific these first two days."
Rose has stiff competition at his position, with Stephen Curry, Damian Lillard, John Wall and Kyrie Irving all in camp. While it's conceivable that Coach K will use two-point-guard lineups at the FIBA World Cup in Spain, it's still safe to assume one or two of them will not make the cut for the 12-man roster. Making the team is important for Rose, who is trying to get back in rhythm before the regular season starts. High-level international competition would certainly help in that regard.
It'd be premature to presume that Rose has already earned a spot, but judging by the coaches' comments, it's looking good so far.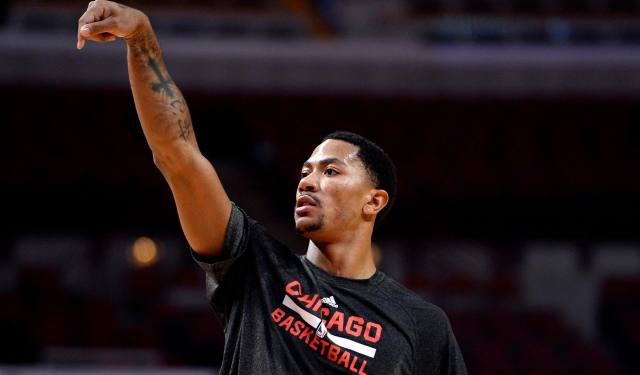 Steve Kerr opens up about his back issues and more

OJ Mayo, banned from the NBA for positive drug test, is considering playing overseas

The King? 'LeBron, it turns out, is Aquaman,' or so the account via Dwyane Wade's wife goe...
From Penny to Thunder Dan to Pistol Pete to Agent Zero, guys who would be better in 2017

Griffin said recently he thinks it's more likely that LeBron James goes to New York than L...

Mayo was suspended for two years last summer for violating the league's anti-drug program