Jim Buss says Dwight Howard was 'never really a Laker'
Lakers owner dismisses Dwight Howard's commitment to the team after free agent center bolted this summer.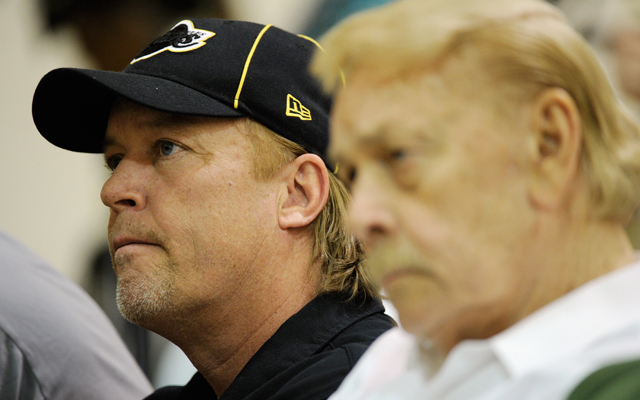 In a wide-ranging interview with Hollywood Reporter, Lakers owner Jim Buss says that Dwight Howard was "never really a Laker." 
Jim insists he's just following his father's blueprint, but the Howard situation suggests he missed a page. Instead of Jim spending time with Howard, the team launched a widely derided media campaign that implored "Stay" on billboards. After Howard bolted, Jim turned on his former star, saying he wasn't surprised or dismayed. "He was never really a Laker," says Jim. "He was just passing through."

Those close to Howard say the Lakers could have persuaded him to stay. Even Jeanie Buss believes that if her father had not been sick, he would have sealed the deal like so many before it. "It's disappointing that Dwight isn't here," she says. "I feel like we failed him."
via Lakers Owners Jeanie and Jim Buss on Power Sharing and the Future of Their Family Franchise.
The interview has several interesting items in it, among them a very quiet indication that Jeanie Buss feels she's left too far out of the basketball decisions, something Jim denies. Jim Buss also states that there is no conflict between he and Phil Jackson, after Jackson was passed over for the Lakers job after the firing of Mike Brown. 
Jim denies that perception is reality. "I have zero problem with Phil, and Phil has zero problem with me," he says. And while Jim and [Mitch] Kupchak interviewed both [Mike] D'Antoni and Jackson, Jim says the final decision was made by Dr. Buss. "Mitch and I interviewed Phil together and then reported back to my dad at the hospital for hours upon hours," he says. "He gave the final hammer; we just enforced it."

Jackson couldn't be reached for comment, but he told the Los Angeles Daily News in June that his relationship with Jim is "casual." The consensus is that Jackson has never taken Jim seriously. Jeanie's take on the rapport between her fiance and her brother: "Phil has a great relationship with Mitch."
It continues to be an awkward conversation, and much of the pieces is clearly the work of Buss trying to rehab his image as a lost imitator of his father's success. Jerry Buss passed away earlier this year, leaving the franchise to the two siblings with Jeanie in charge of the business side and Jim running the basketball operations. 
Howard signed with the Rockets in the first week of July after meeting with the Lakers among several teams. 
The Lakers have endeavored to separate themselves publicly from Howard after his decision, and every indication is that they are now focused on the big 2014 free agency class to make up for this summer's debacle with Howard. Still, there will continue to be questions about Buss' leadership until he's able to claim a home run decision for himself. But dismissing Howard will only earn him more love with the Lakers faithful, and the goodwill project has to start somewhere. 
CBS Sports HQ Daily Newsletter
Get the best highlights and stories - yeah, just the good stuff handpicked by our team to start your day.
Please check the opt-in box to acknowledge that you would like to subscribe.
Thanks for signing up!
Keep an eye on your inbox for the latest sports news.
Sorry!
There was an error processing your subscription.
It's safe to say that Terrell Stoglin wasn't happy with the officiating

Keep checking back for the latest updates as NBA free agency continues

Anthony had nothing but positive things to say about his fans and teammates in Oklahoma Ci...
Here are the top prizes left in the 2018 NBA offseason

Howard, 32, wants to spend the next decade evolving his game

While Harden's connection to the club incident is unclear, one report says a member of his...